Former U.S. Attorney General Eric Holder railed against what he called the "hateful actions and tweets" of the Trump administration this weekend, refusing to even call Donald Trump "president" of the United States.
Holder, a Democrat who served as attorney general under President Barack Obama from 2009 to 2015, spoke at the 2018 annual Human Rights Campaign dinner Saturday in Washington. The audience cheered throughout as he ran down a list of what he saw as Trump's failures while calling for "compassionate, intellectually-driven leadership in The White House." Holder also said Trump's "Make America Great Again" slogan was rooted in fear and harkened back to the days of slavery and repression of women's rights.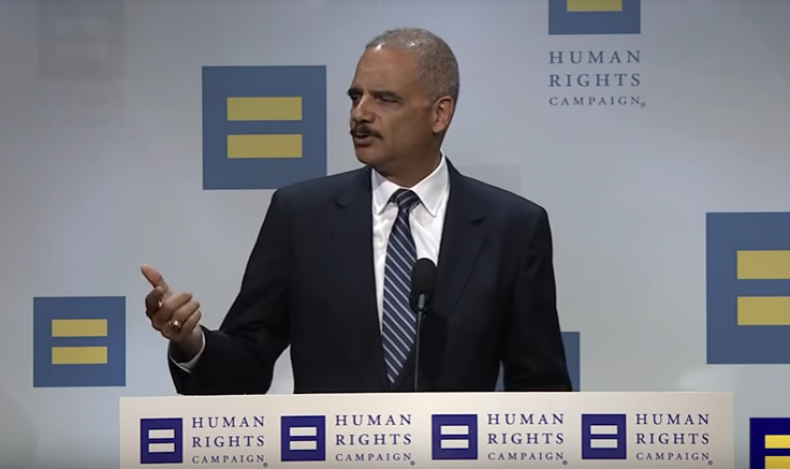 Holder told the audience that "seismic shifts" in the country's court systems were underway to hinder LGBTQ and immigrants' rights. He touted the Obama administration's ability to broaden marriage for same-sex couples from just two states at the beginning of his presidency to every state as well as the District of Columbia.
"Unfortunately today, despite the hateful actions and the tweets of those who would deny transgender people the opportunity to serve, all qualified Americans can wear the uniform of their country," said Holder.
Without mentioning Trump or anyone in his cabinet by name, Holder ridiculed the current administration's policies, to continuous applause from the audience.
"There are hearts to open, laws to change...instead of trying to build consensus toward common goals, they tried to build walls. And stoke fear and anger among a small faction of voters for short-term political advantage," Holder continued. "They're willing to separate families at our borders to take babies, babies, from their parents to deny the contributions of immigrants and the gift that is our immigrants' heritage. To ban entry to refugees and U.S. visa holders because of their religion, and to exploit Dreamers as a political bargaining chip."
Holder condemned Trump's criticisms of special counsel Robert Mueller's foreign influence investigation, saying the president was attacking the "independence of the Justice Department and incit[ing] violence against journalists." He claimed Trump was actively dismantling the "apolitical" separation of law enforcement and politics.
Holder then questioned Trump's position as president of the United States and ridiculed the "MAGA" slogan he touted during his 2016 presidential campaign.
"Every time I hear that phrase, I wonder when exactly do they have in mind?" he said. "What time do they want to wind the clock back to? What century? What decade? What year? Certainly it was not when people were enslaved. Certainly it was not when segregation was a law of the land. Certainly it was not when women were disenfranchised. Certainly it was not when the LGBT community was routinely stigmatized.
"This sort of thinking, this 'Make America Great' mindset, is not only flawed, it's rooted in fear," he continued. "And it favors an imagined past over a realistic future."
Holder rallied Democrats to "send a message to the present occupant of the White House, Mr. Trump...I never call him the president."
Holder added that the Republican party was "shamefully complicit" for not pushing back against Trump, quipping that "perhaps they are just too busy figuring out how to make America great again."