Obama Attorney General Eric Holder Says That When Conservatives 'Go Low' Democrats Must 'Kick Them'
Barack Obama's former attorney general Eric Holder said that when Republicans "go low" Democrats need to "kick them."
"Michelle [Obama] says, 'When they go low, we go high.' No, no. When they go low, we kick them," Holder said during a campaign appearance in Georgia this past weekend. The comment, a riff of the former first lady's famous quote, gained applause and cheers from the crowd.
"That is what this new Democratic Party is about," Holder added. The former attorney general also said that those on the left are "proud as hell" to be Democrats and that in the upcoming election this November they are showing up to "win."
Holder has been traveling the country campaigning on behalf of Democratic candidates ahead of the highly contested 2018 midterm elections. Democrats are looking to regain some control of Congress. Polls indicate the party has a good chance of winning back the House but are unlikely to regain a majority in the Senate.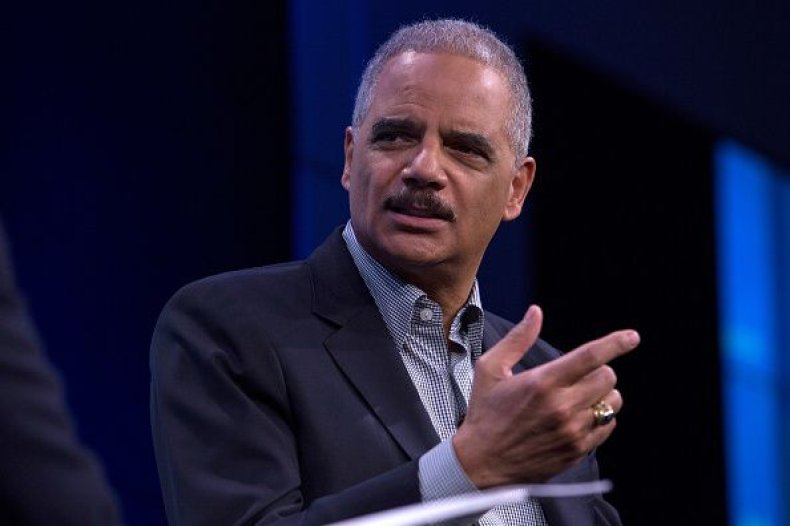 Holder has been calling for fair elections and slamming GOP officials who are attempting to redraw district lines to be advantageous toward conservative candidates at the polls. Holder is a part of the National Democratic Redistricting Committee, a group that is targeting 12 states this midterm election cycle.
The organization has been targeting Georgia redistricting specifically, arguing that the state is using racial bias to keep black voters away from the polls. The state has made headlines the past few months for multiple voting problems, including registration delays, exposed voters' records and electronic ballot malfunctions.
"[Republicans] have used the power that they have gotten for all the wrong things," Holder said when discussing gerrymandering and voters rights. "They want to keep themselves in power, they want to cater to special interests. It is time for us as Democrats to be as tough as they are, as dedicated as they are, to be as committed as they are."
Holder's comment came as more Democrats are throwing civility and respect out the window when it comes to regaining control of the House and Senate. On Tuesday, Hillary Clinton said in an interview with CNN that the Democratic Party can no longer be civil to the GOP.
"You cannot be civil with a political party that wants to destroy what you stand for, what you care about," Clinton said. She went on to add that if the left is "fortunate enough to win back" either chamber, that is when "civility can start again."