Eric Idle Threatens to Sue Over GOP Ad That Uses Monty Python's 'Lumberjack Song'
Eric Idle, a member of the British comedy group Monty Python, threatened to sue the National Republican Congressional Committee (NRCC) for using a song made famous by the troupe in an Iowa political advertisement.
"The Lumberjack Song" was written by Monty Python members Michael Palin and Terry Jones and singer Fred Tomlinson. The song first appeared on Monty Python's Flying Circus in 1969, quickly becoming one of the group's most popular works. In the political advertisement which appeared Monday, lyrics to the song were changed to reflect a Congressional race between Republican David Young and Democrat Cindy Axne.
Some Republicans, including President Donald Trump, have been asked by musicians to stop playing their music during events. In a Friday tweet, Idle said that litigation was forthcoming.
"The National Republican Congressional Committee has stolen the Lumberjack Song for an ad against Cindy Axne in Iowa," Idle tweeted. "While we sue these low life thieving reprobates lets VOTE for Cindy to piss them off. Are all Republicans now lawless? Whatever happened to America?"
Newsweek reached out to the NRCC for comment.
According to its website, the NRCC is a committee "devoted to increasing the number of Republicans in the U.S. House of Representatives." Fine print at the end of the advertisement says that the NRCC "paid for and is responsible" for the ad content, which was not authorized by "any candidate or candidate's committee."
Republican Young is running to regain his seat in Iowa's 3rd Congressional district against Axne, who defeated him by roughly 2 percent in the 2018 elections.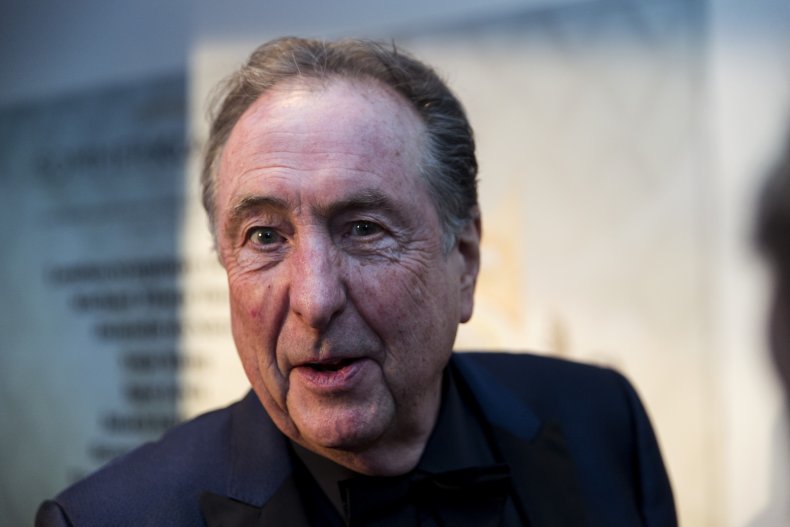 Idle is not the only musician frustrated with the Republican Party using for their music. In August, Neil Young sued President Trump's campaign for using his songs "Rockin' in the Free World" and "Devil's Sidewalk" during a Tulsa campaign rally in June.
Young's lawsuit claimed the Trump campaign did not have a license to play the songs despite their repeated usage at Trump's rallies. Political differences also played a part in the lawsuit, which claimed that Young "in good conscience cannot allow his music to be used as a 'theme song' for a divisive, un-American campaign of ignorance and hate."
On Tuesday, a video of a group of maskless individuals encouraging others to remove their own face masks inside of a Target store in Florida went viral. As the group paraded through the store, the song "We're Not Gonna Take It" by 80s hair metal band Twisted Sister could be heard playing in the background.
Twisted Sister's former lead singer Dee Snider, who wrote "We're Not Gonna Take It," tweeted on Wednesday that the individuals did not have permission to use the song.
"No...these selfish a**holes do not have my permission or blessing to use my song for their moronic cause," Snider tweeted.