Eric Kay Found Guilty in Overdose Death of MLB Pitcher Tyler Skaggs
A jury found former Los Angeles Angels communications director Erik Kay guilty of giving pitcher Tyler Skaggs the drugs he overdosed on in July 2019.
Kay, 47, was found guilty Thursday of one charge of conspiracy to possess fentanyl with the intent to distribute and one charge of distribution of a controlled substance resulting in death. Kay could be sentenced to a minimum of 20 years and a $1 million fine for the drug-related conviction.
The 27-year-old Angels player was traveling with his team to play against the Texas Rangers when he was found dead in his hotel room on July 1, 2019. The autopsy report indicated Skaggs had choked on his vomit from taking fentanyl-laced pills.
The autopsy report also revealed Skaggs had oxycodone and alcohol in his system. However, the prosecutors argued the MLB player wouldn't have died if it wasn't for the fentanyl, which they said came from the counterfeit oxycodone pills Kay gave to him in Texas, the Los Angeles Times reported.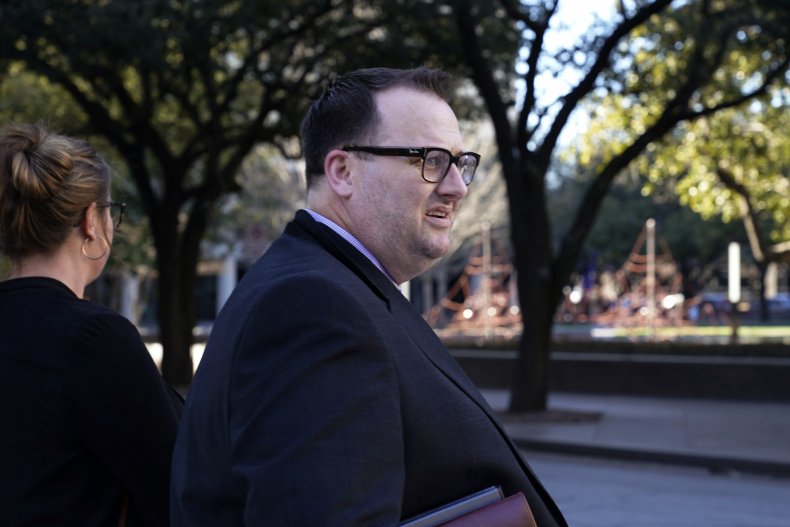 The defense tried to poke holes in the prosecution's theory by arguing that Skaggs had several drug connections who could have gotten him the pills before or after the flight. They also argued no one could say for certain it was solely the fentanyl that killed him due to the other substances in his system, and there was no evidence the crime was committed in Texas, ESPN reported.
The trial lasted more than a week, with opening statements beginning on February 8. The defense tried to create reasonable doubt with the government's case but the jury deliberated for just three hours before reaching a guilty verdict indicating that Kay was responsible for providing Skagg the pills that killed him, ESPN added.
"We're obviously disappointed in the verdict. We thought there were many reasons to doubt the government's case," said Reagan Wynn, one of Kay's attorneys.
The investigation into Skagg's death and the trial revealed further use of opioids among the Angels team. Four players—C.J. Cron, Cam Bedrosian, Matt Harvey and Mike Morin—testified in court they also received pills from Kay.
"This case is a sober reminder: Fentanyl kills. Anyone who deals fentanyl - whether on the streets or out of a world-famous baseball stadium - puts his or her buyers at risk. No one is immune from this deadly drug," U.S. Attorney Chad E. Meacham said in a statement.
The Skaggs family released a statement regarding the guilty verdict saying they were grateful to the jury and the government for seeing the case through.
"Tyler was the light of our family. He is gone, and nothing can ever bring him back. We are relieved that justice was served, although today is a painful reminder of the worst day in the life of our family," they said in the statement.
Kay's sentencing is scheduled for June 28.
Update 02/17/22, 5:44 p.m. ET: This article was updated with more information about Kay's trial and additional background.
Update 02/17/22, 5:15 p.m. ET: This article was updated with background information and a statement from the Skaggs family.