Eric LeGrand Goes From Breathless and Motionless to Nearly Unstoppable
An awkward collision on a routine play left Eric LeGrand motionless on the turf at MetLife Stadium 10 years ago in New Jersey. He was wide awake, but he couldn't move and he couldn't breathe. When paramedics asked if he was ok, he could only say one thing.
"I can't breathe," LeGrand said. Although he said it as loud as he could, it came out as only a whisper. He spoke through gasped breath again: "I can't breathe."
His collegiate coach at Rutgers, Greg Schiano, knelt by LeGrand's side and told his defensive tackle, "E, you have to pray right now."
"I was laying on the ground and I couldn't move, and now I have to pray," LeGrand remembers. "I closed my eyes and said "God, take me at ease.""
While this was happening, paramedics rolled LeGrand onto his side so they could place a backboard underneath him. Then, they lifted the hefty player straight up into the air so they could place him on a gurney. The sudden, upward jolt allowed LeGrand to get a gasp of air. It's like new life had been breathed into him.
"At that point I thought I would be ok," he recalls.
He still couldn't move anything in his body, though. As they rolled him away from the field and into a tunnel at the stadium, someone from the Rutgers staff told LeGrand to give the crowd a thumbs up to let them know he'd be ok.
"I tried to give the thumbs up and it felt like I had a 1,000 pound weight on my hand," LeGrand told Newsweek during a recent interview.
The Rutgers Scarlet Knights went on to beat the Army Black Knights, 23-20, that day. It was the last win of the year for Rutgers, who finished the 2010 season with a 4-6 record, and it was the beginning of a long journey for LeGrand.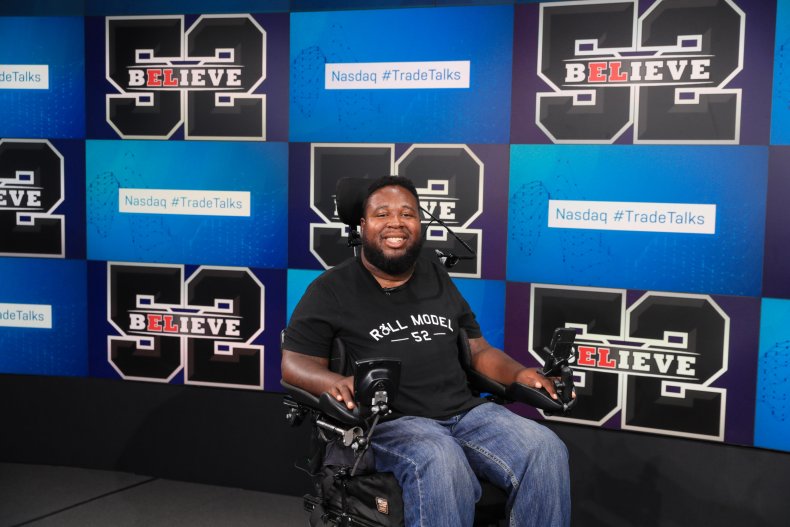 What happened?
Eric LeGrand was a beefy, 270-pound defensive lineman who was quick. On a kickoff play during the game's fourth quarter, LeGrand scooted downfield to try and make a tackle despite facing a double team. He broke through the blockers and looked to make the stop, but one of his Rutgers teammates forced the ball carrier into a different angle. LeGrand's head crashed into the shoulder blade of Army's Malcolm Brown, and both players remained lying on the turf after the play.
Brown sustained a broken collarbone, and eventually was able to walk it off and get back to normal life. LeGrand thought he just got a stinger from the hard knock, temporarily paralyzing him. Maybe he would later recover.
He was injured on a Saturday but didn't fully wake up until the following Wednesday. He recalls waking up in "bits and pieces" to a strange world.
"I saw a bunch of lights and my heart was pounding heavy ... bump, bump ... bump, bump," LeGrand said. "I woke up in a room with bunch of doctors and nurses, and it sounded like they were speaking a different language."
LeGrand later found out the seriousness of his injury, something he learned from his mother and doctors while lying in a hospital bed.
"They told my mom I had a C-3/C-4 injury and that I will never move anything. I will be paralyzed. They said I would never walk again, eat on my own, eat solid foods and they just hoped I could make it through the surgery," he said.
LeGrand was a young student-athlete in college with a full life ahead of him. But all of a sudden, that was gone. Even during that time, he remained optimistic.
As they prepped him for a surgery that doctors hoped he would survive, he told his mother, "I'll be back."
The surgery to repair the surgical discs close to his brain went well. Still, the third and fourth vertebrae in the cervical column of the spinal cord protect nerves that control neck muscles and diaphragm—meaning everything below that point was severely affected as well.
The surgery was in October 2010, and he remained in the intensive care unit for a couple of weeks. LeGrand had so many visitors during recovery time that a separate room was designated as "the LeGrand waiting room," he said. There were so many well wishers that they entered from all parts of the hospital, aimlessly wandering around the ICU until they found Eric's room.
His sister read to him the countless letters that poured in, and his aunt read him scriptures from the Bible. Visitors flowed in and out of hospitals for more than three months, and that helped keep his spirits going.
The low point
Eric's family stayed in a nearby hotel, and they would visit the hospital early in the morning each day and remained late into the evening. That's when coach Schiano would relieve them every night at LeGrand's bedside after a long day of coaching the football program.
LeGrand loved all the attention, but when Schiano left at 2 a.m. to return home, that's when it got scariest for the football player.
"Coach would visit from 11 p.m. - 2 a.m., and the scariest time was from 2-7 a.m.," LeGrand said.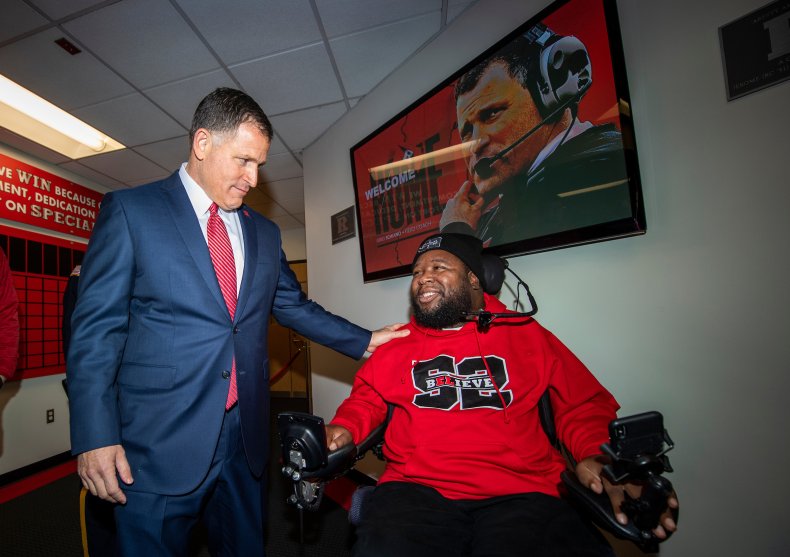 The room was dark and lonely. There were tubes coming out of him, he couldn't move, the neck brace was uncomfortable and somewhat suffocating, he couldn't sleep well and he couldn't reach the call button for a nurse if he needed help.
He tried a new tactic to get him through those dark, scary, lonely hours until his family showed back up. While getting constant checks from nurses and their aides during those wee hours, he devised a plan to keep them there as long as he could.
"When nurses came in to check on me, I would have conversations with them," LeGrand remembers. "I would go deeper with them and it would me get through the time. I just kept talking to them, and they stayed there and talked with me."
He was sent to a rehab facility as an in-patient member, but he spiked a fever and had to go right back to the hospital for five days. He went back to the Kessler Institute for Rehabilitation for grueling rehab on November 8. He stayed there until March 28.
The tough part begins
Eric LeGrand played high school football at Colonia High in Woodbridge Township, New Jersey. At 6-foot-2, 250 pounds during his junior year, he was a running back and middle linebacker that many called "the beast."
By the time he got to Rutgers, he was a beast in the weight room as well, pushing more than 400 pounds on the bench press. After his neck injury, just trying to lift one arm or move a finger was about as difficult as pushing a ring off of Saturn.
There are several strategies when helping a spinal cord patient stabilize and recover from such a traumatic injury. There are breathing, swallowing, physical, occupational and speech approaches. For those not familiar with the process, breathing can be one of the most excruciating tasks.
There are different exercises for breathing therapy, and LeGrand remembers trying to conjure enough air to lift a balloon from his chest during one exercise.
"I went from bench pressing 415 pounds to try and push a balloon off my chest," he said. Why is that treatment so important? Breathing is life, and breathing is crucial to getting him through other therapies—and just day-to-day activity.
The first time his therapists put him into a standing position, he made it four seconds upright before needing assistance back down, where he passed out.
Endless therapy
Eric LeGrand spent about nine years doing out-patient therapy. That meant he lived at home and was taken to a nearby clinic for his exercises to work out his body to keep blood flowing to muscles so they wouldn't atrophy.
He did that five days a week, and that was eventually cut down to three days a week and then two. COVID-19 swept America in March 2020, forcing crowded places to close. He was able to get workout equipment in his home for almost all of his exercises, but he's still wheelchair-bound. This means LeGrand still needs assistance doing his homebound rehab.
The process isn't easy. He wakes up at 8 a.m. every day and doesn't even think about the outside world until 11 a.m., because the daily chore of getting to the bathroom for the morning routine of bathing, brushing teeth, using the toilet itself and then getting back to the bedroom to change clothes takes that long.
He gets assistance from his mother and a nurse's aide for the morning schedule, and then again for his therapy routine. He answers emails, checks for calls and text messages, conducts interviews and monitors his foundation and his new business.
LeGrand becomes successful
Greg Schiano went on to become the head coach of the NFL's Tampa Bay Buccaneers. In the 2012 NFL Draft, the team drafted LeGrand, who signed a contract that had no monetary value. He retired from football three months later. The team still sold jerseys with LeGrand's 52 number from Rutgers. Proceeds went to spinal cord research.
LeGrand completed his degree in labor relations during January 2014, and he gave the commencement speech in May 2014. He talked about overcoming obstacles in life, in which he had already become a master and Ph.D rolled into one.
He authored a book titled 'Believe: The Victorious Story of Eric LeGrand.' The first sentence is: I am always cold.
It's not just a metaphor for being knocked out cold in a football game. It's not just the cold fear of going through a circumstance he never saw coming. He's literally cold. It's a feeling that people with spinal cord injuries can get because of abrupt changes in the body's central nervous system.
LeGrand has given motivational speeches to not just crowds of people, but to the New York Jets football team.
In 2013, he formed Team LeGrand, which is a fundraising arm of the Christopher and Dana Reeve Foundation. To date, Team LeGrand has raised more than $2 million for spinal cord research. The hope is to find a cure for paralysis, he said.
LeGrand said he recognizes a cure may never happen in his lifetime, but he hopes to use his elevated status to help the cause.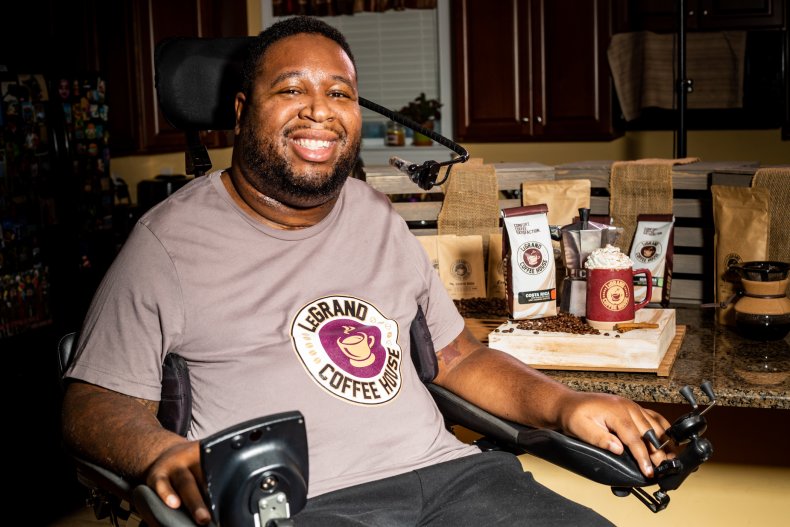 Last month, LeGrand launched a new business called LeGrand Coffee House. It started as an online store on January 12. A brick and mortar store in his hometown of Woodbridge is scheduled to open this July, less than two miles from his home.
LeGrand still requires a wheelchair, and he has movement in his neck. He can wiggle his shoulders by using his neck muscles.
He completed the video call with Newsweek by using video equipment in a room decorated with sports memorabilia, including his framed No. 52 Rutgers jersey attached to the wall behind him. He can lean over and grab a stylus with his mouth and apply it to a touchscreen device that's about a foot from his head.
Just more than 10 years ago, he was lying motionless on a field and told to pray while he couldn't breathe. He overcame darkness, loneliness, fear and grueling workouts. He got a degree, got drafted by a pro football team, wrote a book, raised millions for research and now is building a coffee business.
He made it through a surgery that doctors simply hoped he would survive. He learned to eat on his own, and he can eat the solid foods they said he wouldn't—burgers, pizza, chicken and pasta are his go-tos.
LeGrand made the best of a situation that could get almost anyone down. He's become a name and face for a critical physical condition, and he's proud to carry that torch.
He's not walking or running with that torch, though. He's soaring with it.