Eric Swalwell Plays Santa When Gift Card From 'Grandma' Shows Up in His Mail Accidentally
California Representative Eric Swalwell successfully found the rightful recipients of a Christmas gift card that was mistakenly sent to his Washington, D.C. address after asking his Twitter followers for help.
Swalwell tweeted that what he called #OperationGrandma had been a success on Friday afternoon after he played a somewhat belated Santa by personally delivering the card. Hours earlier, Swalwell had appealed to his followers to help him find two people named "Erick and Emma."
"Does anyone know an Emma and Erick living in a basement apartment in DC?" Swalwell wrote in his initial tweet. "A gift card was sent to them but arrived in my DC mail. Only return info I have is 'Grandma.' I'd like to get it to them!"
The Democratic congressman followed up his tweet by noting that the card had been postmarked from Richmond, Virginia on December 15. In another tweet, Swalwell said that the misdelivery was not the fault of the U.S. Postal Service since the address included only a number but no street name.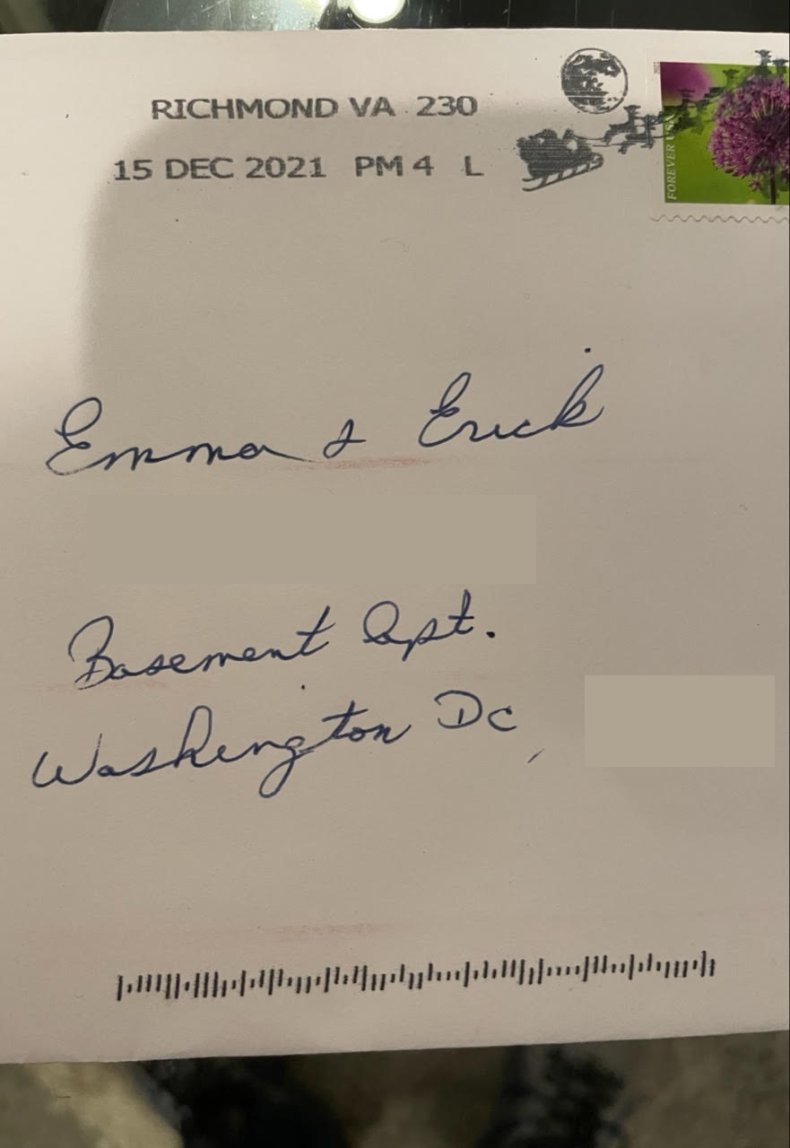 Twitter users quickly went to work in offering their assistance. However, the sleuthing did not last long since one of the card's actual recipients personally tweeted a reply less than an hour after Swalwell put out the call.
"Rep Swalwell, I am like 99% sure this is for me and my partner,@memmabrain, and this is from my grandma," Washington-based Erik B. Olson, who works for the Virginia Department of Energy, tweeted. "Please DM one of us!"
At almost the same time, Olson's partner Emma Brain boosted Swalwell's tweet to "help him find these guys," apparently unaware that she was one of the recipients. Swalwell eventually contacted her in a private message.
"Hi Emma, it's Eric Swalwell," the congressman wrote in the message, according to a screenshot tweeted by Olson. "I believe I may have mail that was sent to you. What are the numbers for your street address?"
"Hi Eric! Thank you so much for helping us out. My boyfriend's name is Erik Olson and his Grandma is getting older and so she misspells it from time to time!" Brain responded before sharing the address, which was censored in the screenshot.
About 10 minutes later, Swalwell tweeted his thanks to the "twitter-verse" for helping him "find Emma & Erik," adding that he was on his "way to drop off their gift card from Grandma."
"Shoutout to my lovely grandma for accidentally getting @memmabrain and me the chance to meet one of the best Members of Congress around @RepSwalwell and get our sweet Amazon card back! People are good!" Olson tweeted about an hour later, alongside a picture of himself, Brain, and Swalwell posing with the gift card.
"#OperationGrandma a success!" Swalwell later commented while retweeting Olson. "With the help from many of you Twitter sleuths I just delivered her Christmas card to Erik & Emma!"
Newsweek reached out to Swalwell's office and Olson for comment.
Update (1/7/2022, 8:45 p.m.): This article has been updated with a photo of the misdelivered envelope.