The staff of Senate Majority Leader Mitch McConnell went on the offensive Monday ahead of California Representative Eric Swalwell, a 2020 contender who lobbed criticism at the Kentucky Republican as recently as Saturday, withdrawing from the presidential race.
Swalwell's exodus from a field comprised of two-dozen candidates came amidst low polling numbers, a likeliness to be excluded from the second presidential debate and an upcoming press conference from his congressional district set for Monday afternoon. Swalwell's scheduled public remarks came just days after he abruptly cancelled Fourth of July campaign events in New Hampshire.
"Today ends our presidential campaign, but it is the beginning of an opportunity in Congress," he said. "We have to be honest about our own candidacy's viability."
Swalwell became the first 2020 Democrat to end their presidential bid, which came just two days after the then-candidate took direct aim at McConnell for blocking gun control legislation passed by House Democrats.

"Good work, Swalwell," the Twitter account @Team_Mitch, managed by the staff of McConnell, wrote Monday.

McConnell's team also posted comments from Swalwell made over the weekend, in which the Democrat said McConnell would not be re-elected in 2020 and could therefore not block gun control legislation pushed by a Swalwell administration and passed by a Democratic-controlled House.
"How would you pass any gun control legislation, as president, if Mitch McConnell has control of the Senate?" CNN asked Swalwell on Saturday.
"I used to think that, too," Swalwell responded, "until I saw the Parkland generation and the Moms Demand Action and the Giffords Group and the March for Our Lives, go to the ballot box this last election and they beat 17 candidates NRA-endorsed members of Congress."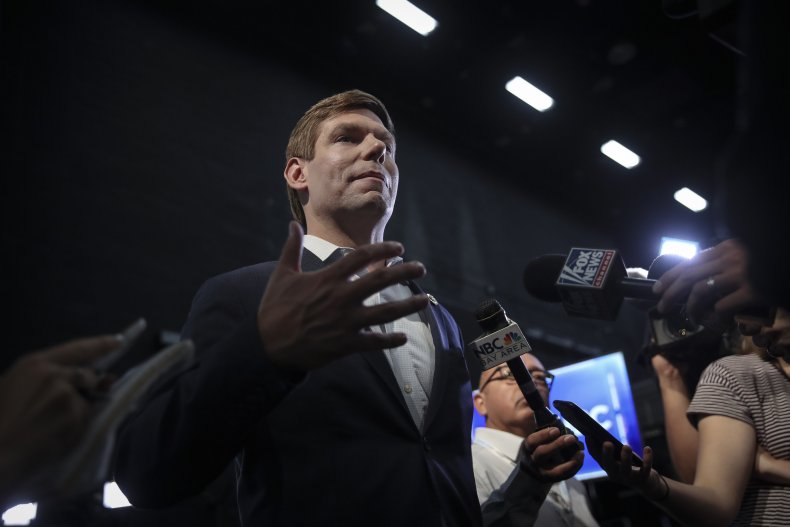 He continued: "[L]et's beat Mitch McConnell and let's talk about gun safety in Kentucky and Arizona and Maine and all these other states, because the moms are with us... I'm not even accepting the premise that Mitch McConnell is going to be there."
Despite ending his presidential campaign, Swalwell said Monday that he believed he had already made large strides in getting some of the frontrunners—former Vice President Joe Biden, Vermont Senator Bernie Sanders and California Senator Kamala Harris—to commit to addressing gun control measures.
"[We] moved the needle on the debate stage on an issue that I was very passionate about, believing that every candidate should pledge they would support a ban and buyback of the 15 million assault weapons in our country," Swalwell said. "We've achieved that. Communities across America who've been stricken by mass shootings now know that at least three of the frontrunners support this idea that these weapons of war do not belong in our communities."
The campaign has not yet reported its fundraising amounts since Swalwell announced his candidacy April 8 on The Late Show with Stephen Colbert. But with receiving 1 percent or less in national polls, it is likely that Swalwell would not make it onto the stage for the second Democratic primary debate at the end of this month.
His poll numbers were at a virtual tie with Senator Michael Bennet of Colorado, Montana Governor Steve Bullock and New York Mayor Bill de Blasio. A New York Times analysis found that Swalwell would likely be the candidate to not qualify for the remaining debate spot because he polled at one percent fewer times than the other three men.
Swalwell alluded to fundraising struggles while acknowledging the unlikely road ahead to qualify for the debate.
"Being honest with ourselves, we had to look at how much money we were raising, where we were in the polls," he said.
During the first primary debate, Swalwell told former Vice President Joe Biden, who is 76 years old, at least six times that he should "pass the torch" to a younger candidate, such as himself.
"I was six years old when a presidential candidate came to the California democratic convention and said it's time to pass the torch to a new generation of Americans. That candidate was then-Senator Joe Biden," Swalwell, 38, said. "Joe Biden was right when he said it was time to pass the torch to a new generation of Americans 32 years ago, he's still right today."
As Swalwell exited the race, another Democrat is reportedly poised to enter. Billionaire liberal activist Tom Steyer is expected to announce his candidacy Tuesday, despite previously saying he would not run for president and would instead focus on his progressive organizations: Need to Impeach and NextGen America.
Update: This story was updated to include comments from Rep. Eric Swalwell after he officially announced he was withdrawing from the presidential election.