Eric Swalwell Says Trump Statement Put Life of Officer Who Shot Ashli Babbitt 'In Danger'
Rep. Eric Swalwell (D-Calif.) blasted former President Donald Trump for allegedly putting the life of the Capitol Police officer who shot rioter Ashli Babbitt "in danger" on Wednesday.
Babbitt died on January 6 while she and other Trump supporters who had breached the Capitol attempted to make their way into the Speaker's Lobby near the House chamber. An unnamed Capitol Police officer, who has since been investigated and cleared of any wrongdoing, fatally shot Babbitt after she ignored police warnings and attempted to enter a hallway through a broken window with lawmakers nearby.
During an appearance on MSNBC's The Reid Out on Wednesday, Swalwell denounced Trump for issuing a statement a short time earlier that argued Babbitt was "murdered" by the officer. The former president praised Babbitt and called for "justice" against the unspecified "Radical Left haters" he suggested were responsible for her death, while mentioning that he knows the identity of the officer who shot her.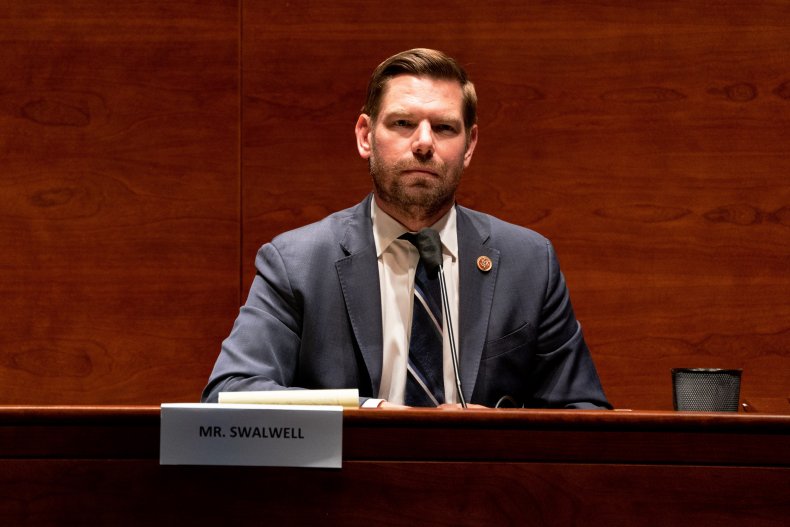 "I spoke to the wonderful mother and devoted husband of Ashli Babbitt, who was murdered at the hands of someone who should never have pulled the trigger of his gun," Trump said. "We know who he is. If that happened to the 'other side,' there would be riots all over America and yet, there are far more people represented by Ashli, who truly loved America, than there are on the other side. The Radical Left haters cannot be allowed to get away with this. There must be justice!"
Swalwell told host Joy Reid that Trump's statement was "an insult to the brave men and women who defended the Capitol" and was "intended" to endanger the officer. The congressman called the officer a "hero" and said that the lives of multiple members of Congress, some of whom who were being evacuated from the House chamber as rioters were attempting to enter, would have been at risk if Babbitt had been allowed to proceed.
"That officer's life, sadly, is in danger," said Swalwell. "He is a hero, Joy. I am alive today, my colleagues are alive, because he had to make that fateful decision—one that no officer wants to make. But a mob was crashing through the doors into the Speaker's lobby. I saw them. I heard the smashing, the pounding, the breaking of glass, the chanting."
"Had they gotten through, it was many of our more vulnerable members, who were the last to leave that would have been overrun had that officer not acted so bravely," Swalwell added. "That officer has been cleared by the Department of Justice... to want to out this person after being cleared is only intended to put that person's life in danger."
Newsweek reached out to the office of Trump for comment.