Eric Trump Calls Alexandria Ocasio-Cortez 'Absolutely Crazy,' Says Democrats 'Don't Have a Party'
First son Eric Trump referred to outspoken, democratic socialist Congresswoman Alexandria Ocasio-Cortez as "absolutely crazy" in a Fox News Radio interview on Tuesday in which he defended himself and his family against a mounting probe by Democrats.
President Donald Trump's second son took shots at Ocasio-Cortez and other Democrats when Fox host Brian Kilmeade asked him to comment on his name being included in a list of 81 people and entities that Democrats are demanding documents from, in their wide-ranging investigation.
Eric Trump, who serves as executive vice president of the Trump Organization, said that Democrats "don't have a message, they don't have a party."
"Their candidates are proven to be absolutely crazy, AOC, right?" he said, referring to Ocasio-Cortez.
Trump continued to say that Ocasio-Cortez's mother said in an interview that she moved from New York to Florida because the taxes are too high in the former.
"AOC is trying to raise taxes and she just drove Amazon out of our state, so we lost 25,000 high paying jobs in New York state, a state that's bleeding people every single day to other states because taxes are too high," Eric Trump said.
"I mean, is this — this is the leadership of the Democratic Party," the president's son continued. "The Green New Deal, again, is going to cost $93 trillion. We'll bankrupt our nation in about two minutes."
The Trump family has been highly critical of Ocasio-Cortez's proposed Green New Deal, which seeks to combat climate change and economic inequality.
Eric Trump's older brother Donald Trump Jr. has also ripped Ocasio-Cortez. In December, Trump Jr. posted a meme on his Instagram with a photo of her and "Why are you so afraid of a socialist economy?" on top, and under it, an image of his father and "Because Americans want to walk their dogs, not eat them."
Ocasio-Cortez hit back at Trump Jr. on Twitter with a warning that Democrats in control of the House would go after him.
"I have noticed that Junior here has a habit of posting nonsense about me whenever the Mueller investigation heats up. Please, keep it coming Jr - it's definitely a "very, very large brain" idea to troll a member of a body that will have subpoena power in a month," she tweeted. "Have fun!"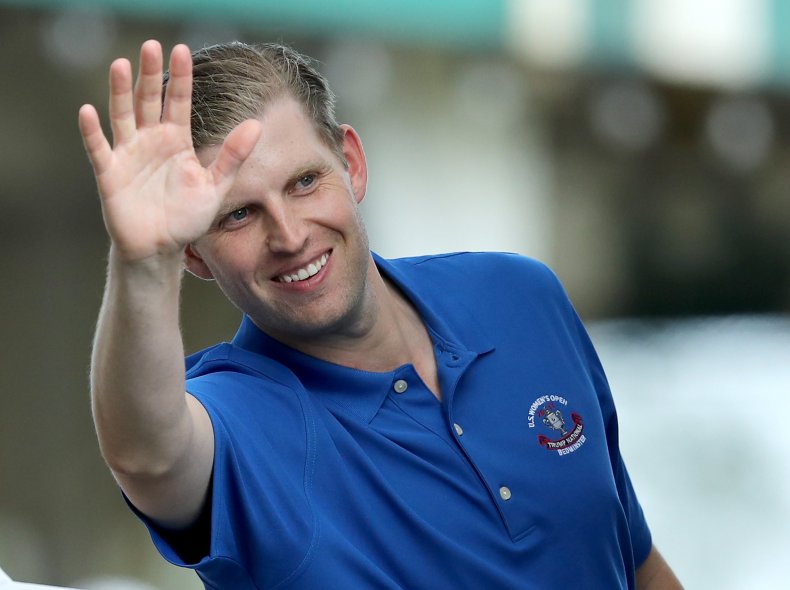 On Fox News Radio, Eric Trump said his family has "plenty of lawyers" and called Congress "incompetent" for spending time and resources on investigating the Trumps rather than on issues facing Americans like healthcare and education.
"I mean if you look at how incompetent Congress is overall, it's just, it's incredible," he said. "But yes, we're going to fight the hell out of it. And we'll fight where we need and we'll cooperate where we need and — but the desperation shows."