Eric Trump Calls Democrats 'Deranged' After George Conway Nicknames President Trump #DerangedDonald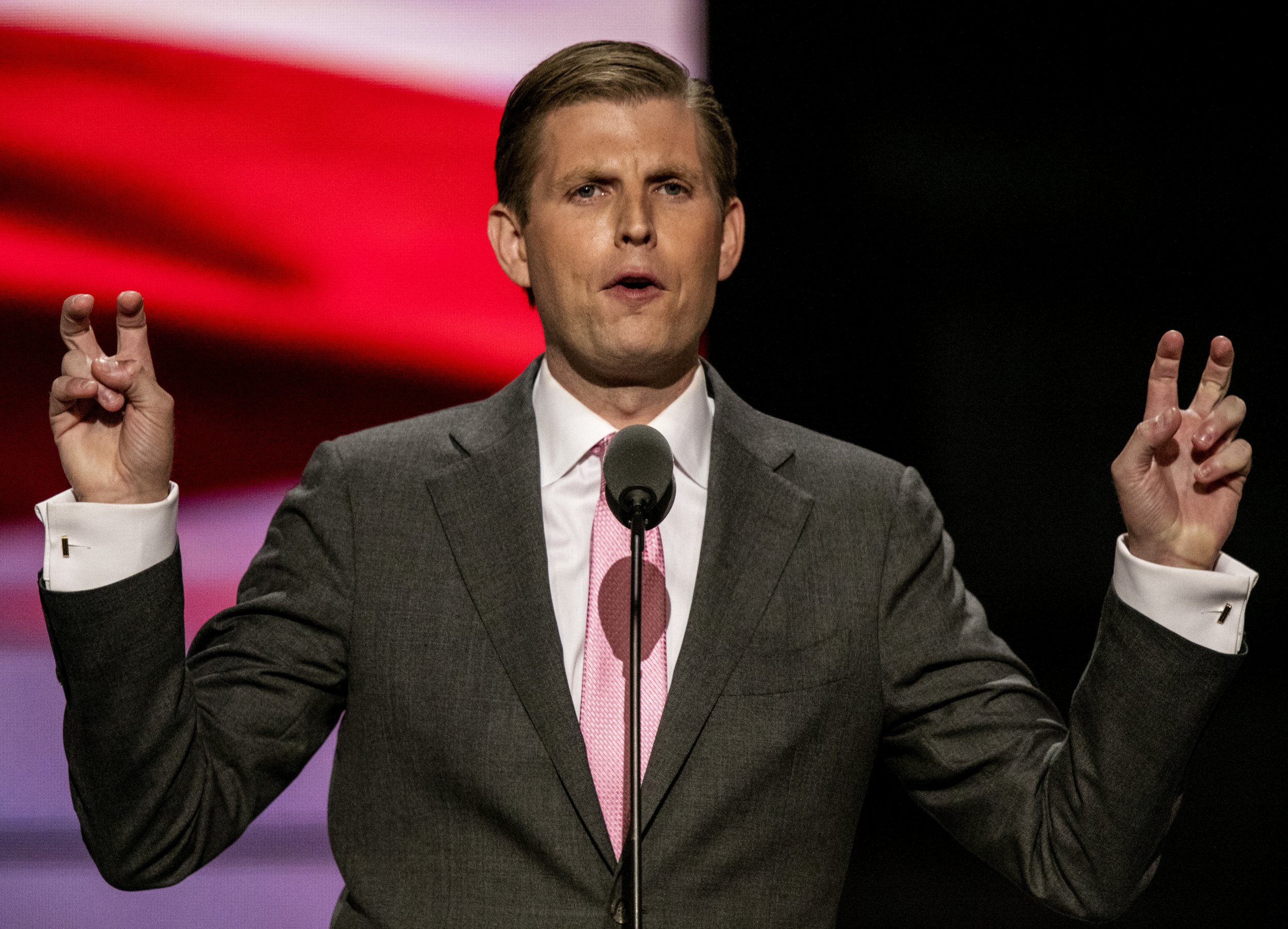 First son Eric Trump called Democrats "deranged" on Fox News Thursday, only a week after George Conway, husband of White House counselor Kellyanne Conway, got the hashtag #DerangedDonald to trend on Twitter in reference to President Donald Trump.
The president's second oldest son — and executive vice president of the Trump Organization — flipped the "deranged" insult back at the president's critics, using the term to attack Democrats on Hannity, the Fox News show hosted by the president's close friend Sean Hannity.
Democrats "are failing, Sean. They don't have a message, they don't have proper leadership and I am telling you, he's going to win this thing again," Eric Trump said, referring to his father. "He's going to win this thing in 2020 because they are incredibly deranged."
Eric Trump also said Democrats "don't have any leaders out there."
"These candidates all look very weak to me," the first son said. "I welcome running against, quite frankly, any of them and helping my father in every way we can."
Eric Trump added that Democrats "won't let go" of the Russia investigation. Special Counsel Robert Mueller's report concluded no criminal conspiracy was found between the Trump campaign and Russians in the 2016 presidential election and did not make a determination on whether the president obstructed justice but did not exonerate him.
Democrats on the Senate Judiciary Committee grilled Attorney General William Barr Wednesday on why his summary of the Mueller report seemed to misrepresent the special counsel's conclusions. Barr then refused on Thursday to appear voluntarily before the Democratic-led House Judiciary Committee.
Eric Trump also went after Congress for its continued efforts to probe the Trump administration.
"This is what you get out of these people. They don't want to work for the American people, they don't want to do their jobs in Congress. I say this as a civilian, people are sick and tired of this nonsense," the first son said.
Eric Trump's "deranged" comment about Democrats followed George Conway's tweets a week earlier labeling the president with the same insult.
"Deranged Donald is at back at it again," George Conway tweeted. "Deranged Donald can do things like this and it's not even the top of the news, because it gets lost beneath all of the other deranged things Deranged Donald does. #DerangedDonald"
George Conway, a lawyer who is frequently critical of his wife's boss, also tweeted: "Deranged Donald has this neat job where he's supposed to receive and read books with more accurate, highly valuable, top secret information, but he doesn't like those books unless they have lots of pictures and tell him how great he is. #DerangedDonald"
Kellyanne Conway's husband that day also took a shot at the conservative-leaning network that Eric Trump appeared on.
"Plus Deranged Donald doesn't really need all those books because Fox News," George Conway tweeted. "#DerangedDonald."