Eric Trump Complains About His Social Media Clout Amid Censorship Row
Eric Trump complained about his social media reach and tech companies having "their fingers on the dial" last night, as he argued that censorship had become "probably number one issue in politics" over the last few weeks.
President Donald Trump's son told Fox News that, "based on engagements and likes" on his social media posts, he believed he and other right-wing commentators were being censored.
Speaking to The Ingraham Angle show on Wednesday night, Trump said: "You better believe they also have their fingers on the dial. If I put something out that they disagree with, the numbers are down. I can just see it based on engagements and likes... they are censoring us, they don't do it to the other side and its gross.
"But Americans are seeing through it, believe me Americans see through it. And quite frankly, the one you don't want to do to Americans is take away their free speech. This is our first amendment right for a reason."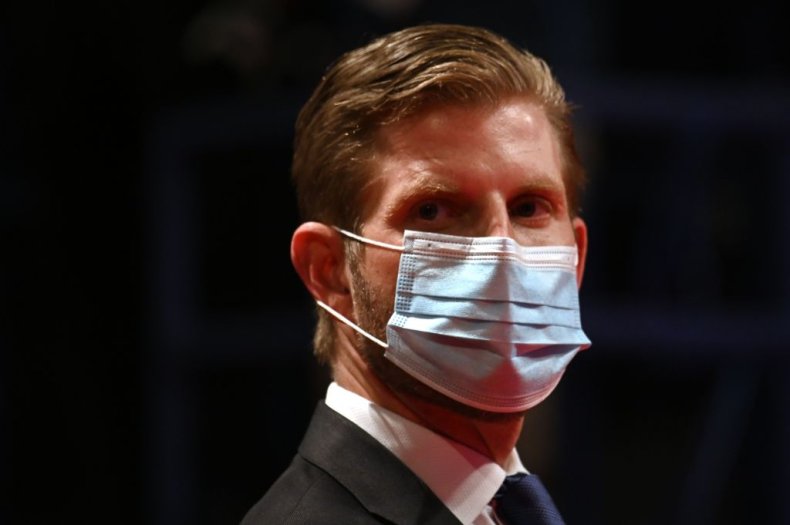 Newsweek has contacted the Trump campaign in for further comment from Eric Trump. This article will be updated with any response.
Eric Trump, the third eldest child of the president and a Trump Organization executive vice president, complaints about social media companies comes after Twitter and Facebook moved to restrict the reach of a New York Post story about Democratic presidential candidate Joe Biden's son, Hunter Biden, earlier this month.
Twitter initially blocked users from posting a link to the newspaper's article citing its rules which prohibit the spread of content "hacked" content.
The Post is still locked out of its Twitter account, and has not been able to post on the platform since October 14.
Appearing in front of the Senate Commerce Committee on Wednesday, Twitter CEO Jack Dorsey said the newspaper could regain access to its account if it deleted its original tweet.
"They have to log-in to their account, which they can do at this minute, delete the original tweet which fell under our original enforcement actions," Dorsey told Texas Senator Ted Cruz. "And they can tweet the exact same material and the exact same article and it would go through."