Eric Trump's Profanity Laced Attacks on De Blasio Cheered on By HUD Official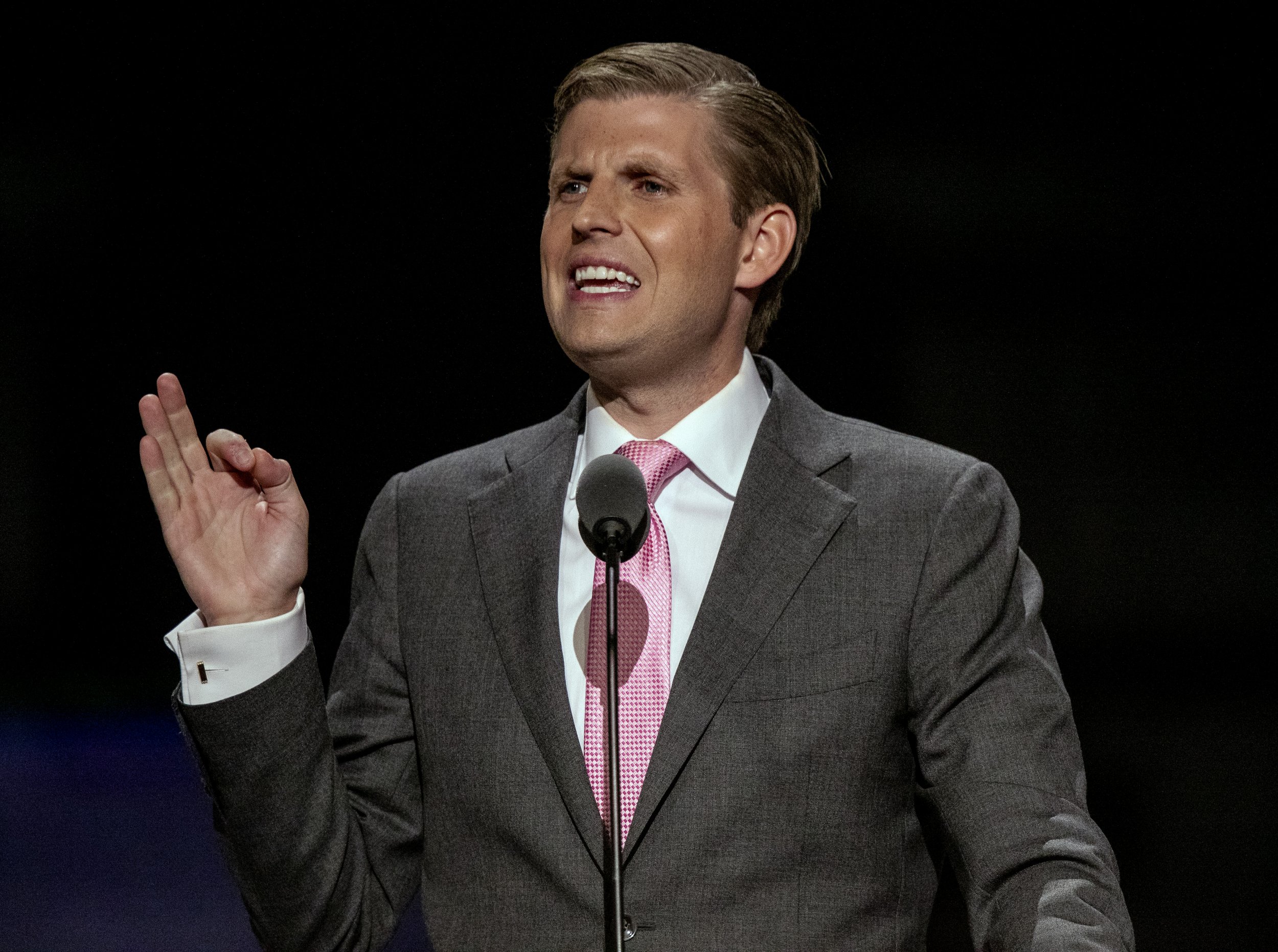 A Twitter war between President Donald Trump's second eldest son Eric Trump and New York Mayor Bill de Blasio got even more heated Wednesday when a U.S. Department of Housing and Urban Development (HUD) official cheered the younger Trump on with her own profanity-laced tweet.
Eric Trump, who serves as executive vice president of the Trump Organization, ripped de Blasio on Monday shortly after the mayor held a press conference in the lobby of Trump Tower criticizing the real estate organization's "failure to cut emissions" at its properties and to promote his Green New Deal.
De Blasio on Monday night countered a tweet by Eric Trump accusing him of attacking the Trump Organization "for his own political gain" by replying, "You and your dad have spent decades evading taxes and stifling your workers," and, "Fix your buildings or pay the price."
Eric Trump on Tuesday afternoon replied, "our great city has gone to sh*t under your leadership," and complained of crime, homelessness and people leaving.
Lynne Patton, a HUD administrator for Region II which oversees New York and New Jersey, quote tweeted Eric Trump on Wednesday morning and gave him "kudos."
"You know what else has GONE TO SH*T under the watch of the @NYCMayor?" Patton tweeted. "The largest public housing authority in the Western Hemisphere, housing more people than the entire city of Miami: @NYCHA! Thank goodness @SecretaryCarson's federal monitor will fix it!"
Patton siding with the president's son is not surprising. She was an unpaid director at the Eric Trump Foundation and her biography states she took part in casting two seasons of The Celebrity Apprentice. Patton's Twitter profile cover photo shows her standing behind the president in the Oval Office.
The HUD administrator then slammed the "useless liberal media desperately trying to cry foul" on her tweet, saying that she sent it from her personal account.
President Trump also showed he liked his son's tweet stating that New York City had "gone to sh*t" under de Blasio, by retweeting it.
De Blasio said the president was "running scared" from New York City's Green New Deal, a city law expected to go into effect on Friday aimed at lowering greenhouse gas emissions by 30 percent by 2030, and mandating that buildings comply by reducing their emissions.
Eric Trump's shots at the mayor mirrored the tone of many tweets by his father and older brother, Donald Trump Jr. Eric Trump has not been as outspoken, but his spat with the mayor showed he can be just as willing to fight back.