Eric Trump Says Democrats 'Can't Stand' His Father Because He Is 'Independently Successful'
Eric Trump, son of President Donald Trump, has said Democratic lawmakers cannot stand his father because he is "independently successful" and "doesn't need his job" to get by.
In a Monday night interview with Fox News about the president's impeachment and coming Senate trial, Eric Trump urged Republicans in the upper chamber not to vote for further witness testimonies, arguing Democratic congresspeople had cried wolf "over and over again."
The executive vice president of the Trump Organization added that he hoped Republican lawmakers would not "get forced" into voting for additional witness appearances in the upper chamber, and attempted to cast doubt on the prospect by claiming the GOP was "more united than ever" around impeachment.
He made the comments on the eve of the Senate impeachment trial's first proper sitting later today, where lawmakers are expected to discuss the upper chamber's trial rules, set out by Mitch McConnell in a resolution last night.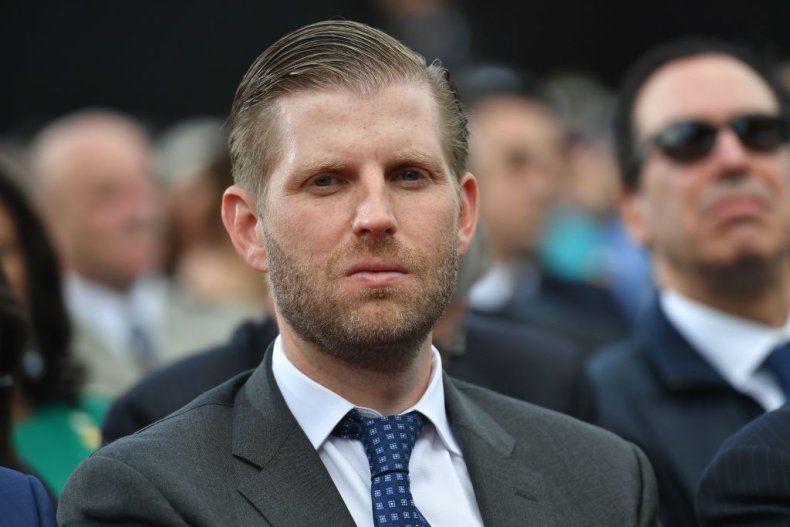 The Senate impeachment trial begins in earnest today, a little more than a month after the House voted to impeach President Trump on charges of abuse of power and obstruction of Congress.
Speaking to Hannity about impeachment last night, Eric Trump hit out at Democratic lawmakers at the center of the process against his father.
"My father is not one of them, he's not a swamp creature," the Trump Organization boss said. "My father's been independently successful. He doesn't need this job, and that's why they can't stand him."
On the 2016 campaign trail, Donald Trump famously spoke of receiving a "small" $1 million loan from his father, the real estate developer Fred Trump.
But an investigation by The New York Times in 2018 found the president was actually loaned around $60.7 million by his father.
Asked for his thoughts on the prospect of a few Senate Republicans voting in favor of further impeachment witnesses being called during the upper chamber trial, the president's son Eric said: "Well they shouldn't. How many times can you cry wolf right? And they've done that over and over and over again, and that's what I hope the Republicans understand."
The president's son went on to claim that Republicans were "more united than ever before" around his father.
"The Republicans know what these people [Democrats] are doing," Trump said. "They're trying to throw their Hail Mary."
He added: "They know exactly what these guys are trying to do, they shouldn't play their games. And hopefully they won't get forced into playing those games."
Under the Senate impeachment trial rules laid out in Majority Leader McConnell's resolution yesterday, lawmakers will only have a chance to vote on calling further witnesses after 48 hours of opening arguments and a further 20 hours of questioning and debate.
House prosecutors will be given 24 hours over two days to make their opening statements against President Trump, and the commander-in-chief's team will be given the same amount of time to set out his defense.
It has been widely reported that the schedule appears to be an attempt to rush the process, given that the impeachment trial of Bill Clinton stretched for more than a month.