Eric Trump: Democrats 'Don't Have the Personality' to Go Against President Trump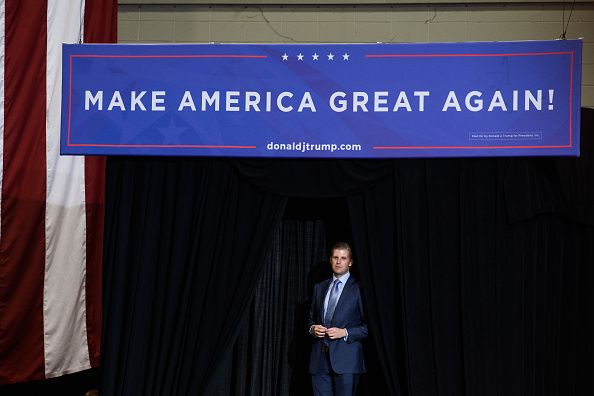 Eric Trump said Democrats do not have the "personality" to go against his father, President Donald Trump.
During an interview with Fox & Friends on Wednesday, Eric Trump said he was "focused on the Democrats" while his father was delivering his State of the Union address. During the speech, Trump noted, many of the Democrats in attendance did not stand for any of the president's remarks, and he also noted their body language.
"They don't have that message," said Trump. "They don't have the personality to go against him. They were sitting there and quite frankly, looked defeated."
"Honestly, I think they're scared," the executive vice president of the Trump Organization continued. "I really, really think they're scared."
Some Senate Democrats, however, wore black during the address, in solidarity with the #MeToo movement, and made it clear Tuesday night they do not expect President Trump to change, despite the praise he received for his remarks.
This is not the first time the Democrats have been criticized for their character. The president and others in the Trump administration had some harsh words for the party at the beginning of the year after failing to avoid a government shutdown.
"Tonight, they put politics above our national security, military families, vulnerable children and our country's ability to serve all Americans," White House Press Secretary Sarah Huckabee Sanders said in a statement, referring to Democrats. "This is the behavior of obstructionist losers, not legislators."
In November, President Trump called the Democrats obstructionists, blaming them for not helping to shape the tax-overhaul legislation.
"If Democrats were not such obstructionists and understood the power of lower taxes, we would be able to get many of their ideas into Bill!" Trump tweeted.
After Trump delivered his State of the Union address, many Democrats gave their own speeches. Senator Bernie Sanders (I-Vt.) called Trump a "bully" and "compulsively dishonest."
Eric Trump: Democrats 'Don't Have the Personality' to Go Against President Trump | U.S.