Eric Trump Was Recruited by Father Donald to Help Silence Stormy Daniels's Affair Allegations: Report
President Donald Trump reportedly tasked his son Eric and former personal attorney Michael Cohen in February with silencing adult film star Stormy Daniels from speaking out about an alleged affair.
Trump told Cohen, in a phone call, to work with another lawyer to obtain a restraining order against Daniels, whose real name is Stephanie Clifford, after he learned she was going to be interviewed, The Wall Street Journal reported Tuesday, citing unnamed sources familiar with the event. The president also told Cohen to bring in his son Eric, who tasked a Trump Organization lawyer with "signing off" on paperwork for an arbitration hearing.
The report could be particularly damning for Trump, as he had previously publicly denied knowing about any effort to pay off Daniels for her silence, or what Cohen was doing to arrange that silence.
According to The Journal, the Trump Organization in March said it was not involved in the arbitration and that the company attorney, Jill Martin, had acted in an "individual capacity." Martin later wrote a statement to respond to The Journal and Eric Trump approved it.
Newsweek subscription offers >
An arbitrator in California filed a restraining order against Clifford later in February, but 60 Minutes still interviewed her for a story that aired in March. Clifford claimed she had sex with Trump in 2006, and that she and Trump had remained in contact for several months afterward.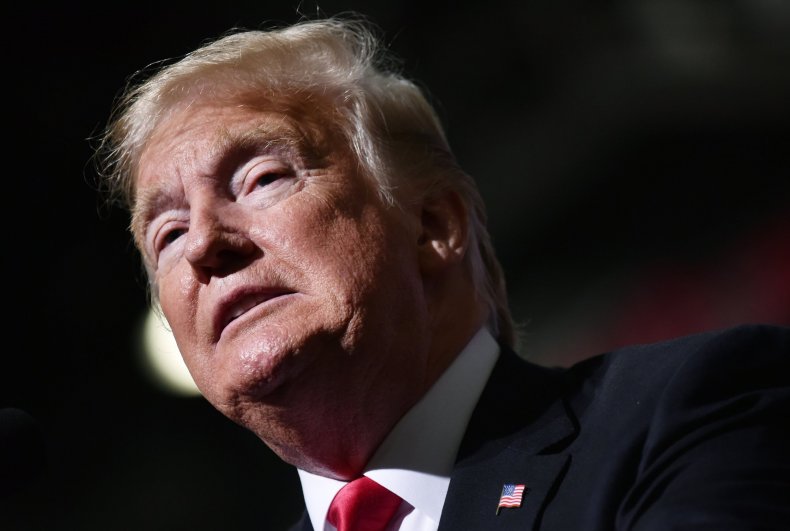 The president has denied the affair or knowledge of the $130,000 payment made to Clifford by Cohen in October 2016, less than two weeks before the presidential election and shortly after an Access Hollywood tape revealed Trump bragging about sexually assaulting women.
Cohen worked with Trump for more than a decade and had once vowed undying loyalty to the president. But following raids of his home, hotel room and office in April, Cohen pleaded guilty to violating federal campagn finance laws, and agreed to cooperate with federal prosecutors investigating the payments made to Clifford and former Playboy model Karen McDougal, who said she had an almost year-long affair with Trump between 2006 and 2007 and received $150,000 to keep quiet. Cohen was also under investigation for tax evasion and other charges related to his businesses.
Newsweek subscription offers >
Cohen vowed over the summer to tell the truth about his dealings with Trump, and a recording was released of Cohen and Trump talking about arranging the payment to McDougal in coordination with American Media Inc. chairman and CEO David Pecker.
Pecker, a longtime friend of the president's, was accused of buying negative stories about Trump and never publishing them. He was granted immunity to provide information about Michael Cohen and President Trump.
Eric Trump Was Recruited by Father Donald to Help Silence Stormy Daniels's Affair Allegations: Report | U.S.