Eric Trump Says His Father Has Done More For Relationship With North Korea Than 'Any President Ever'
Ahead of President Donald Trump's second summit with North Korean leader Kim Jong Un, his son Eric Trump praised the president for improving the relationship between the two countries more than any other president.
During a Saturday event hosted by the Trumpettes USA at the president's Mar-a-Lago club in Palm Beach, Florida, Eric addressed attendees from the stage and spoke about his father's upcoming summit. He told the room full of his father's supporters that the president was "keyed up" about meeting with Kim, according to the Sarasota Herald-Tribune.
"He has done more for the relationship between the two countries than clearly any president ever," Eric added. "I think it's undeniable."
He also asked the crowd if anyone was "tired of winning," a message that's been touted by his father as well. While the president didn't attend the event, he made an appearance through a recorded video message that was taped at the White House ahead of time.
In the message, Trump told attendees that they are a "very special group of friends" and expressed hope that they would enjoy their evening and Palm Beach, according to NBC News. Given the timing of the event, the president also addressed North Korea, praising the successful relationship.
"There's no more rockets going off. There's no more missiles. There's no nuclear testing," Trump said in the video, which was projected onto a screen in the ballroom. "We have a terrific relationship. We'll see where it goes. Who knows where it goes? But we'll see."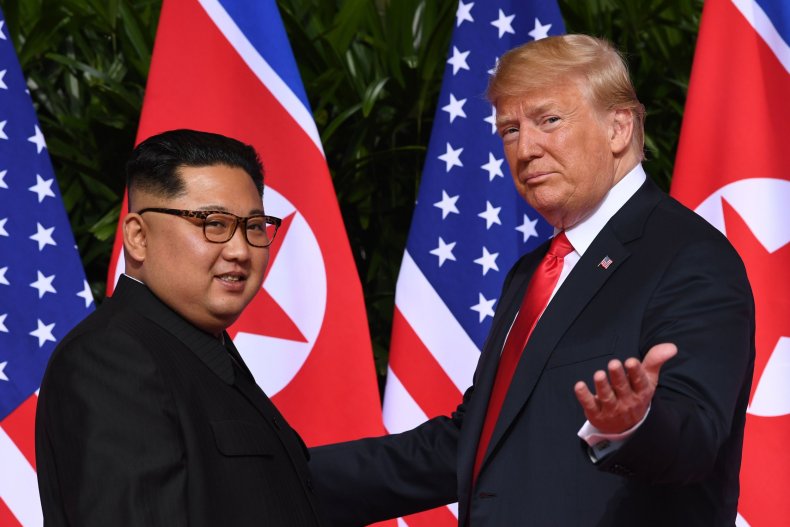 Trump and Kim will meet in Vietnam, marking the second summit between the two leaders. After their first meeting, Trump said the two "fell in love," and he noted in January that he had received a "great letter" from the North Korean leader. Trump was criticized for the comments, given the brutality with which Kim reigns over his people.
Ahead of their second meeting, Secretary of State Mike Pompeo elaborated on the president's comments. He told Fox News host Chris Wallace that "relationships matter" and affect everything, from simple things to a "grand strategy in denuclearization." He added that leaders need to effectively communicate and said he watched Kim and Trump exchange messages.
Trump posted on Twitter that he was looking forward to a "very productive summit" and thanked the "tremendous crowds" for a great reception when he landed.
Saturday's event had table ticket prices as high as $20,000, according to the Palm Beach Daily News, and more than 800 people were in attendance. Big-name guests included Fox News host Jeanine Pirro, who gave a speech, and actor Jon Voight, who took photos with guests.
"It's an amazing event. A lot of passion, and they do a great job, so this is exciting," Eric told NBC News.