Eric Trump Facts: President's Son Celebrates Birthday as White House Erupts Over Russia Probe, New Book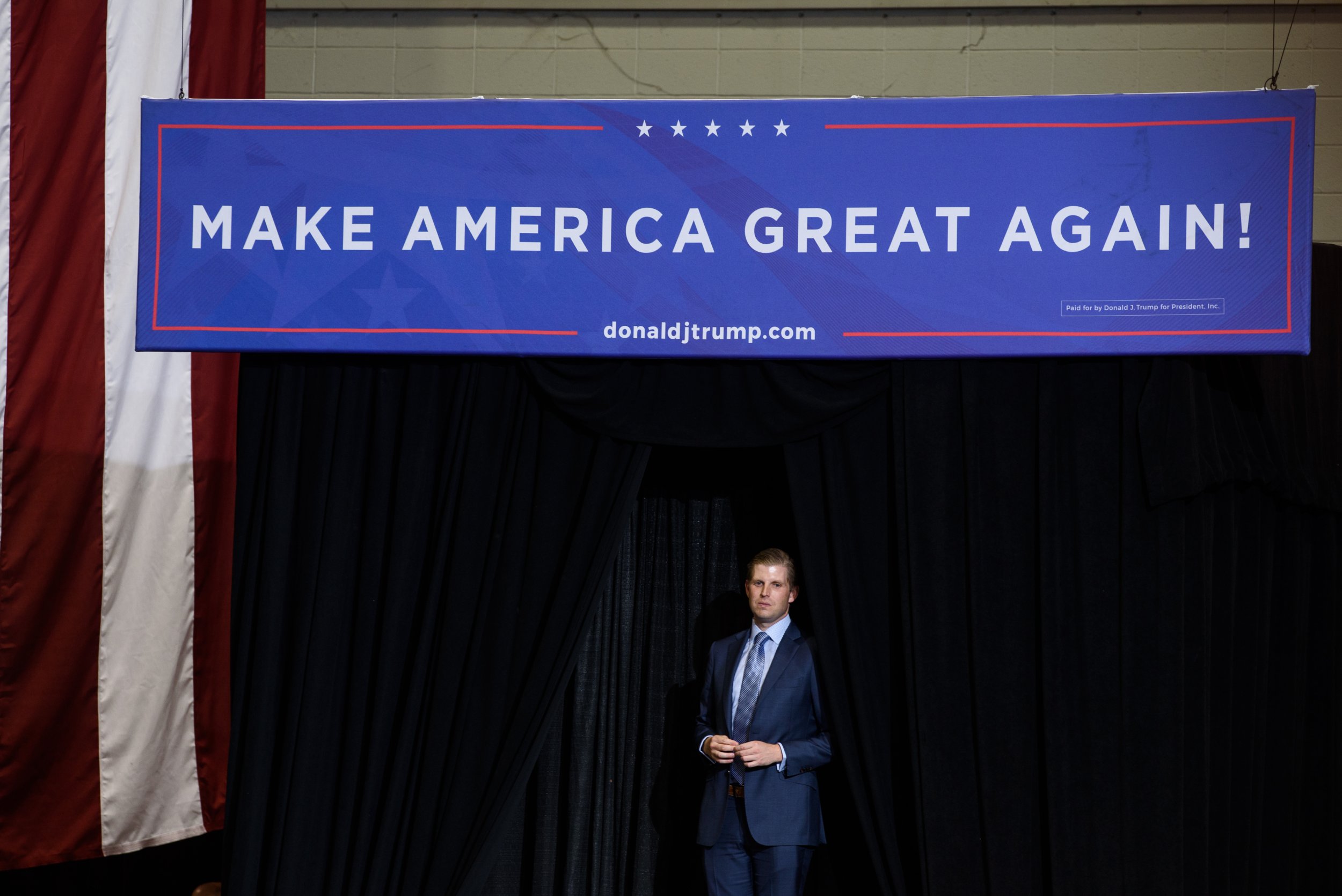 President Donald Trump's son Eric Trump turns 34 years old Saturday, as the White House struggles to deal with a Russia probe and new tell-all book by Michael Wolff.
In the book, In Fire and Fury, Wolff was not terribly kind to Eric.
"Donald Trump's sons, Don Jr. thirty-nine, and Eric, thirty-three, existed in an enforced infantile relationship to their father, a role that embarrassed them, but one that they also professionally embraced," Wolff wrote. "The role was to be Donald Trump's heirs and attendees. Their father took some regular pleasure in pointing out that they were in the back of the room when God handed out brains."
Eric echoed this himself, when he told the New York Magazine that his brother Don Jr. and sister Ivanka were the real parents to him.
"[Ivanka] took me under her wing and raised me, took me shopping, tried to make me cool," he said.
And Eric isn't being let out of the Russia talk either. In November, a member of the House Intelligence Committee told Newsweek he wants the panel to interview Eric Trump as part of its investigation into Russia's election meddling.
"We still have many interviews that are being scheduled, more documents that we're receiving from witnesses and other evidence. We need to visit with some of the principals, including Donald Trump Jr., Eric Trump and others that we've not had a chance to sit down with yet," Representative Joaquin Castro (D–Texas) said. Asked if such discussions were ongoing or would begin soon, the Texas congressman added, "Yeah. Most of these requests have already been put forward by Democrats to the majority."
However, at the time, a Castro spokeswoman said that the interview request had not started so there are not any current plans to begin the process. But he is definitely intertwined in the Russia investigation.
Eric is the youngest of the Trump/Ivana children, and after attending Georgetown, immediately went to work for his father -- and he hasn't stopped working for him since.
Today he works with his brother, Don Jr., leading the Trump Organization (President Trump had to step down once he won the election). In his current job, he keeps in close contact with his father.
"I talk to him a lot. We're pretty inseparable," Eric Trump recently told Forbes. Aside from the White House, Eric also owns and operates Trump Winery.
Eric married Lara Kunaska in 2012. Kunaska also works in the Trump White House as a liaison from digital vendor Giles-Parscale to "Trump's ongoing campaign," according to the Associated Press. The couple had their first child, Eric Luke Trump, in September 2017.