Eric Trump Slammed for Posting Video of Marine One Landing at Mar-a-Lago After Florida Shooting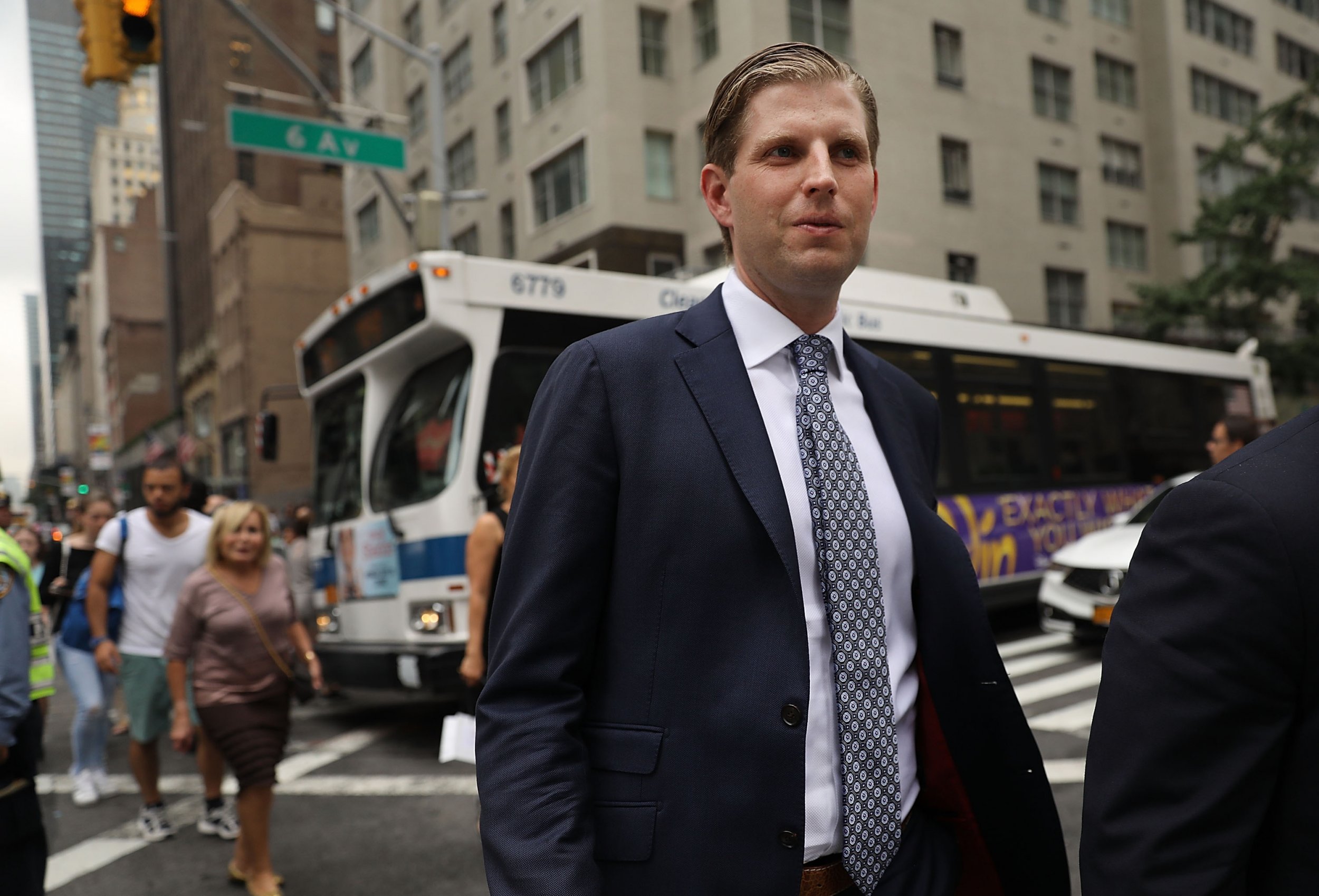 Eric Trump was heavily criticized Friday after posting a video of Marine One landing at his father's Mar-a-Lago estate, in Florida, while the state reels from a deadly mass shooting at a high school.
Eric, President Donald Trump's third-oldest child, tweeted out a 15-second-long clip showing the commander-in-chief's helicopter touching down behind the lavish club's swimming pool.
"# MarineOne landing at # MaraLago," Eric Trump wrote.
The tweet resulted in more than 2,000 comments, many of which were critical of the president's son.
Twitter users blasted Eric Trump for posting the video while the state deals with the aftermath of the shooting. The first funeral for one of the 17 victims was held Friday.
"An entire community is grieving. 17 people are dead. The first funeral, that of a 14 year-old, is being held today down the road. But yeah, nice view," CNN contributor and Trump critic Ana Navarro tweeted.
One user chastised the president's frequent visits to his golf courses and listed the names of victims.
Another user questioned whether Eric Trump understood the magnitude of losing a child.
"Eric, a family is burying their little girl today and you show this? How would that make you feel if that was your child that had been killed? Now multiply that times a thousand & you might be close. I too loss a child back in 89 and it still hurts," the user tweeted.
Others pointed to Trump's repeal a year ago of legislation that previously denied citizens with mental disorders access to guns, as well as his close ties to the National Rifle Association.
The elder Trump was originally scheduled to be at Mar-a-Lago for the long President's Day weekend but also intends to visit Parkland, Florida, following Wednesday's mass shooting at Marjory Stoneman Douglas High School. President Trump vowed Thursday to help the victims in any way that the federal government could.
Trump campaigned heavily on defending Second Amendment rights and did not mention the word "gun" during his remarks Thursday. He also seemingly blamed others for not seeing "signs" that alleged shooter Nikolas Cruz could commit such a heinous act.
"So many signs that the Florida shooter was mentally disturbed, even expelled from school for bad and erratic behavior. Neighbors and classmates knew he was a big problem. Must always report such instances to authorities, again and again!" Trump tweeted Thursday.