Video: Stephen Colbert Takes Down Eric 'Dullest Knife in the Republican Drawer' Trump, Adds Bucktooth Mr Bunny Routine
It wasn't just President Donald Trump who was at the sharp end of CBS host Stephen Colbert's barbed wit, his son Eric also got a roasting on The Late Show. Colbert mocked Eric Trump's insistence on Fox News that the vast majority of people supported his father.
Colbert started his monologue on Wednesday posing the question of whether the president's tweet suggesting four Congresswomen of color to "go back" to where they came from was racist.
After mocking the efficacy of the House of Representatives' condemnation of the president's "racist comments," Colbert said the Republicans "make it look easy" in defending "obvious racism."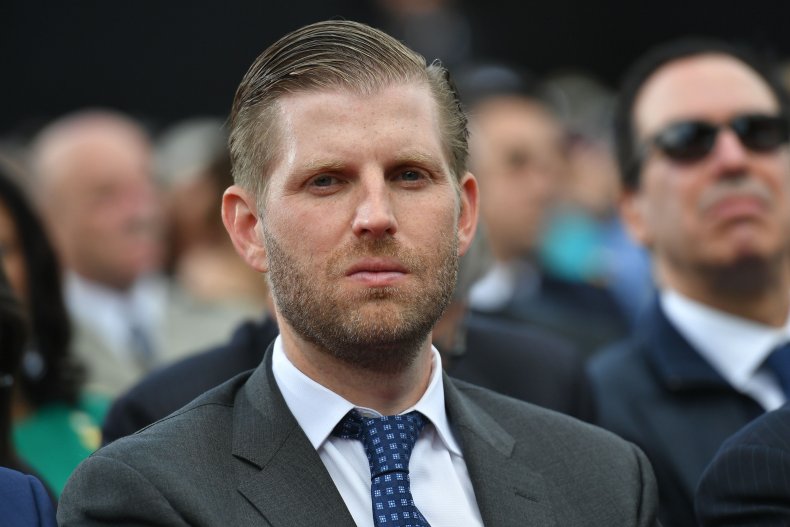 Colbert started by mocking Pennsylvania Rep. Mike Kelly who said of the Democrats "they talk about people of color. I'm a person of color. I'm white."
Colbert then took aim at the president's second son, saying: "But perhaps the dullest knife in the Republican drawer is presidential son… Eric Trump."
The show ran the clip in which Trump's son told Fox and Friends, "My father is in there, and he's fighting every single day. And he has to fight against the media. He has to fight against these lunatics. And guys, I'm telling you, 95 percent of this country is behind him in this message."
Colbert then did an impression of the president's son, pushing his lips up to mimic Eric Trump's gums and mocking his voice and turns of phrase.
The CBS host said: "Yeah, 95, I'm telling ya. 95 percent is behind my Dad, okay. Okay, you better check my math, okay, he lost the popular vote, okay, lowest approval rating of all time," as he showed two fingers that he fashioned into bunny ears.
Colbert looked at the fingers and said: "Hi, Mr. Bunny, Dad, can I keep him, wait, come back. Come back, Mr. Bunny! I love you! They always leave."
Eric Trump also told Fox and Friends how "no one's been fighting for American pride and standing up for the national anthem and standing up for our flag. And not allowing our flag to be burned in the streets. No one's been fighting for these things."
His assessment of his father's approval is not in keeping with the latest polls. Last month it emerged only 45 percent approved of the job Trump is doing as president, while 51 percent disapproved, numbers which are among the lowest ever recorded for a president's first term, CNN reported.
A new USA Today poll shows that 68 percent of people believe Trump's attacks aimed at Reps. Ilhan Omar (D-Minn.), Rashida Tlaib (D-Mich.), Ayanna Pressley (D-Mass.) and Alexandria Ocasio-Cortez (D-N.Y.) were offensive. Some 65 percent of respondents said that his "go back" tweet was a racist statement.