Eric Trump Complains That It's Harder to See His Dad Now, Possibly Thanks to John Kelly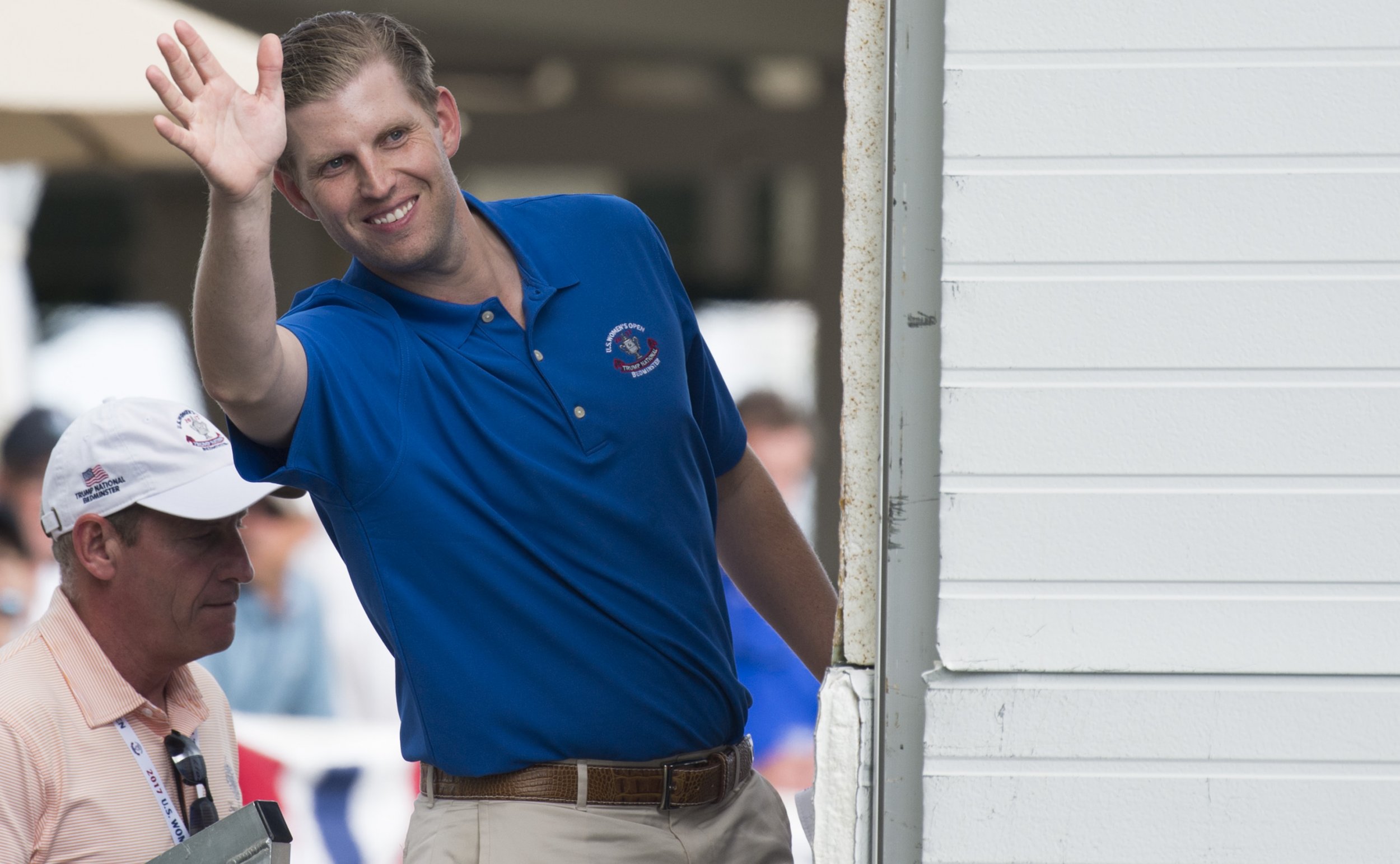 First son Eric Trump appeared to diss his dad's chief of staff John Kelly on Friday, apparently complaining that the Trump family still isn't happy about his crackdown on White House drop-bys.
Eric Trump, 33, made the dig as he shared photos of himself, his father and his wife taken Thursday in the Oval Office. "It isn't quite as easy to visit @realDonaldTrump in his office as in the old days but we are so proud of him & the job he's doing to #MAGA!" he wrote.
As soon as Kelly was sworn in as chief of staff in late July, he began to limit the previously unfettered access the large Trump brood had to its patriarch. First daughter Ivanka Trump was told, for example, that she could no longer "come by and say 'hi,'" like she did during two interviews over the summer, once with her daughter tagging along. The same went for her husband, Jared Kushner, according to Politico.
Ivanka Trump now needs to tell Kelly if she wants to discuss politics, as opposed to personal business, with the president, according to the New York Times. CNN reported Republican leaders were "annoyed" when not-so-coincidentally arrived during a September meeting between her dad and lawmakers about disaster relief, tax reform and the debt ceiling.
She "entered the Oval Office to 'say hello' and the meeting careened off-topic," a congressional source told CNN at the time.
Eric Trump's Friday tweet could, of course, be simply innocent—it probably is harder to see his dad now than it was when the billionaire was a private citizen without presidential responsibilities. But it could also signal that he's chafing under the rules.
The new distance between son and father might not all be Kelly's fault. As executive vice president of the Trump Organization, Eric Trump represents the business interests from which his dad allegedly stepped back when elected. His wife, Lara Trump, is helping lead Donald Trump's 2020 re-election campaign and has been accused of using her position to influence government affairs.
On top of this, Eric Trump could also soon be targeted in an investigation into how Russia meddled in the 2016 campaign and whether his dad's campaign was involved. Newsweek reported this week that Representative Joaquin Castro, a Texas Democrat, said the House Intelligence Committee wants to interview the first son as part of its probe.
"We still have many interviews that are being scheduled, more documents that we're receiving from witnesses and other evidence. We need to visit with some of the principals, including Donald Trump Jr., Eric Trump and others that we've not had a chance to sit down with yet," Castro added, though his spokeswoman later clarified that the interview process hadn't yet begun.
Throughout all of this, Eric Trump has bragged about the connections the various members of the Trump family have with the commander-in-chief. In April, for example, Eric Trump told the Telegraph that nepotism was "a beautiful thing."
Pretty as a picture, you might say.