Eric Trump Likes Tweet Praising Michelle Wolf's Takedown of Sarah Huckabee Sanders
Eric Trump appears to be less annoyed than his father about the jokes made by comedian Michelle Wolf at the White House Correspondents' dinner—liking tweets that referenced the roast.
Wolf found herself the subject of criticism after mocking White House Press Secretary Sarah Huckabee Sanders, along with President Donald Trump and his administration. The president slammed the comedian as "filthy" and unfunny.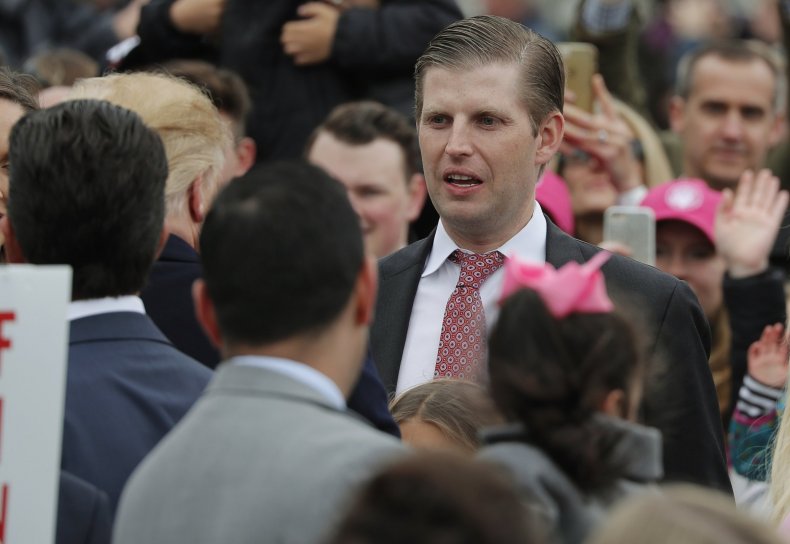 But Eric Trump appeared not to agree. He liked a tweet about Wolf's takedown of Huckabee Sanders, which also included footage of the roast, and enjoyed another that described the comedian as a "class act," the Huffington Post reported.
Wolf's comments have been criticized by a number of Republicans, particularly for her jokes about Huckabee Sanders.
"I'm never really sure what to call Sarah Huckabee Sanders. Is it Sarah Sanders, is it Sarah Huckabee Sanders, is it Cousin Huckabee, is it Aunt Huckabee Sanders? What's Uncle Tom but for white women who disappoint other white women? Ah I Know, Aunt Coulter," Wolf said during her roast, prompting the president to angrily tweet about the speech on Monday morning.
"The White House Correspondents dinner was a failure last year, but this year was a complete embarrassment to everyone associated with it," Trump tweeted in response to the speech, also suggesting the dinner should be revamped or canceled entirely.
It is not clear whether Eric Trump liked the tweets roasting Huckabee Sanders intentionally, given he also appeared to back his father for skipping the event.
As with the previous year's White House Correspondents' Dinner, the president arranged to take part in a different event on the same night. This year, Eric Trump praised his father for attending a rally in Michigan, the Daily Mail reported.
Eric Trump Likes Tweet Praising Michelle Wolf's Takedown of Sarah Huckabee Sanders | U.S.