Eric Trump Defends Philanthropy, Says He Raised $25M by Age of 30
Eric Trump, the second son of the former president, has boasted about his charitable fundraising during a Twitter spat sparked by claims about his actions on January 6.
Trump has threatened to take legal action against left-leaning website The Palmer Report over a claim it made following a Rolling Stone article about what led up to the riot on January 6.
The Palmer Report tweeted that Eric and his wife Lara Trump "reportedly used burner phones to communicate with January 6th organizers," in what it described as "something you do in a criminal plot."
The Rolling Stone article did describe the use of the phones that are hard to trace but said they were used by others to contact people such as Eric and Lara Trump.
Eric Trump shared the Palmer Report tweet on Thursday and wrote that it was "one outlet I can sue for defamation. This will be fun."
"I'm an incredibly honest, clean guy—unlike Hunter, no drugs, healthy lifestyle, not the 'burner phone' type," he added, referring to the battles with narcotics faced by the son of President Joe Biden, Hunter Biden.
Trump's tweet was disparaged by the Twitter user Brooklyn Dad who shared the message with his 918,000 followers and added "'incredibly honest, clean' people don't steal money intended for children with cancer."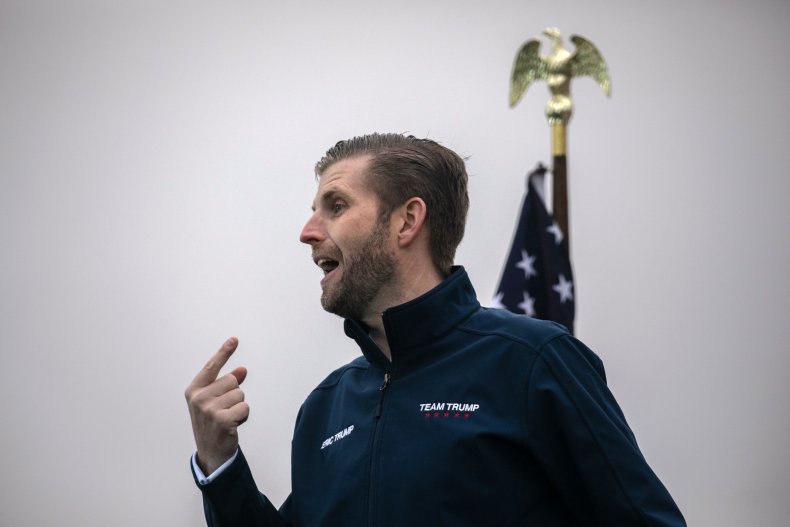 This was an apparent reference to accusations that his charity, the Eric Trump Foundation, had been funneling money to the Trump Organization given by those who thought they were donating to St. Jude Children's Research Hospital in Tennessee.
Eric Trump, 37, countered by tweeting: "By the age of 30, I raised 25 million dollars (at a 9.2% cumulative expense ratio) and built the most state-of-the-art Intensive Care Unit & Surgery Center, dedicated to children, on earth.
"Don't ever attack philanthropy especially when you have probably done sh*t in your life," he added.
There have been discrepancies in claims made about the amount of money raised for the hospital by the charity Eric Trump established in 2007. In September 2020, he responded to a journalist's criticism of his charity, tweeting, "We raised nearly $25 million," a claim he repeated two weeks later.
In 2016, when he said that his foundation would cease fundraising efforts to avoid the appearance of a conflict of interest during his father's presidency, Eric Trump put the figure raised at $16.3 million, according to PolitiFact.
In 2017, the then New York attorney general, Eric Schneiderman, opened an investigation based on the information Forbes published, also in 2017.
That year, Eric Trump's foundation restructured and rebranded as Curetivity, which Newsweek has contacted for comment.