Eric Trump Says Nancy Pelosi Is in 'Hysterical Spot' Over Impeachment, Will Lose Speakership If She Doesn't Play 'Game'
President Donald Trump's son Eric Trump has said Nancy Pelosi is in a "hysterical spot" over impeachment and will lose her speakership if she doesn't play the "game."
The executive vice president of the Trump Organization told Fox News' Ingraham Angle show last night that the speaker of the House had "lost control" and suggested she was under pressure from "radical leftists" in her caucus over impeachment.
He also argued that Pelosi would lose on impeachment because the senate would "blow up" the process should articles of impeachment be handed to the chamber for a trial of President Trump.
His remarks about the speaker came just two days after she spoke at a press conference unveiling the two articles of impeachment House Democrats have brought against President Trump.
Lawmakers on the House Judiciary Committee are holding their second debate over the impeachment articles in as many days on Thursday night, seeking to iron out the wording of the "abuse of power" and obstruction charges.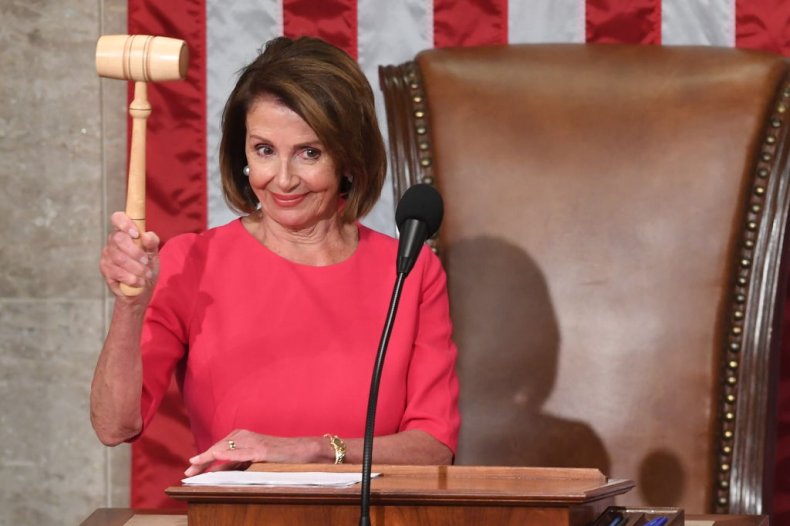 Speaking to Ingraham on Fox News last night, Eric Trump said Pelosi was in a "hysterical spot" and had "no control," comparing her to a quarterback at the end of their career.
"It's like a quarterback in the tail end of their career," Trump said. "She's been in there for 32 years and they're forced to a play that they know is going to lose, because they're going to get to the senate and this whole thing is going to blow up."
He went on to suggest that "radical leftists" in the Democratic Party were forcing Pelosi to play "the game" of impeachment, and predicted she would lose the speakership if she decided not to back the process.
The president's son said: "She doesn't want to play the game, but you've got these radical leftists on the other side that are forcing her to.
"If she's not going to play this game, she's going to lose her speakership, but if she plays the game, she knows she's going to lose."
Newsweek contacted Speaker Pelosi's office via email for a response to Eric Trump's comments and will update this article when a response is received.
An analysis of impeachment polling published by FiveThirtyEight this week found that inquiry hearings had done little to shift public opinion on whether or not the president should be impeached.
It was also shown that support for the inquiry was split along party lines, with less than ten percent of Republicans supporting impeachment, compared to 84 percent of Democrats.
House Democrats are expected to push for a full House vote on the articles of impeachment before the Christmas break, if they get through the Democratic-controlled House Judiciary Committee.
President Trump has repeatedly denied the accusations leveled against him and dubbed the impeachment process a "witch hunt." He has also labeled the articles of impeachment revealed by Democrats on Tuesday as "very weak."
Eric Trump Says Nancy Pelosi Is in 'Hysterical Spot' Over Impeachment, Will Lose Speakership If She Doesn't Play 'Game' | U.S.