Eric Trump Pulled A Pint Of Guinness And Twitter Has A Lot To Say About It
Twitter has reacted with horror, confusion and a little temperance to Eric Trump's attempts at pouring a pint of Guinness while out on a pub crawl in the Irish village of Doonbeg.
The sons of President Donald Trump, Eric Trump and Donald Trump Jr., decided to spend the night out while their father stayed at his golf course nearby Wednesday. And while the people of Doonbeg were happy to indulge the pair as they pulled pints and posed for selfies with the locals, Twitter has felt differently about one particular image.
The offending picture shows Eric Trump smiling and holding aloft a pint of Ireland's beloved dark stout. Stood behind the bar, Don Jr. looks on smiling at his brother. There's just one thing wrong with this triumphant image: half the pint is white, indicating that probably half the drink is frothy head rather than delicious beer.
"Eric Trump's attempt at pulling a Guinness is enough to trigger an international incident," wrote one Twitter user in response to the pint. "Release the hounds," he added. Another social media user's take on the situation was less creative but unequivocal, nevertheless. "Eric Trump's pint of Guinness is the worst ever," they wrote.
Belfast Comedian Paddy Raff used some of his native wit to express his displeasure over the drink. "Head of state's son—state of that head, son," he wrote on Twitter.
Guinness is difficult to get right, for the novice barman, and pouring it too quickly can result in an overly large head. Of course, too little froth is no good either for your creamy pint. Often bartenders will fill the pint two thirds high and then wait for it to settle before filling the drink completely.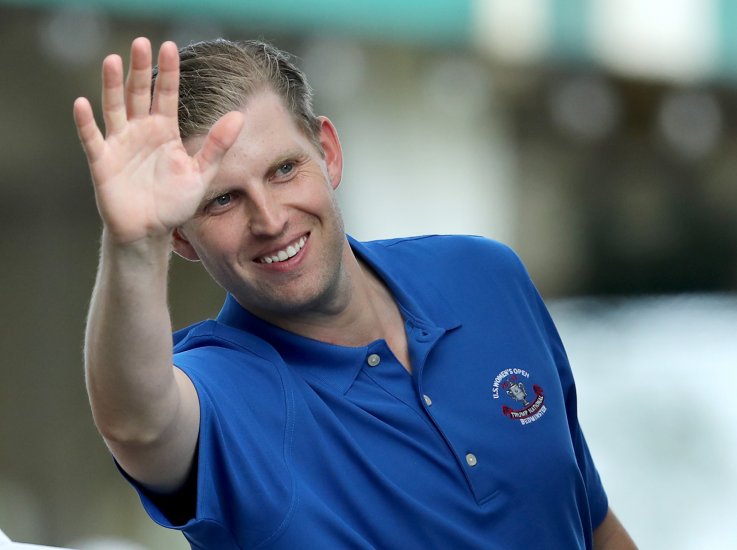 Guinness has used this long pouring process in its advertising campaigns. The slogan "good things come to those who wait" has been the cornerstone of the drink's promotional strategy for more than 20 years.
One Twitter user, however, felt that Eric had been done a disservice by his Twitter detractors and in reality had poured a tasty pint. "This isn't a poor pint. It's simply impossible to pour a pint of Guinness which such a large head," he argued
"The cream is stuck to the glass. This is quite likely a very tasty pint; and this is the hill upon which I am willing to die," the Twitter user added.
Eric Trump Pulled A Pint Of Guinness And Twitter Has A Lot To Say About It | News