Eric Trump Runs Into New York City Traffic to Help Collapsed Woman
President Donald Trump's son Eric has been praised after rushing into New York traffic to hail an ambulance for a woman who collapsed on the street.
Trump saw a woman had passed out near 57th Street and 6th Avenue last Wednesday, stopping along with his security team to come to her aid, and then running into a busy street to flag down a passing ambulance for help.
"I'm glad we were able to play a small role in getting help for the woman on 58th Street," Trump told The Washington Examiner on Monday.
"We just happened to be in the right place at the right time. I'm especially grateful to the EMTs who took over. It was certainly my first time hailing an ambulance in New York City," he added.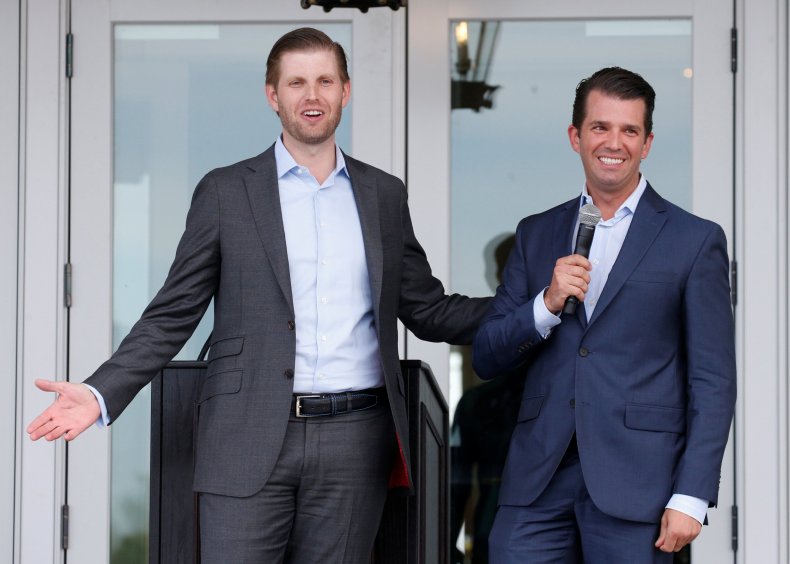 According to a witness, the president's son paid little attention to his own safety as he attempted to get some help for the women.
"I watched as Eric looked up, spotted an ambulance slowly passing by on 6th, ran into traffic—almost getting hit by a bicyclist—and shouted at the ambulance to get its attention," the witness, who did not want to be named, told Examiner.
After the 41-year-old had succeeded in flagging down the EMT vehicle, he and his security team ensured the women was receiving help and left the paramedics to take charge of the situation.
Despite Trump being just a few blocks from the Trump Tower building, and being a recognizable face in the city, the witness said she didn't think people had noticed who it was who had come to the woman's aid.
Despite his quick-thinking, Trump did not make any mention of his good deed on social media, and placed praise for helping the woman firmly in the hands of the EMTs who responded to the situation.
Back in February, Trump told a group of students at the Conservative Political Action Conference that the country was losing its manners, and slammed the criticism his president father frequently faces.
"There are probably no people in the world who get attacked more than us," Trump said, referencing the president and his family. "The societal values have to be addressed. You are losing family values. You are losing manners."
Eric Trump did not immediately respond to a request for comment.