Eric Trump Says Saudis Are 'Friends' After Jamal Khashoggi Killing: 'You're Going to Throw All of That Away?'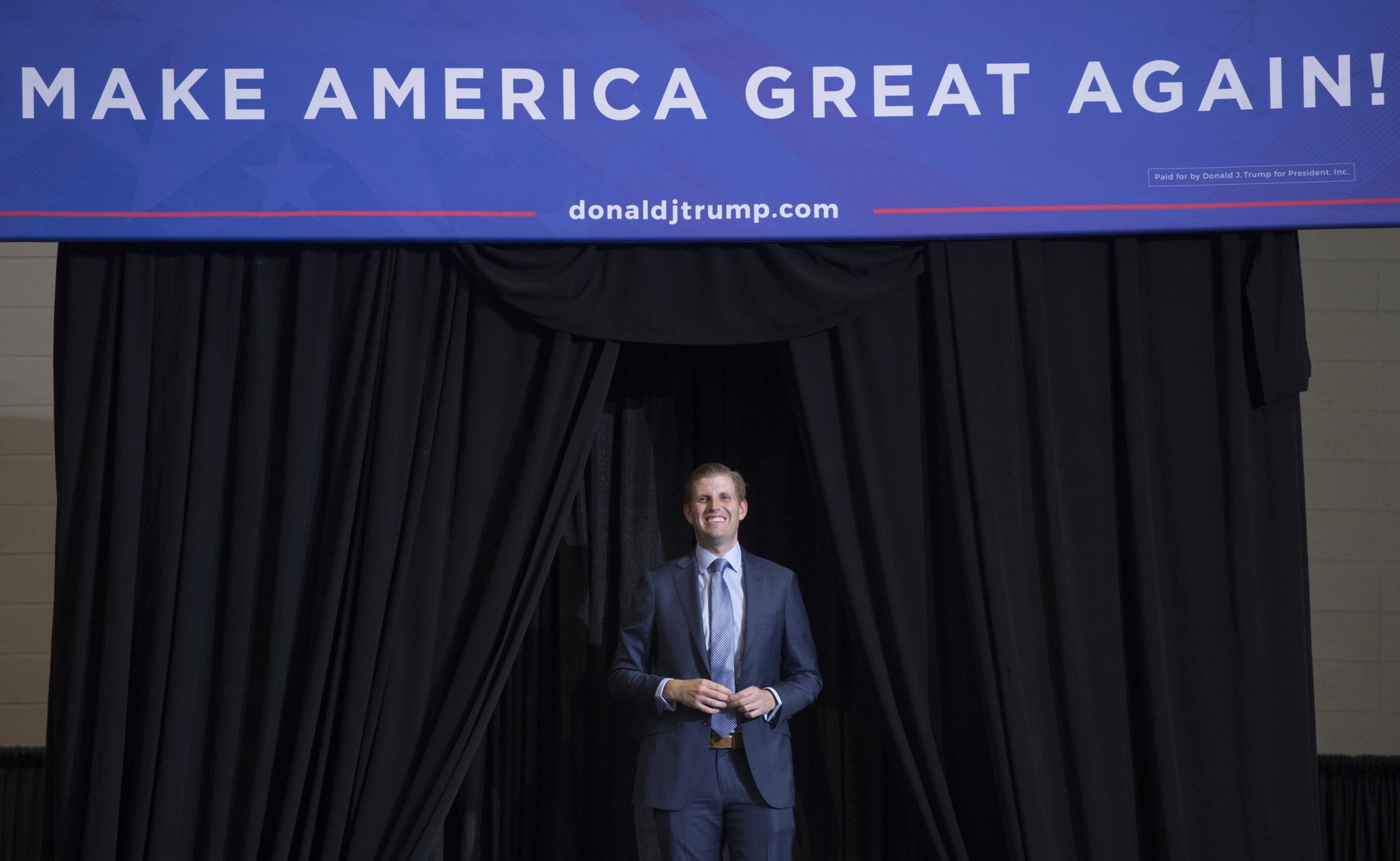 The President's son Eric Trump said on Fox News that the killing of Saudi journalist Jamal Khashoggi was "awful," but that at the same time Saudi Arabia was one of only a few "friends" in the Middle East, and the United States should not "throw all of that away."
Trump was asked on Outnumbered Friday, the day after President Donald Trump admitted that a top Saudi official appeared to be behind Khashoggi's death, what the next steps were around a matter that has been difficult for his father's presidency given his business ties to the Saudis and his overt coveting of their money.
"Listen, I think it's tough, right, you can't have journalists getting murdered," Eric Trump started. "And the way they did it was obviously savage and awful, and you have 15 people go through, and I mean, God knows what actually happened in that room, but whatever happened was clearly awful.
"At the same time," the first son continued, "I think we have to be honest with ourselves that as America, we face a little bit of problem in that we don't have all that many friends in the Middle East."
Eric Trump said there were real problems in the Middle East and that "Saudi Arabia has actually been a friend to the U.S. in many ways, right?"
"They're ordering from us, massive, massive orders, hundreds of billions of dollars of arms and various things which will create tens and tens of thousands of jobs," he said, echoing the defense that his father repeatedly uttered before acknowledging that intelligence reports indicating a top Saudi official seemed responsible.
"So you cannot be executing journalists, or anybody else," he continued. "Doesn't matter if it's a journalist or not, you can't be doing that. It's behavior that is savage and everything else," Eric Trump said.
"At the same time, I mean, who are our friends in the Middle East? The [United Arab Emirates], Israel and Saudi … So what are you going to do, you're going to take that and you're going to throw all of that away?" he concluded.
Eric Trump said he did not mean to be binary and that "one action is not acceptable, but it leaves the country in a very tough predicament."
Saudi Arabia is intricately tied to, and has supported, Islamic extremist terrorism—the bin Laden family was close to the Saudi royal family—and has been accused of a catalogue of human rights abuses.
Successive American governments have chosen to overlook its history of brutality and religious extremism in favor of accepting its money and help in the region.
Khashoggi, who wrote columns that scrutinized Saudi Arabia for The Washington Post, entered the kingdom's consulate in Turkey on October 2 and disappeared.