Aviary Waitress Who Spit On Eric Trump On Leave, Restaurant Says Other Workers Receiving Threats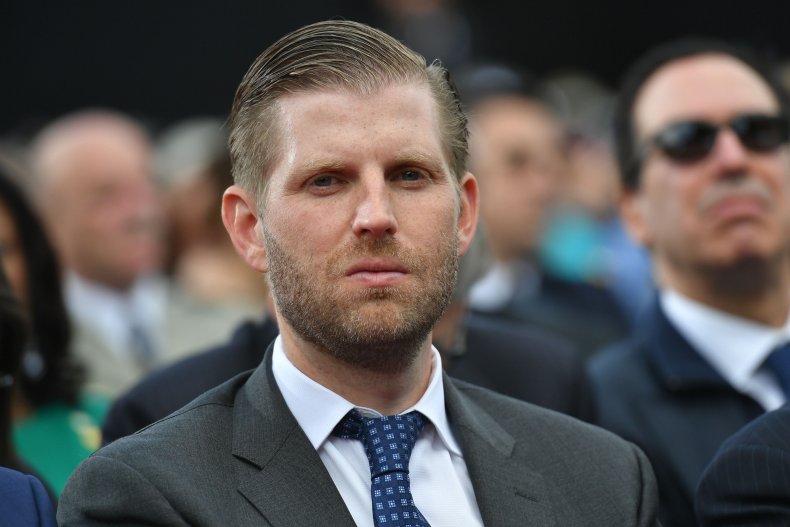 A cocktail bar waitress in Chicago has been put on leave after she spat on Trump Organization executive vice president Eric Trump on Tuesday, according to the restaurant's owner.
Chicago Police Department spokesman Anthony Guglielmi tweeted that police were on scene at The Aviary, an upscale restaurant in the West Loop neighborhood of Chicago, "assisting the United States Secret Service with a law enforcement matter" Tuesday night.
The Alinea Group, which owns The Aviary, told Newsweek in a written statement that "an unfortunate incident" occurred between an employee and first son Eric Trump.
"We did not witness the incident and we are just beginning to learn the details," the restaurant group said. "What is certain is this: no customer should ever be spit upon. We have not yet spoken with the employee, but our HR team has, in the meantime, placed her on leave."
The group said it found an internet-driven campaign against The Aviary fomenting in the wake of the incident to be "troubling," adding that hundreds of online posters were "calling for the demise of our business, threatening our employees, and posting fake reviews."
"We hope this incident can, at least, serve to illuminate the current absurdity of the discourse in our politics," they said.
A spokesperson for the Trump Organization claimed that the Secret Service and Chicago Police Department apprehended and detained a woman believed to be responsible for the incident, whose name has not been publicly disclosed, before letting her go. The company also claimed that Eric Trump told police he was not intent on pressing charges, which is when the waitress was allegedly released.
Eric Trump was in Chicago on business visiting the company's Trump Hotel Chicago. He spoke with conservative news website Breitbart Tuesday night after the incident and used the opportunity to rail against the Democratic Party.
"It was purely a disgusting act by somebody who clearly has emotional problems," he told the site. "For a party that preaches tolerance, this once again demonstrates they have very little civility. When somebody is sick enough to resort to spitting on someone, it just emphasizes a sickness and desperation and the fact that we're winning."
The reports have spurred an influx of outside commentary on the popular restaurant review site Yelp. Atop The Aviary's review page, Yelp pinned a note indicating that the comments were "being monitored by Yelp's Support team for content related to media reports."
The U.S. Secret Service told Newsweek that it would not provide a comment about the incident.
Aviary Waitress Who Spit On Eric Trump On Leave, Restaurant Says Other Workers Receiving Threats | Politics