Eric Trump Tells Supporters 'They Hate Us So Much Because We're Doing Something Right'
Eric Trump, son of President Donald Trump, told attendees at a Tuesday campaign event in Lansing, Michigan that since some media outlets make fun of his father's re-election campaign, it must be on the right track.
Donald Trump has called journalists the "enemy of the people" and alleged that they have spread "fake news" about his presidency. According to Donald Trump, many of the political polls reported on by the media contain incorrect information. Eric Trump praised the people in attendance at the Michigan event after for supporting Donald Trump despite the media's attempt to discredit him.
"There's not a week that goes by that we're not parodied on Saturday Night Live," Eric Trump said Tuesday during broadcast remarks. "You know, that's fine. I actually take it as a badge of honor, to tell you the truth, because it means they hate us so much because we're doing something right. Does that make sense? Meaning, if they parody you and they want to put that much energy into you, that means that you're being incredibly effective, does that make sense?"
"We wake up in the morning, we get punched in the face mainly by these people back here, by the media," Eric Trump added. "We wake up every day. We get arrows in our back every single day. We get punched."
Newsweek reached out to NBCUniversal for comment.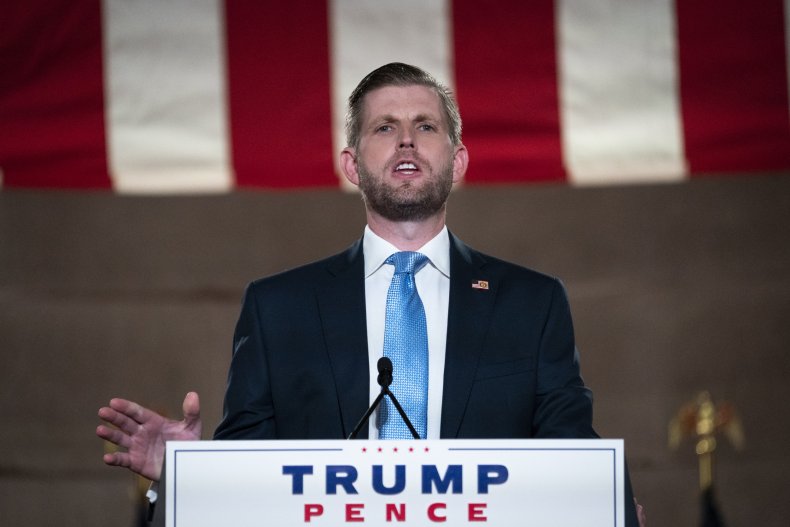 In 2019, Donald Trump said there was "nothing funny" about Saturday Night Live.
"Nothing funny about tired Saturday Night Live on Fake News NBC!" Donald Trump tweeted. "Question is, how do the Networks get away with these total Republican hit jobs without retribution? Likewise for many other shows? Very unfair and should be looked into. This is the real Collusion!"
Donald Trump has encouraged his supporters not to trust media outlets because he cliams they do not report on his administration correctly. In a September 2019 tweet, Donald Trump said news outlets had gone "beyond Fake, they are Corrupt."
NBC News was criticized for scheduling Donald Trump's Thursday town hall meeting to run concurrently with Biden's town hall meeting televised on ABC News. Donald Trump also lambasted the network before he took the stage. At a campaign event in Greenville, North Carolina, Donald Trump referred to the town hall as a "set up" and the NBC network as "the worst."
"I figured, what the hell, we get a free hour on television," Donald Trump added.
NBCUniversal News Group Chairman Cesar Conde defended the decision of the network's news decision to broadcast Donald Trump's town hall by pointing out it had already shown a Biden town hall meeting. "Our decision is motivated only by fairness," Conde wrote, "not business considerations."