Eric Trump Thinks Notes Should be Banned from Presidential Debates
During a Wednesday interview on The Mark Kaye Show, Eric Trump said he did not think candidates engaged in televised debates should be allowed to use notes.
Eric Trump's comments leaned into criticism from President Donald Trump's re-election campaign that Biden has been given debate questions before the event. The alleged tip-offs have given Biden's campaign the opportunity to pre-script Biden's responses via the use of notes or a TelePrompTer. Eric Trump, one of the president's sons, said Wednesday that Biden's usage of notes is not "the way the real world works."
"How about this?" Eric Trump asked. "How about we do, like, you know, clear podiums, right? So there are no notes."
"When you're talking to like Putin, when you're talking to Kim Jong Un, you're not gonna have flashcards that you can look down at," Eric Trump continued. "I mean, it's not like the way the real world works. Like, you think I have a flashcard in front of me right now? You have to be able to be quick on your feet and you have to actually be able to have a conversation. Like, stop with this notes nonsense."
Newsweek reached out to the Commission on Presidential Debates for comment.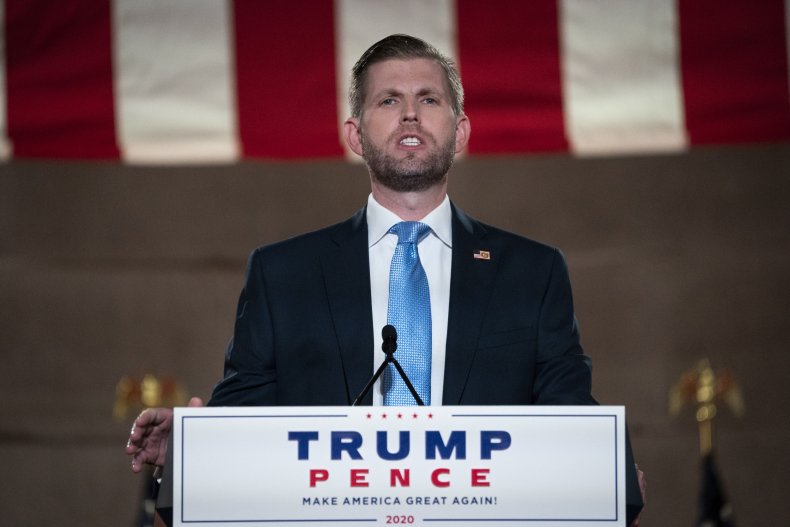 In September, a video posted on social media by Eric Trump purported to show Biden at a loss for words after an alleged TelePrompTer failure. In the clip taken from an interview on Telemundo, Biden allegedly said, "I lost that line."
In response, Telemundo said that Biden's words had been misinterpreted after a monitor showing pre-recorded questions went out. "I lost that lady," Biden said.
"Noticias Telemundo has never allowed someone who is being interviewed on its new programs to read answers from a teleprompter which would be a clear violation of its editorial policies and standards," Telemundo News tweeted.
Donald Trump has claimed that he is "not allowed" to use any sort of cue cards or prompting during his television appearances.
"Every time I see [Biden] he's talking about the pandemic," Donald Trump said during a September news briefing. "He's using a TelePrompTer. I'm not allowed to use a TelePrompTer. They ask questions and he starts reading the TelePrompter. I think if I did that, I'd be in big trouble."
Donald Trump is scheduled to meet Biden in Miami, Florida for the second presidential debate in October. Although both candidates have indicated a willingness to meet, Donald Trump was diagnosed with coronavirus on Friday.
On Tuesday, Biden told reporters that the debate should be cancelled if Donald Trump still has COVID-19. "I think we're gonna have to follow very strict guidelines," Biden said in Maryland. "Too many people have been infected and it's a very serious problem."