Eric Trump's Attempt to Discredit the Washington Post, Jeff Bezos Backfired Spectacularly
First son Eric Trump tried to discredit The Washington Post and Amazon CEO Jeff Bezos, the newspaper's owner, by sharing an email a reporter sent to a Trump Organization employee offering to take off-the-record information.
But instead of facing humiliation, the Post reporter David Fahrenthold received support from fellow journalists, who bashed Trump. The first son attacked the newspaper for calling out his father, President Donald Trump's false claim that Hurricane Dorian would hit Alabama.
"These are the tactics used by the @WashingtonPost. @JeffBezos - you should be very proud..." the Eric Trump tweeted Friday afternoon with a rolling eyes emoji implying sarcasm.
Fahrenthold, in his email to "Mr. Mull—," as shared by Eric Trump, writes: "I'm very sorry to bother. I'm a reporter for the Washington Post, and I cover the Trump Organization as a business. As part of that, I try to make sure every Trump Org employee has my contact information. You know the company so much better than I ever could. I'd like your help to make sure I don't miss something important."
The reporter continues: "If you ever want to get in touch with me, I'd be glad to talk 'on background,' meaning I'd never use your name in any story, or tell anyone else that we spoke."
Fahrenthold provides his contact information and how to reach him via encrypted apps, the Post's encrypted site and by no-return-address physical mail sent to a street address.
"Thanks very much for your time," Fahrenthold writes in closing.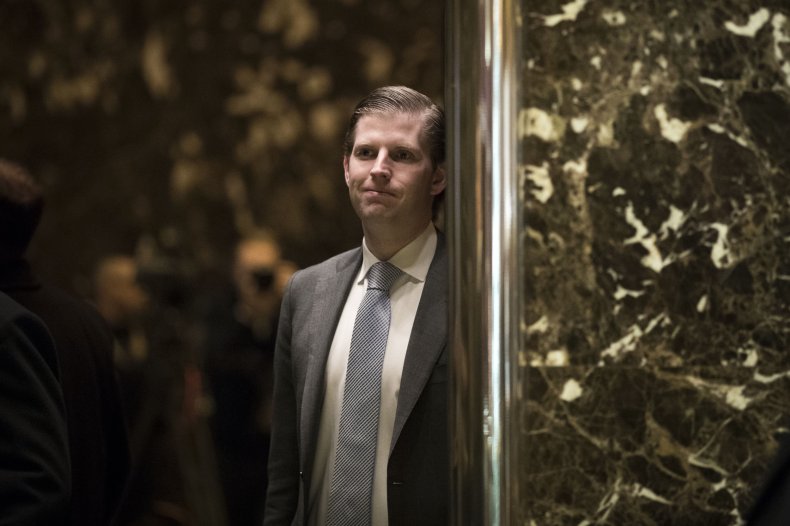 The tweet by Eric Trump, the executive vice president of the Trump Organization, backfired, as many journalists came to Fahrenthold's defense and even praised his approach.
"Hey @Fahrenthold: You mind if I borrow this for cold introductions to sources? It's pretty, pretty good. Signed, A fan," wrote New York Post reporter Nolan Hicks.
Fahrenthold replied lightly with an "Ew, no" GIF.
Media Matters for America editor-at-large Parker Molloy zeroed in on a grammatical mistake, showing she also believed Fahrenthold did nothing wrong by reaching out to the Trump Organization.
"For Eric's sake, let's say that he's upset by @Fahrenthold's use of 'an' when he meant 'a' before the line about sending documents via snail mail," Molloy tweeted.
Fahrenthold admitted to the mistake, replying with a single word: "Dammit."
"Genuinely a solid template, though!" Molloy said in a follow-up tweet.
John Iadarola, a progressive host of the podcast The Damage Report, replied to Eric Trump with, "this is why they call you the dumb one eric."
On Thursday, Eric Trump went after The Post for reporting on the president presenting a doctored chart after erroneously tweeting that Alabama was in Hurricane Dorian's path. Eric Trump tweeted, "this pettiness from the @washingtonpost is exactly why the public hates the media," and provided a graphic from the National Hurricane Center — from August 29, before forecasters indicated that the storm no longer appeared to be heading toward Alabama.