Eric Zemmour, French Pundit Compared to Trump, Convicted of Inciting Racial Hatred
A controversial far-right French presidential candidate compared to former President Donald Trump has been convicted of hate speech for the third time.
Eric Zemmour, the political pundit running in the Reconquête party against current president Emmanuel Macron and others, was fined €10,000 (euros) on Monday, or more than $11,000. He was found guilty of inciting racial hatred through hate speech for remarks he made about child migrants looking to find a new life in France. He had told French news channel CNews in September 2020 that these children were "thieves, killers, [and] rapists." Zemmour added that "we should send them back" to their home countries.
However, this has not been the first time that Zemmour has been fined for hate speech. The far-right candidate has been prosecuted 15 other times for hateful comments he has made, according to Euronews. Some of the charges against him have included racial abuse, incitement to hatred, and denial of a crime against humanity. He has been convicted twice already for incitement to hatred, making this case his third conviction for the crime.
"We had hoped for him to be deprived of civic rights," activist Samuel Thomas told the Associated Press. Thomas serves as the president of the Maisons des Potes, or Homes of Friends, an anti-racism organization network that has condemned Zemmour.
"When you're inciting racial hatred," he continued, "you're also responsible for crimes that are committed by far-right thugs."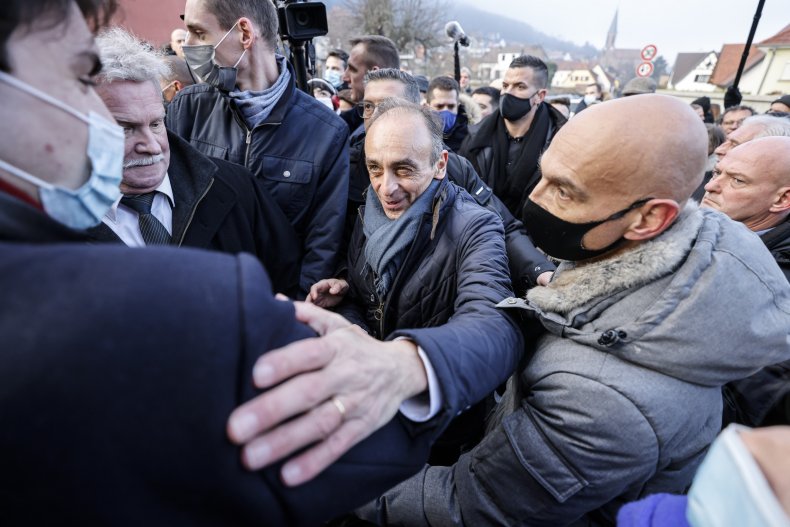 The Reconquête candidate has been campaigning on the idea that foreign immigrants are trying to become "replacements" for French citizens, according to the French newspaper The Connexion. Due to his lack of official political experience and his firm and arguably hateful stances against immigrants, he has often been compared to former President Trump.
"You feel that you are no longer in the country that you knew," Zemmour said in his campaign announcement video. "You feel like foreigners in your own country. You are exiles, from the inside."
The Connexion said that his official stances "include strict anti-immigration measures, to stop babies being given non-French names (despite Eric being a Scandinavian name), and to remove the right to any benefits for foreigners who do not contribute to the state."
Euronews also reported that his €10,000 fine can be paid in installments of €100 for 100 days. Zemmour will be sent to prison if he does not pay the fine.