Erika Shields, Atlanta Police Chief During Rayshard Brooks Shooting, New Louisville Police Head
Erika Shields, the former Atlanta police chief, has been named the new head of the Louisville Metro Police Department in Kentucky.
Shields was appointed by Louisville Mayor Greg Fischer, who called her an "experienced, progressive, reform-minded leader," according to a statement released by his office. Her hire was officially announced Wednesday at a press conference.
"Erika Shields is an experienced, progressive, reform-minded leader, a well-respected visionary both locally and nationally for her ability to build strong and legitimate community and police relations; and strategize, execute, and produce results," Fischer wrote in the statement. "She believes in the rules of policing but also knows when to revise them. She is skilled but open to new ideas, tough and undaunted by challenge. She is a leader, as the public called for, who not only understands but embraces the co-production of public safety, with accountability, transparency, honesty, integrity, and compassion."
According to the statement from Fischer's office, Shields will be sworn in on January 19, and "Former LMPD assistant chief Yvette Gentry will continue to serve as Chief in the interim."
Shields also released a statement in which she noted that she will take on the role of leading the Louisville Metro Police Department during a challenging time, following mass protests over the fatal shooting of Breonna Taylor and a record number of homicides in the city.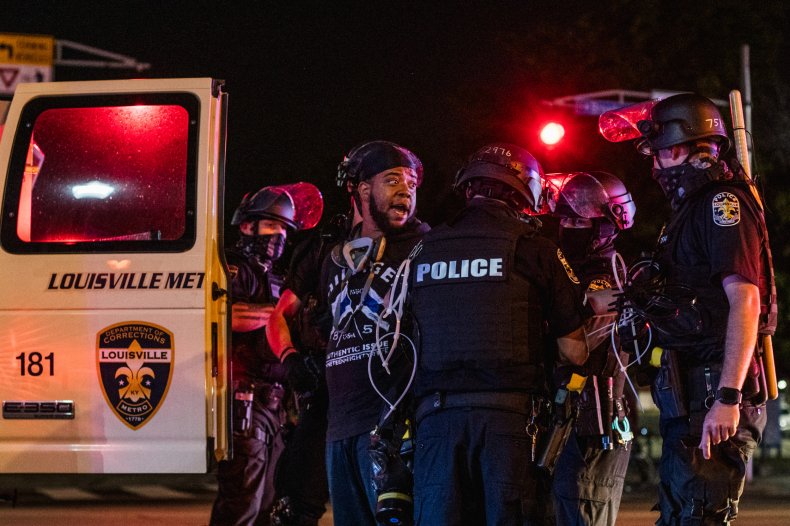 "I recognize that there is a lot of healing that needs to happen in policing in general, and that LMPD is at a crossroads," Shields wrote in a statement. "But I think there is also an opportunity to get this right here in Louisville, and to create a model for other cities to follow."
While speaking during a press conference on Wednesday, Shields also touched on the her knowledge of racism and policing, which she learned during her time working as the Atlanta police chief.
"I commit to begin my work here with a focus on rebuilding community trust," she said during the press conference. "Trust that I believe was already eroding prior to Breonna Taylor's killing."
Shields served in the Atlanta Police Department for over two decades, and resigned as police chief in June of last year after officers shot and killed Rayshard Brooks, a 27-year-old Black man.
Brooks was shot three times by Officer Garrett Rolfe, following an altercation at a Wendy's restaurant, and Rolfe was fired a day later. Brooks' death came less than three weeks after George Floyd, a 46-year-old Black man, died in police custody in Minneapolis. That sparked nationwide protests in calling for an end to police brutality towards Black Americans.
Newsweek reached out to Fischer's office and the Louisville Metro Police Department for comment, but did not receive a reply before publication.