Erin Popovich Cause of Death: Wife of Spurs Coach Gregg Popovich Dies Aged 67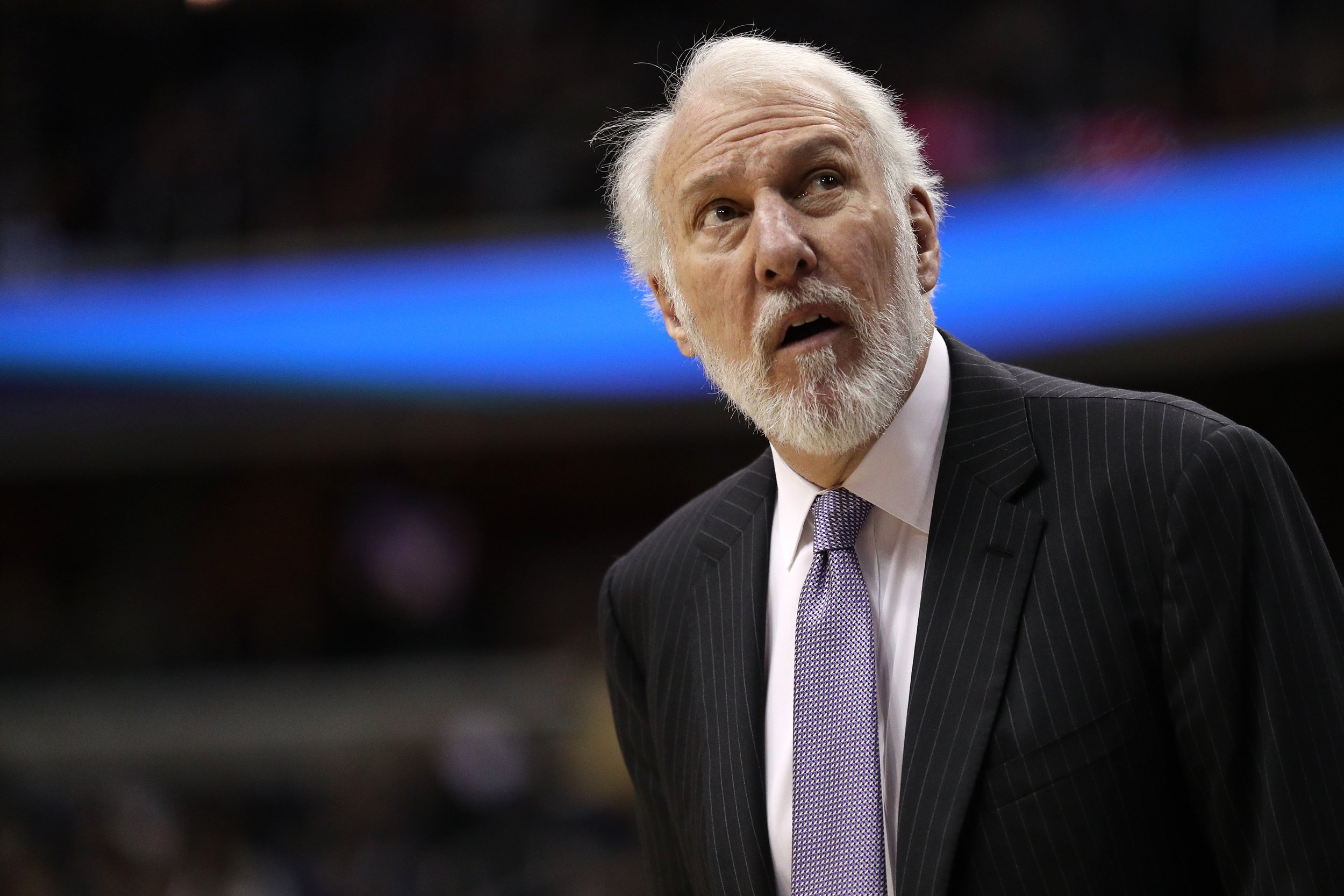 Erin Popovich, the wife of San Antonio Spurs head coach Gregg Popovich, died on Wednesday (April 18) at the age of 67 after a long battle with illness.
The couple married four decades ago, while Gregg was serving as assistant coach at the Air Force Academy between 1973 and 1979. Erin is survived by her two children—Jill and Mickey—and two grandchildren.
"We mourn the loss of Erin," said Spurs General Manager RC Buford in a short statement. "She was a strong, wonderful, kind, intelligent woman who provided love, support and humor to all of us."
The five-time NBA champions have asked the media to respect the family's privacy and it remains unknown whether their head coach will be on the bench when the Spurs face the Golden State Warriors in Game Three of their first-round series on Thursday night in San Antonio.
Popovich ran the team's practice on Wednesday. Ettore Messina, his assistant coach, would lead Spurs should the 69-year-old miss Game Three.
Following news of Erin's passing, the NBA community immediately rallied behind the Spurs head coach, one of the most popular figures in the league.
"I'm a huge Pop fan. I love Pop," a visibly emotional LeBron James told TNT shortly after the Cleveland Cavaliers beat the Indiana Pacers 100-97 to level the series at 1-1.
"Such a tragedy. My best wishes go out to Pop and his family. That's devastating news. The NBA family… we all stick together, compete every night. But something like this puts everything in perspective."
Kevin Durant, who has been instrumental in giving the Warriors' a two-game lead against the Spurs, echoed the sentiment.
"I just want Pop to know that the whole NBA family is supporting him and got his back through it all," Durant said, as reported by ESPN. "It's bigger than the game. It's bigger than winning and losing. It's about the brotherhood we built as NBA players and everybody in the NBA family. I feel so bad for Pop and his family. That's just tough to hear about."