U.S. to Blame for Ethiopia Border Conflict That Killed 70,000, Says Eritrea's President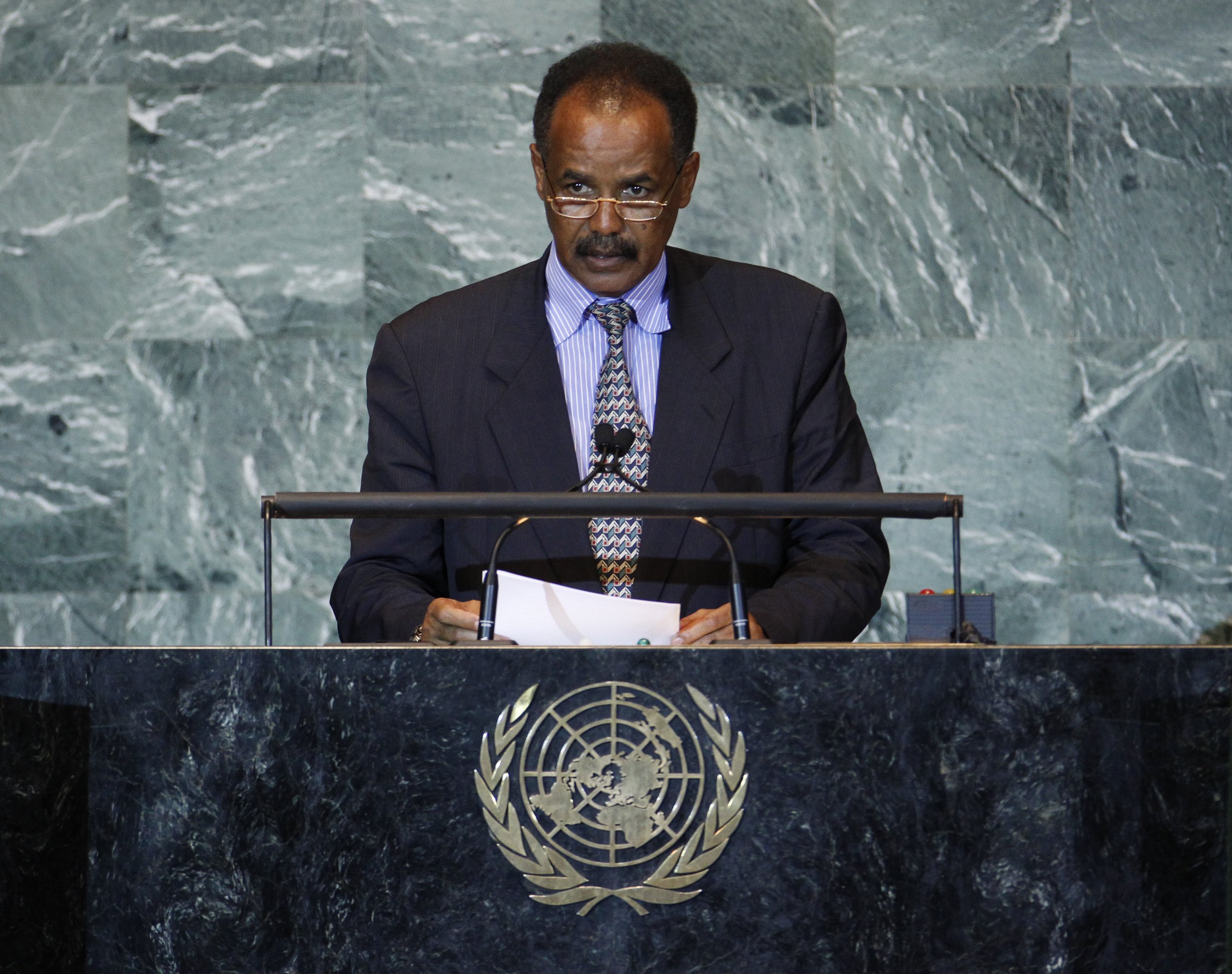 Eritrea's president has blamed Washington for ongoing tensions between his country and neighboring Ethiopia, which have been in a state of near-conflict for almost two decades.
Isaias Afwerki, who has led the authoritarian regime in Eritrea since it gained independence from Ethiopia in 1993, wrote a letter to unnamed heads of state earlier in June, requesting support in overturning a U.N. Security Council arms embargo in place since 2009, according to state-run media outlet Shabait.
Afwerki urged the heads of state to use their influence at the Security Council to reverse the arms embargo, which was put in place after the U.N. claimed that the Eritrean regime was supporting Al-Qaeda's affiliate in Somalia, Al-Shabab.
Eritrea fought a 30-year independence war against Ethiopia from 1961 to 1991, finally achieving self-rule in a U.N.-sponsored referendum in 1993.
Full-scale war broke out between the two countries in 1998 over the status of the border town of Badme, and an estimated 70,000 people were killed in the war. Since the conflict ended in 2000, relations between Eritrea and Ethiopia have been characterized as "no war, no peace."
Read more: "Eritrea is a mutant copy of North Korea"— a reporter speaks on the land of no journalists
"The 'border dispute' was a simple ruse as the boundary between the two countries was defined and determined without any ambiguity in colonial times. But Washington feverishly worked at the time, through the State Department, to drive a wedge between the two peoples who have deep historical and strategic ties in order to foment a crisis and micromanage the affairs of the Horn of Africa," said Afwerki in the letter, according to Shabait.
In 2009, the United Nations imposed an open-ended arms embargo on the supply of all arms and military equipment to and from Eritrea. The country is already isolated with few international allies and has been dubbed Africa's North Korea for the authoritarian tactics of Afwerki's regime and the absence of a free press.
The arms embargo was imposed after the U.N. Monitoring Group on Somalia found that Eritrea had provided political, financial and logistical support to Al-Shabab, which is waging a war against Somalia's Western-backed federal government.
Afwerki said that the U.S. and its allies had "concocted a fictitious case...to impose unwarranted sanctions against the country." The Eritrean president said that it was "high time" for the sanctions to be lifted and for the "incessant attacks" against his country to come to an end.
Relations between Ethiopia and Eritrea remain tense. The Ethiopian government has accused Eritrea of fomenting widespread protests in the Oromia region, which surrounds the capital Addis Ababa. Protests broke out in November 2015, and hundreds of people have been killed in clashes between protesters and security forces.
Ethiopia and Eritrea have also traded accusations about an alleged attempted attack on the Grand Ethiopian Renaissance Dam, a flagship project of the government in Addis Ababa that will be the biggest hydropower dam in Africa when complete. Ethiopia claimed that 20 members of an Eritrean-backed rebel movement were arrested while trying to damage the dam, but Eritrea rejected the accusations as "preposterous."
The U.S. State Department imposed further sanctions on Eritrea's navy earlier in 2017 after a U.N. sanctions monitoring body said it had found a shipment of North Korean-made military communications equipment leaving Pyongyang for Eritrea in 2016. The U.S. proscribes trading in certain types of military equipment with North Korea, Syria and Iran.