Tropical Storm Ernesto Is Set to Hit Ireland Saturday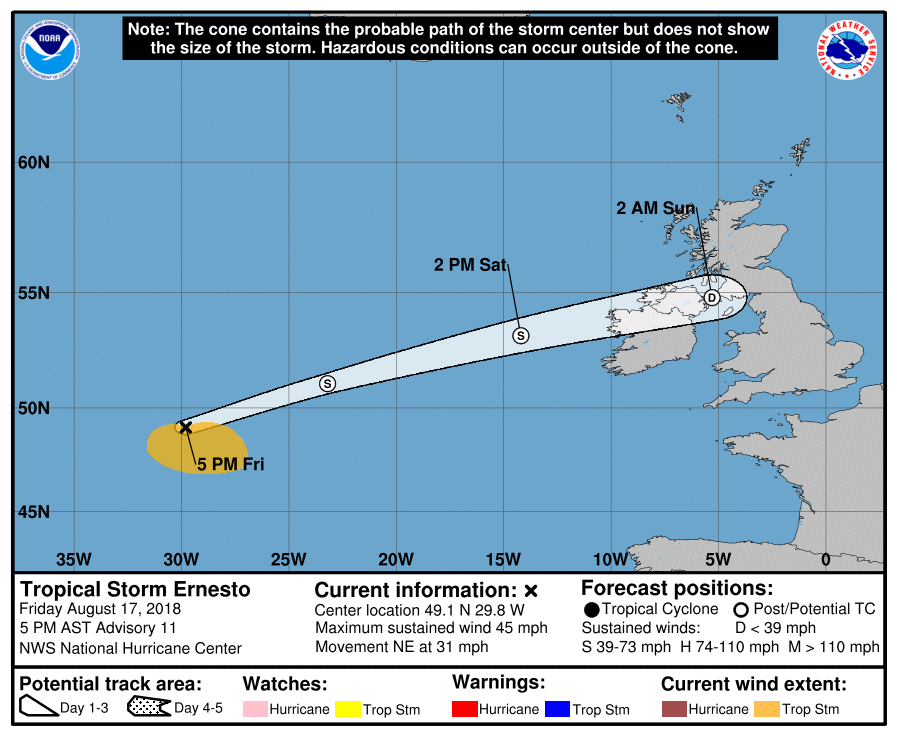 There's a tropical storm brewing in the Atlantic Ocean and heading for Ireland. Tropical storm Ernesto is expected to complete its trans-Atlantic travel Saturday night when it arrives on the coast of Ireland, according to the National Hurricane Center.
Ernesto is the fifth named storm of the 2018 Atlantic hurricane season and winds from the storm are expected to arrive in Ireland several hours before the storm itself. The winds are expected sometime around 2 p.m. local time along the coast Saturday. As of Wednesday, Ernesto was just a subtropical depression but as it got stronger earned the title of a tropical depression. It will likely be downgraded again as it hits colder water closer to the U.K.
The maximum sustained wind speeds of the storm were 45 miles per hour as of Friday night. Those wind speeds put the storm below any category hurricane, the lowest category, a category one storm, is classified by wind speeds from 74 to 95 miles per hour on the Saffir-Simpson scale.
Saturday was expected to bring light rain and cloudy conditions for most of the day, according to the Irish Meteorological Service. But the storm was still set to bring heavy rains and some wind gusts to the islands off the coast of Ireland and the country itself by Saturday night and continuing into Sunday.
Heavy rain was expected in some areas and was expected to lighten through the day Sunday to a drizzle, according to the Met Service.
The storm could even bring rain to Scotland, Northern Ireland and other parts of the United Kingdom after passing over Ireland. About an inch of rain was expected to fall in most places as the storm traveled across the U.K. though some areas could see higher rainfall totals, AccuWeather reported. Areas where more rain falls could potentially cause flash flooding. The strongest gusts of winds were expected to be between 30 and 40 mph
While Ernesto was heading for a trip to the United Kingdom, there was another possible storm meteorologists were watching in the tropics of the Atlantic near the Caribbean. The disturbance was still forming as of Friday night but meteorologists were watching it closely for signs that it could strengthen.