Senator Joni Ernst defended Representative Liz Cheney Wednesday from fellow Republicans who are attempting to oust her as House Republican conference chair. Instead of silencing the Wyoming congresswoman, Ernst said GOP leaders should focus on party unity.
Ernst, who has held her Iowa Senate seat since 2015, spoke to Politico about Cheney in an interview published Wednesday. She told the outlet that Cheney has the right to speak freely and offered this advice to Republicans: "At the end of the day we need to all pull together as Republicans and make sure that we're securing seats."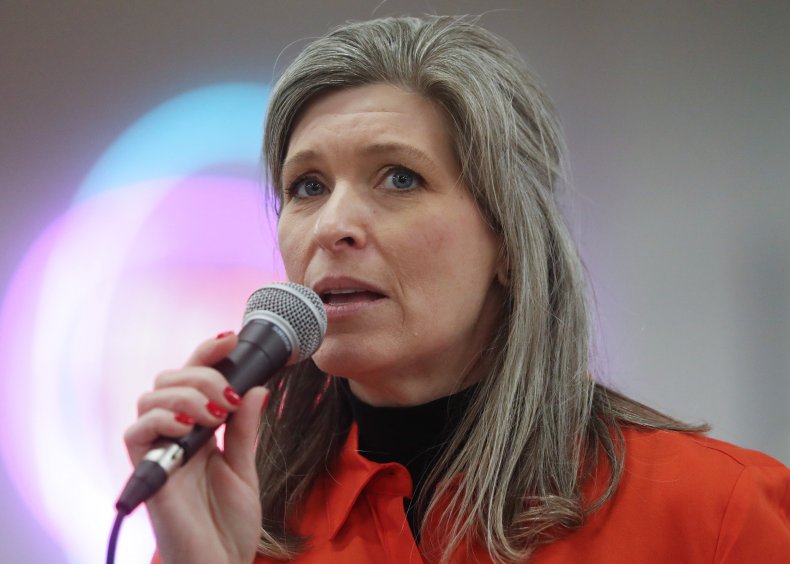 "Any elected official should stand their ground. If you feel firmly about something, you should stand your ground," Ernst told Politico. "I know Liz. I appreciate Liz so much. And she feels very strongly about her stance. And again, I know many Republicans that feel very strongly about their stance: pro-Trump, not for Trump, whatever it is. But at the end of the day we have work to get done."
During the interview, Ernst also emphasized her own personal loyalty toward former President Donald Trump. Cheney, meanwhile, has received a ton of backlash from fellow GOP members for repeatedly making public rejections of Trump's claims that the 2020 presidential election was rigged. On Monday, Cheney reiterated this stance, calling election fraud claims a "big lie."
Cheney also notably voted to impeach Trump on a charge of incitement of insurrection following the U.S. Capitol riots on January 6. Regarding the claims about Trump's role in inciting the riot, Cheney said in January, "There has never been a greater betrayal by a President of the United States of his office and his oath to the Constitution."
Ernst, meanwhile, voted to acquit Trump in the impeachment trial. She also voted to certify the 2020 election for President Joe Biden while other Republicans fought against the election results. However, while speaking with Politico, she reiterated her support of Trump.
"I appreciate President Trump and I appreciate all he has done for our country. And I think we made significant strides forward under the Trump administration, especially in our economy," Ernst said. "But everybody has the right to express their opinion."
The words of support from Ernst come at a crucial time for Cheney. On Wednesday, Trump endorsed replacing her with New York Representative Elise Stefanik, as has the second-ranking House Republican, Rep. Steve Scalise.
Meanwhile, Ernst—the vice chair of the Senate Republican Conference—is the only other woman in elected GOP leadership. On Tuesday, Sen. Mitt Romney also defended Cheney from recent criticism she's faced, tweeting, "Every person of conscience draws a line beyond which they will not go: Liz Cheney refuses to lie."
Correction (5/5/2021, 5 p.m.): The headline of this article mistakenly referred to Sen. Joni Ernst as Jodi Ernst. Newsweek regrets the error.