Ernst, Manchin Seek to End U.S. Dependence on China for Defense Materials
The House began discussions this week on the annual National Defense Authorization Act (NDAA), which this year totals a record-setting cost of about $840 billion. Among the various military funding provisions outlined in the bill are orders that seek to curb U.S. interconnectedness with China and Russia.
At the moment, the Pentagon finds itself heavily reliant on foreign powers, including its two principal adversaries, for the critical minerals it needs to manufacture defense technology, weapons and machinery such as fighter jets, missiles and tanks.
According to a Congressional Research Service report from 2019, the nation was 100%-reliant on importing 14 of the minerals on its critical minerals list, and over 75% import-reliant for 10 other listed minerals.
Republican Senator Joni Ernst of Iowa is seeking to address this issue by teaming up with her Senate Armed Services Committee colleague, Democratic Senator Joe Manchin of West Virginia, to sponsor the Homeland Acceleration of Recovering Deposits and Renewing Onshore Critical Keystones Act, known as the HARD Rock Act.
This bill, which has found its way into the NDAA, would give the manager of America's materials authority to update the acquisition list while also ensuring the Pentagon examines new allies it can depend on for acquisition.
"It supports national security because these critical minerals are vital to supporting and modernizing our national defense," Ernst told Newsweek. "And the tricky part of it is that we currently depend on China and other adversaries as a source for these materials."
Ernst and Manchin's bill seeks to create new supply sources for vital components of national security technology both in the U.S. and among its allies abroad.
"What this act will do is it pushes the Pentagon to refocus on our National Defense Stockpile so that we can secure the materials from partners and allies and further expand our own domestic supply and then end that reliance on our adversaries," Ernst said. "It doesn't make sense that we should rely on folks like China and others for our own national security interests."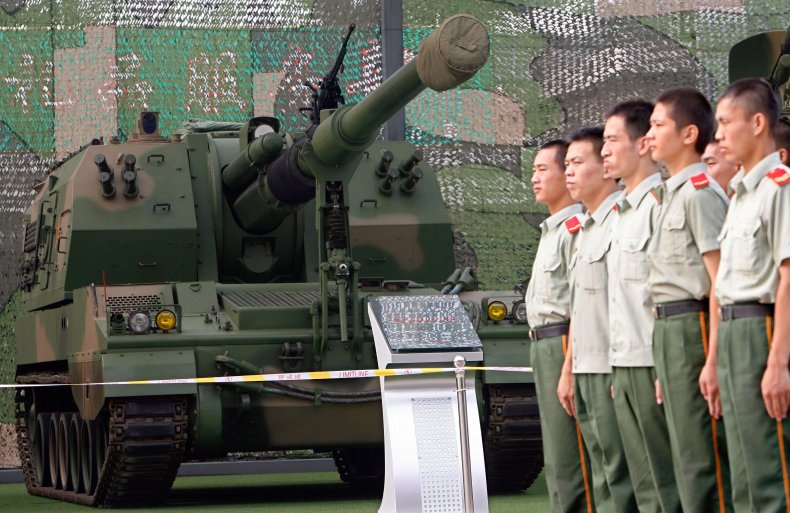 The National Defense Stockpile (NDS) provides the U.S. with a steady supply of critical and strategic materials that can be used to provide defense and civilian manufacturers the goods they need to produce essential equipment during national emergencies and times of war.
Some of the minerals appearing on the list that the NDS requires for its stockpile include cobalt, lithium, titanium alloy, aluminum and zinc. Titanium, for one, is used to build the Air Force's F-22 fighter jets. Cobalt goes toward making javelin missiles, which due to the conflict in Ukraine are in short supply.
One of the most important minerals though, which supports a less top-of-mind item in ensuring U.S. national security, is lithium, an essential element in making batteries. It also plays a crucial role in "nearly every weapon system" used by the Department of Defense (DOD), the National Mining Association reports. China is number one in the world when it comes to involvement in the lithium-ion battery supply chain, according to BloombergNEF.
"We saw this movement build during COVID, when we found we were so reliant on China for basic necessities for everyday life, but then the more we delve into it, on issues of national security as well," Ernst told Newsweek. "Now is the time to move on this and make sure that we are developing the means necessary to provide defense contractors with what they need in order to defend our nation."
"We can't continue to rely on adversaries like China," she said. "China is the pacing threat, the largest threat to our national security and to the United States of America."
DOD continues to stress the importance of readiness in wake of Russia's invasion of Ukraine, and has expressed its approval of the HARD Rock Act. Pentagon spokesperson Jessica R. Maxwell provided a statement thanking Ernst, Manchin, and the other lawmakers involved in the legislation for their "diligence" in "highlighting the need for a robust supply chain for strategic and critical materials."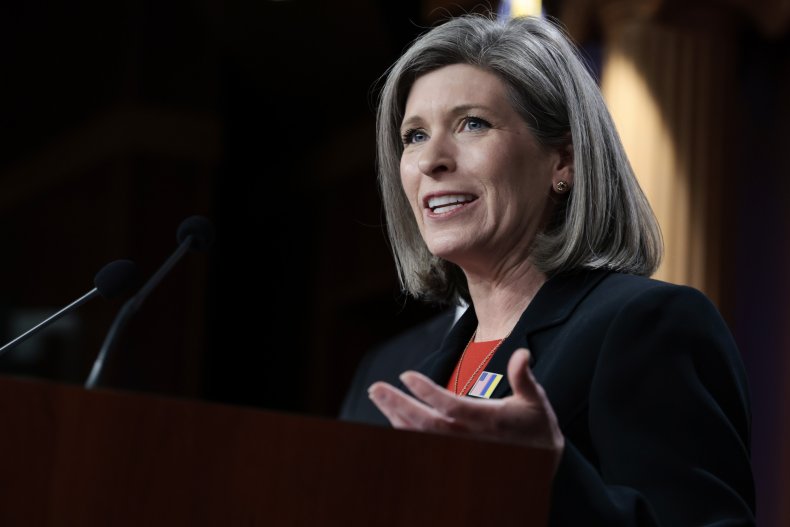 Maxwell pointed to the 2022 Mineral Commodity Summaries conducted by the U.S. Geological Survey as demonstrating the extent to which the U.S. relies on its adversaries for materials. Of the 64 commodities listed, 39 identified China or Russia as a major import source.
"Strategic and critical materials are the building blocks of a thriving economy and a strong national defense," Maxwell told Newsweek. "This legislation would provide important acquisition flexibility to the National Defense Stockpile and accelerate larger-scale investments in domestic mining, value-added processing, and related industrial resources."
Ernst sees investing in domestic mining and procurement from allies as benefiting not only the nations security and wellbeing, but also the international community as a whole.
Minerals like cobalt, lithium, and the rare earth elements are dangerous to mine, and the mining process for them can harm the environment. Child labor and fatal accidents plague cobalt mining in the Democratic Republic of the Congo. Lithium extraction can harm soil and pollute the air. In China, rare earth element mining has led to contaminated water source, and miners experiencing skin irritation and respiratory issues.
"We do have a very high standard when it comes to workplace safety and making sure that the environment is protected as well," Ernst told Newsweek, "which is why we should be working with partners and allies instead of relying on China and the mining activities that they do around the globe using slave labor, child labor."
"We have the technology and the humanitarian care necessary to [mine] in an appropriate way," she added. "I think that we're the ones that really should be pushing this, because we can provide greater technologies. We would be willing to invest what it takes to do it safely and take care of workers and make sure that we're protecting the environment."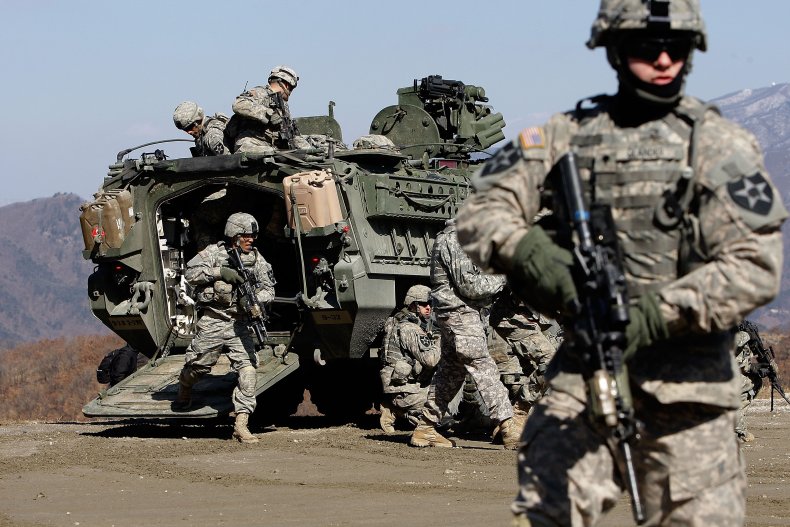 Such measures would represent a shift from the U.S. approach toward mining that has existed for nearly 15 years. America has not seen its number of total number of active mines increase a single year since 2008, when the CDC's National Institute for Occupational Safety and Health reported 14,907 active mines. Today, the nation operates 12,714 active mines on its soil. This follows a larger trend that has seen the number of mines dwindle since the mid-1980s.
While mining may be on the decline, the need for minerals remains high. The U.S. Geological Survey estimates that the average American requires more than 40,630 pounds of minerals each year to maintain his or her current standard of living. Given this pressure, the National Mining Association (NMA), a trade organization with the mission of building and supporting policies that "will help Americans fully and responsibly benefit from our abundant domestic coal and mineral resources," welcomes Ernst's bill.
"The HARD ROCK Act is an important acknowledgement of the nation's alarming mineral import overreliance — particularly on China — for minerals and metals critical to our economy and national security," Connor Bernstein, a spokesperson for the NMA, told Newsweek in a statement. "We must do more to ensure secure and responsible access to the minerals and metals that are irreplaceable inputs to so many of the nation's defense systems."
"The Department of Defense has been clear about the need not to just to increase our stockpiles of strategic materials but to also ramp up domestic production," Bernstein added. "Now is the time to prioritize domestic mining and build the secure industrial base our economic and national security demands."
Ilaria Mazzocco, an expert on Chinese business and economics with the Center for Strategic and International Studies (CSIS), told Newsweek that Ernst's bill could play a part in ultimately reducing America's reliance on China and other powers for minerals.
Mazzocco sees this bill as a part of the larger framework of NDAA provisions that will push China further out of America's defense sector. Beyond minerals, Mazzocco said U.S. supply chains have exhibited an overreliance on China as a whole for some time now. She sees Ernst's HARD Rock act as one piece in the country's overall mission of addressing this perceived vulnerability.
"It's not just that these materials are being accumulated in China or stockpiled; it's that they're actually sort of central to a broader supply chain," Mazzocco told Newsweek. "There's generally a broader concern about globalized supply chains, which are really complex and that are highly reliant on China, being a potential vulnerability, so I think [this policy] goes into this broader discussion of how to make American supply chains more resilient."