Turkish President Appoints Son-in-Law to Lead Economy, Fueling Investors' Fears
Turkish President Recep Tayyip Erdogan appointed his son-in-law to lead the country's $880 billion economy on Monday, fueling concerns among investors about Ankara's financial future.
After Erdogan announced that Berat Albayrak will lead the new post of treasury and finance minister— a combination of two previous positions—the value of the Turkish lira dropped 3.6 percent, worrying investors.
Erdogan, who assumed power as Turkey's first executive president on Monday, has forcefully pursued economic expansion but has also increased inflation and debt. Investors, who fear the economy is growing too quickly, are concerned that Albayrak will pursue economic policies that aggressively prioritize growth while ignoring the dangers of rising inflation and debt. Further concerns about the lack of independence of Turkey's central bank have also deterred investment.
Investors hoped that Erdogan would appoint a treasury and finance minister who had pursued a more balanced fiscal approach. But the president's son-in-law has previously indicated he will likely focus on growth.
"Albayrak becoming the finance minister is not a good sign, especially because of his close relationship with President Erdogan. It is a sign that Erdogan will control economic policy even more," Guillaume Tresca, a senior strategist at French bank Credit Agricole, told Reuters.
Prominent market-friendly ministers, who encouraged investor confidence, are not included in Erdogan's new government. In particular, the departure of former Merrill Lynch banker Mehmet Simsek, who served as deputy prime minister, has raised concerns about the lack of influencers who can monitor Erdogan's policies.
Turkey's economy is among the world's fastest-growing, expanding at a faster rate than China's and India's in 2017. Bloomberg reports that Turkey is now "one of the fastest-growing economies in the G-20 group of nations."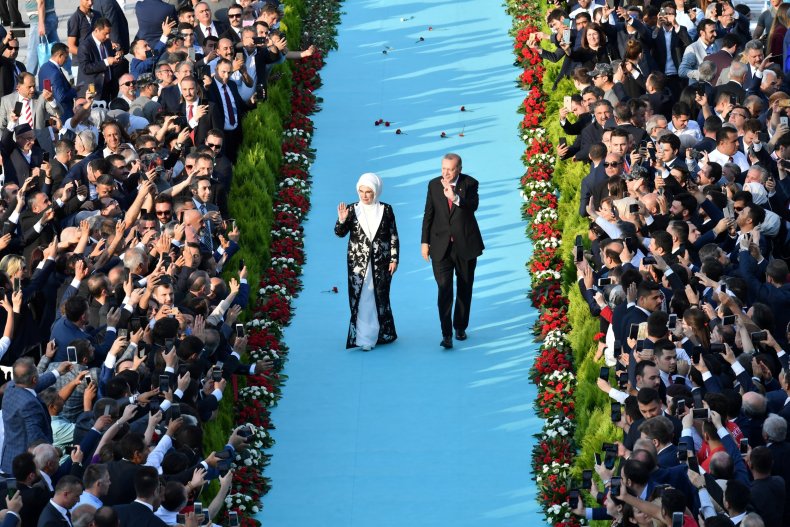 But this economic growth has also been accompanied by a 14-year high of 15.39 percent inflation rate, and Financial Times reports that the Turkish lira's value against the dollar has declined 17 percent this year.
The Turkish president has attributed Ankara's economic problems to nebulous external enemies seeking to work against the interest of the state. Rather than tightening lending policies, Erdogan, who has referred to himself as an "enemy of interest" rates, is promoting fast economic growth, according to CNBC.
He reiterated his desire to transform Turkey's economy on Monday, seemingly confirming investors' fears. "We as Turkey, and the Turkish nation, are making a new start here in your presence. We will make major moves in every area from macroeconomic balances to investments to make Turkey one of the 10 biggest economies of the world," he said.