Teenage Olympic sprinter Erriyon Knighton won the men's 200-meter semifinal event on Tuesday, securing his place in the final taking place on Wednesday.
The latest win is certainly not a bad start to the Olympic career of the 17-year-old who is the youngest track athlete on Team USA. Tokyo 2020 marks Knighton's first Olympic Games.
With comparisons to retired Jamaican sprinter Usain Bolt—two of whose 200-meter youth records were broken by Knighton—the pressure will be there for the teenage Florida native at Wednesday's final.
Who Is Erriyon Knighton?
Hailing from Tampa, Florida, the teenager entered his junior year at Tampa's Hillsborough High School in 2021, according to the high school's HHS Today website.
Knighton did not participate in track-and-field events until around two years earlier during his freshman year. He turned professional before he turned 17, according to the Team USA website.
While hopes remain high for the rising Olympic star's sprinting career, Knighton's athletic roots were in football.
According to an HHS Today article from February 2021, Knighton was a receiver for the high school football team. When he joined track as a freshman following his coach's request, he saw it as a training ground that would allow him to be a better football receiver and be able to run quicker on the football field.
Asked whether a college football career could be in the cards, the teenage sprinter said: "Nah," the Associated Press reported in late June. "Not an option of mine to go play football."
Teenager Breaks Usain Bolt's Records
At a Florida meet in June, the teenager shattered Bolt's under-18 200-meter record set in 2003. He also broke the Jamaican sprinting legend's under-20 200-meter world record set in 2004 less than a month later at the U.S. Olympic trials, USA Today Sports reported in late June.
At Tuesday's 200-meter semifinal, Knighton came in at 20.02 seconds. The teenager did not break Bolt's world record (19.19 seconds set in 2009) and Olympic record (19.30 seconds set in 2008).
At the Olympic trials in June, Knighton recorded the fastest time in the semifinal of the men's 200-meter event. He also marked his personal-best record of 19.88 seconds in a heat that included world champion Noah Lyles, another Team USA athlete heading to the 200-meter final at Tokyo 2020.
Asked whether he could compare his running style to that of another, the teenager said: "Probably Usain Bolt," Florida Today reported in 2020, "just because he's tall like me."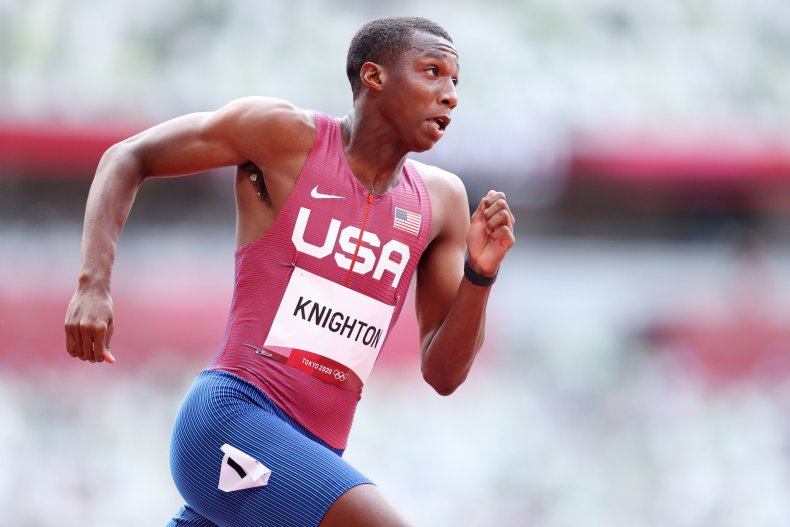 About the writer
Soo Kim is a Newsweek SEO Reporter is based in London, UK. She reports on various trends and lifestyle stories, from health, fitness and travel to psychology, relationships and family issues. She is also a South Korea expert who regularly covers Korean culture/entertainment for Newsweek, including the latest K-dramas, films and K-pop news, and is the author of the book How to Live Korean, which is available in eight languages. Soo also covered the COVID-19 pandemic extensively from 2020 through 2021 after joining the general news desk of Newsweek in 2019 from the Daily Telegraph (a U.K. national newspaper) where she was a travel reporter/editor from 2010. She is a graduate of Binghamton University in New York and the journalism school of City University in London, where she earned a Masters in international journalism. Languages spoken: English and Korean.
Follow her on Twitter at @MissSooKim or Instagram at @miss.soo.kim
You can get in touch with Soo by emailing s.kim@newsweek.com