'Eruption of Blood' as Shark Attacks Seal Just Feet off Cape Cod Beach
The waters off Cape Cod turned red on Thursday after a shark attacked a seal, causing an "eruption of blood."
Officials closed two beaches in the seaside town of Truro, Barnstaple County, on the day of the attack. Coast Guard Beach and Head of the Meadow Beach were shut temporarily, according to Truro Recreation Department.
Head of the Meadow Beach was closed at 10:30 a.m. for an hour, after a great white shark was seen breaching the water. Following another sighting, Head of the Meadow was closed again, as well as Coast Guard Beach, between 11:35am to 12:35pm.
David Owens, a reporter for The Hartford Courant, tweeted an eerie photo showing a red patch in the ocean, where the seal's blood had mixed with the water.
Get your unlimited Newsweek trial >
The 54-year-old told Newsweek he was on vacation with family and a group of friends at the time. He was having a cup of coffee in his cottage when he "heard the commotion."
"Three people in our group saw a shark take a seal about 70 to 80 feet off the beach," he said. "By the time I got to the beach there was only the blood floating on the water."
"The others described a shark attacking a seal and seeing thrashing, the shark's fin and an eruption of blood in the water."
Asked how beachgoers reacted, he told Newsweek: "Those who witnessed it said they felt lucky to see it. There was no fear, just fascination."
Get your unlimited Newsweek trial >
"Warming sea temperatures and a very large gray seal population are why the sharks are here. We watch the seals cruise up and down the beach all day. We figured it was only a matter of time before a shark-seal encounter occurred nearby. Last summer a half-eaten seal carcass washed ashore," he said.
Owens said he immediately tweeted the Atlantic White Shark Conservancy to help with the organization's efforts to learn about sharks and shark behavior.
Christopher Adami-Sampson, who witnessed the incident, told Owens: "At first, we saw the fin of the shark. It started thrashing around, moving in circles and circles. Then we saw some more splashing of water, and then the blood started spreading out more."
He described the experience as "kinda scary but cool."
According to the Sharktivity app run by the Atlantic White Shark Conservancy, a number of the creatures have been sighted off Cape Cod in the past week, leading to a number of beach closures. Thursday's incident comes after swimmers were stopped from going on Head of the Meadow beach for an hour from 10:49am on Wednesday, after a great white shark was spotted in the water. Another shark was seen around 200 yards into the water, NBC Boston reported citing the app. And Race Point Beach closed for an hour after 9:56am on Sunday July 21.
White sharks became an officially protected species in the state waters of Massachusetts in 2005, according to the Atlantic White Shark Conservancy. Prior to that, hunters targeted the fish for trophy competitions which depleted their populations.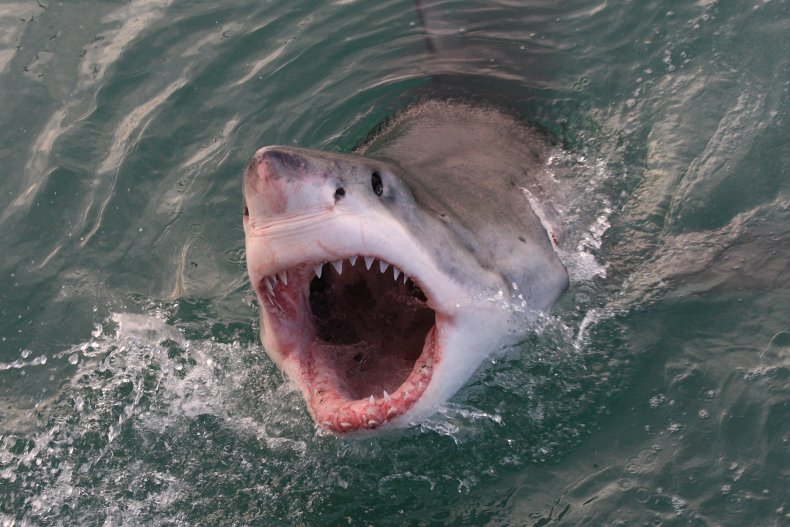 "In the past decade, increases in white shark sightings and catch records in the broader Northwest Atlantic have increased, which suggests some level of population recovery, but stock status remains uncertain," Atlantic White Shark Conservancy said on its website. "The increased presence of white sharks off of Cape Cod has been tied to increases in seal populations."
The Seal Action Committee group wants to see federal protects for seals to be scrapped, arguing they attract great white sharks and put beachgoers at risk.
Speaking to Barnstable County Commissioners, the group's founder Peter Howell said according to the Associated Press: "We're not anti-seal. We're not trying to eliminate them. We're just trying to manage them in the interest of the larger ecosystem. It's inconsistent to protect a species in perpetuity without regard to population size."
However, Bill Keating, the democratic congressman who represents Cape Cod, said in a statement that culling wouldn't solve the problem as the seals would be replaced by animals coming down from Canada.
This article has been updated with comment from David Owens.

'Eruption of Blood' as Shark Attacks Seal Just Feet off Cape Cod Beach | U.S.