Washington can breathe a sigh of relief—quite literally—as it appears the rising tensions between the United States and Iran have climaxed and that the two foreign powers have taken a step back from the brink of war.
Iran claimed it's "concluded" retaliatory measures toward America for killing one of its top generals and that it does "not seek escalation or war." President Donald Trump said the United States is "ready to embrace peace with all who seek it."
"I think there was a deep breath that was taken," Rep. Anthony Brown (D-MD) told reporters Wednesday.
But the nation's capital remains far from unified in the wake of an American death in Iraq last month at the hands of Iranian-backed militia forces, which, in part, gave rise to Trump ordering the killing of Qassem Soleimani, a former top Iranian general deemed a terrorist who was responsible for the deaths of hundreds of Americans.
Absent the likelihood that the heightened conflicts between the United States and Iran will—at the moment—lead to further immediate military conflict, Democratic lawmakers are now free to focus on attempts to limit the president's ability to circumvent Congress when taking such consequential future military action.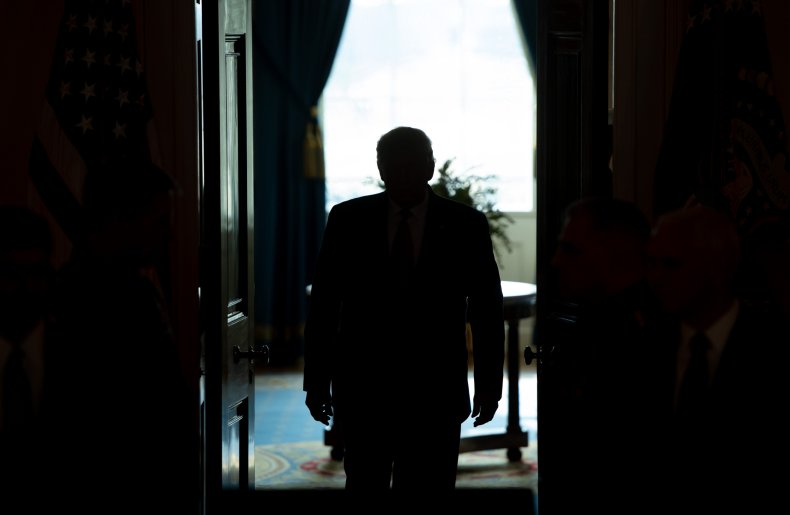 The House will vote Thursday on a War Powers resolution led by Rep. Elissa Slotkin (D-MI) to "terminate" the use of U.S. forces to "engage in hostilities in or against Iran" and would require the president to consult with Congress before any future action. However, the legislation is concurrent rather than "privileged," which means the measure will not have any legal binding and does not require Trump's signature, should it also pass the Senate. Congress would almost certainly lack the votes to override a presidential veto.
The lower chamber will also "soon consider" additional measures by more liberal members of the Progressive Caucus, said House Speaker Nancy Pelosi (D-CA), which would repeal the 2002 Iraq Authorization for Use of Military Force (AUMF) and prohibit funding for military action against Iran not authorized by Congress.
Over in the Senate, Tim Kaine of Virginia, a Democrat, said he will force a vote in the GOP-controlled chamber on a privileged War Powers resolution that would have legal binding.
The move to limit a president's power to take action abroad comes the day after lawmakers emerged from classified briefings with top administration officials on the death of Soleimani. Those officials included Secretary of State Mike Pompeo, Defense Secretary Mark Esper, Joint Chiefs of Staff Chairman Mark Milley, CIA Director Gina Haspel and acting Director of National Intelligence Joseph Maguire.
It was yet another stark reminder of Washington's polarization, with Democrats and Republicans walking away from the closed-door sessions as though they'd just attended separate meetings.
Democrats contended that Trump acted on razor-thin—if any—evidence that Soleimani was preparing to attack Americans abroad and that the administration lacked a plan going forward to deescalate tensions with Iran.
"I will characterize my overall impression, which was profoundly unconvincing. No case was made for imminence, no case was made for thinking this through, and I leave more troubled than I went into it," said Rep. Gerry Connolly (D-VA), a member of the Foreign Relations Committee. "I believe there was no rationale that could pass a graduate school thesis."
Two Republicans—Sen. Mike Lee (R-UT) and Rand Paul (R-KY)—walked away with sharp criticism of the administration officials, partially siding with their Democratic colleagues over what they said was a lack of evidence and justification to act without Congress' approval.
Visibly frustrated, Lee described the briefing as "probably the worst briefing I've seen—at least on a military issue—in the nine years I've served in the United States Senate." He walked away from the meeting, which he said was "insulting and demeaning" to the constitution, with the impression from the officials to "not debate" or "discuss" the appropriateness of military intervention in Iran for fear of "emboldening" the country.
It was so bad, in fact, that Lee said his mind had changed on Kaine's War Powers resolution and that he'll now support it. Paul concurred.
Paul, referring to the AUMF, said the administration has "justified the killing of an Iranian general as being something that Congress gave them permission to do in 2002. That is absurd, that's an insult."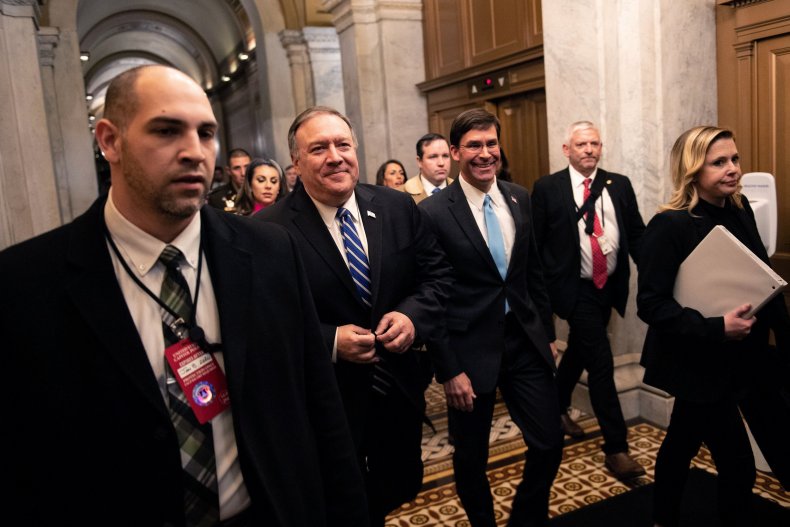 Meanwhile, the majority of Republicans asserted the president acted appropriately and in accordance with the evidence to eliminate an "imminent threat" to American lives. They also vehemently disagreed with the notion by Democrats that the administration and the president lack a long-term solution to dealing with Iran and deescalating tensions.
"Based on what I just heard, I think that, not only did he make the right call, but it was the right call at the right time with exactly the right amount of emphasis," Rep. Mark Meadows (R-NC), a close ally to Trump, told reporters. "The War Powers resolution that we're talking about, I think it's the inappropriate time to have that discussion... You don't have a debate about that in the middle of conflict."
Rep. Brian Mast (R-FL), a double amputee who lost his legs in 2010 from an IED blast while serving in Afghanistan as a bomb disposal expert, said that the AUMF has been one of his "primary concerns" and his "biggest frustrations" since becoming a lawmaker. However, the Foreign Affairs Committee member said he could not support Democrats' proposals to "limit the president's ability to deter threats."
"Do I want to see Congress make sure that we exert our authority in terms of being aware of what we are doing to defend this country and playing a role in voicing our opinions on that? Yes, absolutely," Mast told Newsweek. "The intel—I look at it and say: the blood lies on Soleimani's hands. Personally, I'd kill 100 Soleimanis for one U.S. service member."