'Genius' Runaway Bear That Scaled Three Electric Fences Captures Hearts on Social Media
Social media users are cheering on a runaway bear that escaped Italian authorities earlier this week.
The brown bear, dubbed M49, was originally caught by forest rangers in Trentino, northern Italy on Sunday, the BBC reported. But officials announced Monday it had escaped back into the wild, via three electric fences and a 13 feet high metal barrier.
M49 has been spotted on camera as recently as Tuesday evening, but continues to elude its would-be captors. As of Wednesday morning, the bear was still on the loose.
Authorities want the bear captured over evidence it has attacked local farms. Trento province president, Maurizio Fugatti, said M49 was a "danger" to public safety and authorized officials to shoot the animal if necessary.
But others, like Italy's environment minister Sergio Costa, have criticized the order. "M49's escape from the enclosure cannot justify an action that would cause its death," he said, per the BBC.
Fugatti quickly attempted to quash rumors of a feud with Costa and claimed local authorities were in a "constant dialogue" with his department.
The Italian branch of the World Wildlife Federation questioned the competence of the authorities that originally caught the bear. The non-profit noted M49's captors removed a radio collar after its capture on Sunday.
"A solid electrified fence with adequate power is an insurmountable barrier even for the most crafty bears," an article on the charity's website reads. "Evidently the structure was not functioning properly, given that the bears do not fly."
But local authorities insist the facility was built to high standards and has been problem-free for 12 years.
The organization added on Twitter: "Long live M49 and with him all the bears!"
Other activist groups joined in the criticism. Italy's League for the Abolition of Hunting said, per the BBC: "Evidently, M49 is an escape genius... gifted with superpowers akin to a hero of Marvel Comics."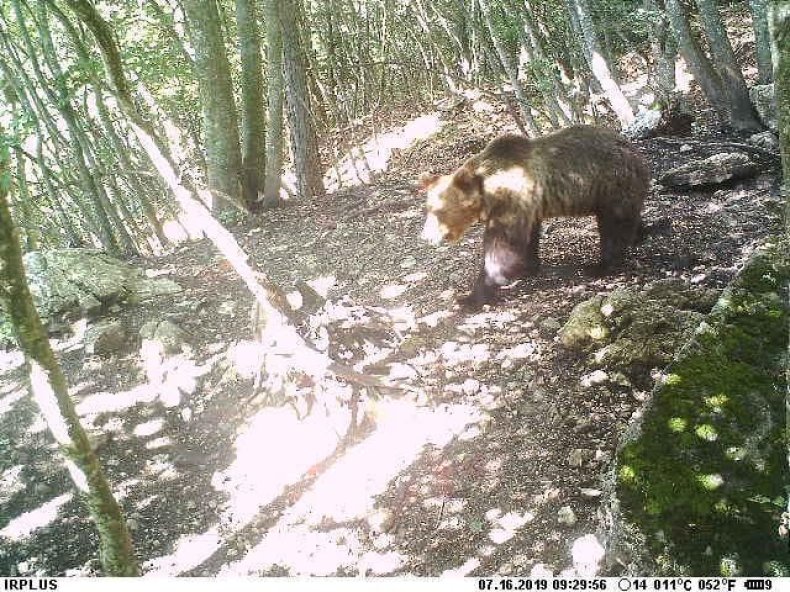 M49's story quickly spread on social media, with numerous Twitter users defending the bear.
User @TopsBarbara wrote: "Why kill him??! You can't move him to a protected area where he can live with his peers?"
Another user added: "The problem is not the bear, #M49 nor the wolves, nor any other animal species. The real problem is the...predatory human species."
M49 quickly inspired the hashtag "#fugaperlaliberta," which means "#escapeforfreedom."
User Susan Durmaz tweeted: "Let it live #fugaperlaliberta."
"#fugaperlaliberta Go, brown bear go!" said Vanessa L.
Julio Martinez wrote: "Come on M49 #fugaperlaliberta ."
User @Fightdoc1980 added simply: "[M49] is my hero."
'Genius' Runaway Bear That Scaled Three Electric Fences Captures Hearts on Social Media | World