Escaped 'Mad' Zebra On the Loose Reported Near Elementary School
Of all the things one might expect to see in Tennessee, a zebra probably isn't one of them.
However, that's exactly what locals saw when a "mad" zebra somehow got loose in Cookeville, TN earlier today.
As Fox 17 reported, a local elementary school posted a warning on Facebook about the wild animal roaming the area.
They wrote: "Good morning Prescott Families—There is a zebra on the loose in the Prescott area. It escaped a truck, was tased, and is mad. Do not approach. (Yes, really.)"
When Ashley Danielle Francis, a teacher at Prescott South Elementary School, saw the Facebook post, she assumed that the account had been hacked and called the school to alert them. But then she saw the animal with her own eyes.
As she drove on Highway 111 on her way to school, she passed the zebra and managed to capture some photos. In the images, the zebra appears to trot along the side of the road and in a patch of grass.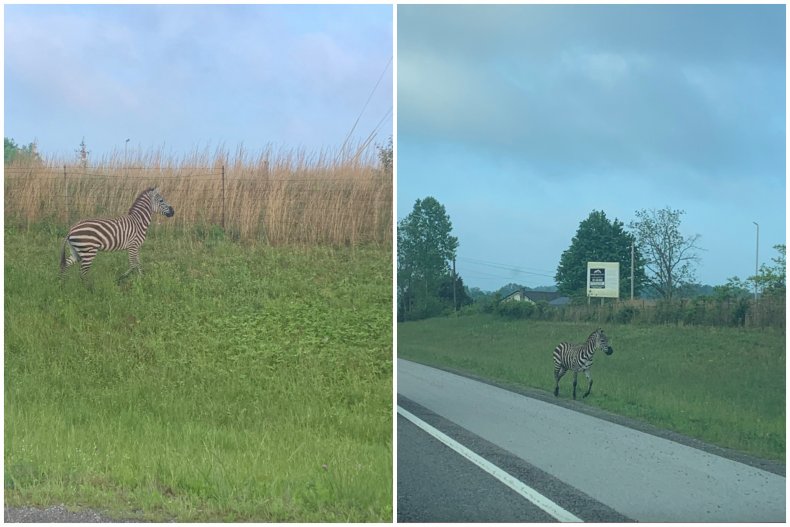 After Francis posted the pictures to Facebook, dozens of people expressed their shock at the zebra's appearance in Tennessee.
"Does someone raise Zebras in your neighborhood or [did it] escape from a zoo????" asked one commenter.
"Gives new meaning to an elephant in the room," wrote another. "[A] zebra in a field."
As several other commenters pointed out, Cookeville is currently hosting an "exotic sale" that many take issue with.
"It was featured on Tiger King," wrote one commenter about the sale. "I really wish more people knew about it. It's terrible." Another claimed that it's "one of the most horrifying places any animal can end up in."
"It's just a baby. Poor thing!" added another commenter.
Cookeville's mayor, Ricky Shelton, confirmed to Fox 17 that the zebra did in fact escape on its way to the exotic animal show. According to an update from Prescott South Elementary School's Facebook post, it has since been captured.
This zebra is not the only animal to have been on the run recently. Last month, a 10-year-old pet tortoise escaped from its Kansas home. The family was extremely concerned for the giant tortoise's wellbeing, as cold temperatures and traffic both posed significant threats.
Around the same time, Cincinnati police responded to reports that five or more loose monkeys had been spotted swinging through trees. It was suspected that the monkeys may have escaped from a private collection.