Escaped Prisoner Sends Postcard to Prison Directors, 'Greetings From Thailand'
After escaping from Belgium's Turnhout Prison in December, former inmate Oualid Sekkaki taunted the facility's directors by sending them a postcard gloating about his successful getaway.
The Brussels Times reported that Sekkaki and four other men made their break from Turnhout on December 19, 2019. The group climbed over the prison's exterior wall and got into a getaway car that was waiting in a nearby street.
Three of the escapees were recaptured the next day, while a fourth enjoyed freedom until early January. Police could not find Sekkaki, however, and the first sign of him came when a letter arrived at Turnhout on Monday.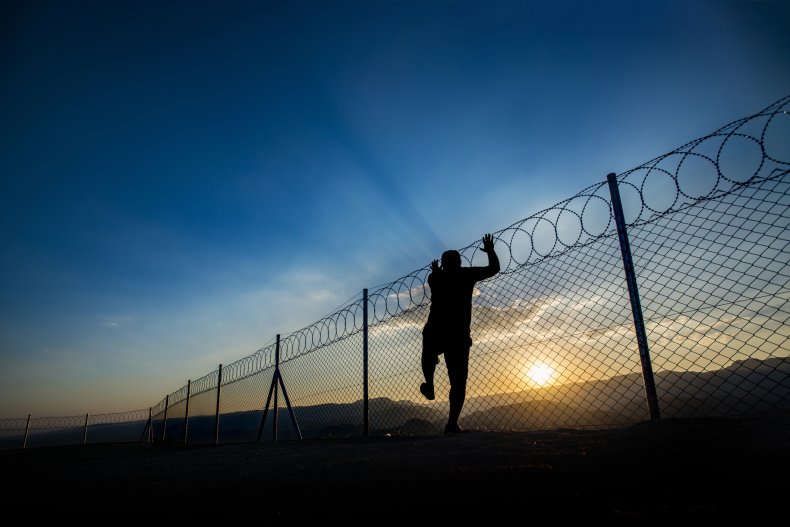 The envelope contained Sekkaki's prison badge as well as a card with the message "Greetings from Thailand" on it. It is uncertain whether the missive was actually sent from Thailand.
According to De Morgen, Sekkaki was arrested in January 2017 after police pulled his car over on the A12 road. A search of his vehicle revealed 25,000 ecstasy pills. Sekaki was already wanted for questioning in a previous shooting incident.
He was convicted and given a two-year sentence. However, Sekkaki had additional motivation for fleeing prison. He was wanted in his home country of Morocco in conjunction with a large drug ring. The country wished to extradite him, and he was awaiting a decision on whether he would be returned there to face trial while he was imprisoned at Turnhout.
Getting out of prison runs in Sekkaki's family. His older brother Ashraf is notorious for his daring escapes, which began in 2003 at Turnhout.
Ashraf Sekkaki's most notorious escape came in 2009, when accomplices hijacked a sightseeing helicopter with a pistol and forced the pilot to land in the courtyard of a prison outside of Bruges. It picked up Ashraf Sekkaki and two other prisoners, and one of the accomplices was left behind at the prison because the total load was too heavy to take off.
The helicopter landed in the nearby town of Aalter, where the crew stole a car, robbed a service station and headed for the coast. Ashraf Sekkaki was recaptured in his native Morocco two weeks later.
Ashraf remains in prison in Morocco serving a 12-year sentence, where Belgian police believe he continues to operate his drug ring. A third Sekkaki brother, Nasr-Edinne, is also believed to be involved in the criminal enterprise.
Prison guards immediately passed Oualid Sekkaki's postcard on to police.
Jailbreakers love to taunt their jailers once they get to freedom. Shaun Davidson, who escaped from the Kerobokan prison in Bali in 2017 by digging a tunnel, went on to post on his Facebook page from Phuket, Thailand to tell his pursuers that he only responds to "good vibes," Pattaya Today reported.
Davidson was serving a one year sentence for passport fraud.