Pablo Escobar's Wife Apologizes to Colombia for Drug Lord, Says He Forced Her to Have Abortion at Age 14
The widow of Colombian drug lord Pablo Escobar shared details about her life alongside one of the world's most dangerous criminals 25 years after his demise, from the time she fell in love with him when she was a teenager to the day he forced her to have an abortion at age 14.
This week, María Victoria Henao announced the release of her book My Life and Prison With Pablo Escobar, in which she explained how she had fallen victim to the unbridled violence that had plagued Colombia for almost a decade. In her book's epilogue, Henao wrote that she felt "paralyzed" with fear when she was intimate with Escobar for the first time. "I wasn't ready, I did not feel sexual malice, I did not have the necessary tools to understand what this intimate and intense contact meant," she said, according to Associated Press.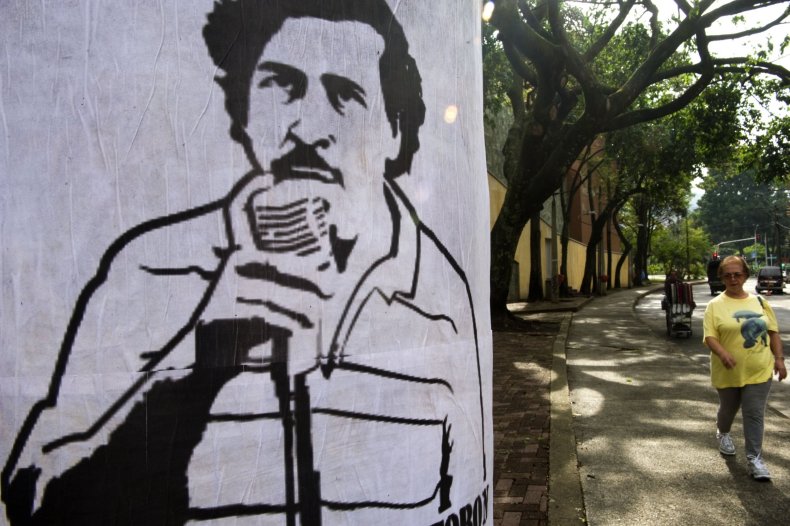 She went on to say that Escobar had taken her to a ramshackle clinic where she was placed on a stretcher, as an elderly woman began inserting plastic tubes into her womb, Associated Press recounted. Henao pointed out that she did know she was pregnant and dealt with "bleeding and intense pain." Moreover, she kept her secret from her own children until today.
"I had to connect with my history and immerse myself in the depths of my soul, to find the courage to reveal the sad secret that I have harbored for 44 years," Henao said.
In her 523-page book, she described Escobar's rags-to-riches story and how he courted her with gifts and romantic ballads when she was 15. "He made me feel like a fairy princess and I was convinced he was my Prince Charming," she wrote. Nevertheless, as Escobar acquired power and massive fortune, he became paranoid and manipulative, she said.
Henao claimed that she was continually kept in the dark while her husband ratcheted up cocaine production. Escobar waged war against the Colombian state following the 1984 assassination of Minister of Justice Rodrigo Lara Bonilla, who had revealed Medellín Cartel's enormous cocaine labs in the jungles of Colombia and its role in international drug trade. Throughout the 1980s and early 1990s, Escobar had ordered the grisliest crimes in Colombia's recent history, including the killing of presidential candidate Luis Carlos Galán, the murder of hundreds of police officers and the bombing of a commercial jetliner while flying over the outskirts of Bogotá.
Escobar's famous motto, "I prefer a tomb in Colombia than a jail cell in the United States" turned out to be prophecy. His life ended in 1993 when a U.S.-backed group of Colombian officers shot him dead on a rooftop in Medellín. Fearing for her life at the hands of former Escobar associates, Henao and her children sought asylum in Argentina, where they have lived ever since Escobar's death.
In an exclusive interview Wednesday with Colombia's radio station W Radio, Henao apologized for Escobar's reign of terror in the South American nation. "I ask for forgiveness for what I did in my youth," she said, adding that she was not involved in her husband's business. "I always confronted him. I wasn't having such a good life.... My life was to be a housewife, my role was to protect my children."
This is not the first time a member of the Escobar family provided details of their life. Escobar's son Sebastián Marroquín, whose birth name was Juan Pablo Escobar, released the 2009 documentary Sins of My Father, in which he attempted to reconcile with the sons of Bonilla and Galán, the politicians Escobar had ordered to kill. In 2014, Marroquín also released a book titled Pablo Escobar, My Father, in which he described how the drug baron could be such a ruthless criminal but a loving father at the same time.