Esper and Pompeo 'Couldn't Even Agree' on Facts During 'Vague' Iran Congressional Intelligence Briefing, Congressman Says
Massachusetts Democratic Congressman Seth Moulton told MSNBC's Katy Tur on Wednesday that information presented to Congress during an intelligence briefing regarding Iran was "quite vague."
After Iran's Tuesday missile attack against an airbase in Iraq that housed U.S. soldiers, Iran seemed amenable to de-escalating the tensions between the U.S. and Iran. President Donald Trump announced Wednesday morning that sanctions would be levied against Iran and would remain in place "until Iran changes its behavior."
Other aspects of U.S. policy towards Iran in the future are still unclear and Wednesday's intelligence briefing may not have clarified matters.
Moulton said that Secretary of State Mike Pompeo and Defense Secretary Dr. Mark T. Esper "couldn't even agree" on what future American policy on Iran would look like.
"We just got a briefing from the Secretary of Defense and Secretary of State among a few other administration officials," Moulton said. "They each listed three policy goals that the administration has against Iran. The problem is the three didn't even line up. They total about five, because these two secretaries, these two cabinet secretaries, literally sitting next to each other in this briefing, couldn't even agree on what the three prime policy goals of the administration are with regards to Iran."
"We need a strategy," Moulton added. "We need to know what happens next, and the administration hasn't provided that."
Newsweek reached out to the White House for comment but did not receive a response in time for publication.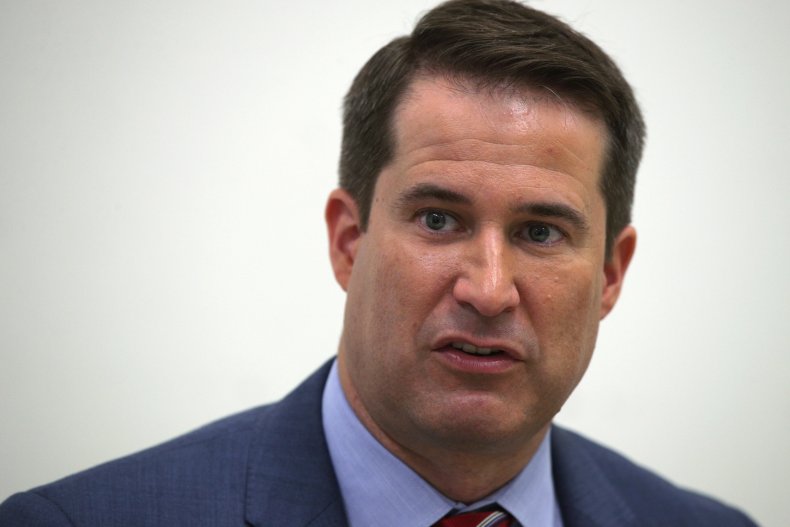 Moulton said the intelligence information given during the briefing should not be kept secret.
"The evidence presented was quite vague," Moulton said. "I'll tell you what, it needs to be declassified. Every American needs to understand exactly what the imminent threat is and what it is not."
"You take out one detail and basically the entire thing is unclassified anyway," Moulton added.
In Moulton's opinion, Soleimani's death has done nothing to improve the tension between the Trump administration and the Iraqi regime.
"All the evidence we have seen to date is that this has caused more problems than it has solved," Moulton said. "We've now had to stop our counter-ISIS campaign in Iraq. That's not a good plan. That's not part of the administration's strategy."
"Iran has restarted its nuclear weapons program in response to the maximum pressure campaign," Moulton continued. "Iran has increased its regional aggression. This goes against every one of the administration's own stated policy goals. I don't understand how they can possibly say this is being successful."
Moulton said there had been successes in the Middle East, citing the fact that the U.S. counterterror program had prevented Afghanistan from enacting "a terrorist attack against the United States since 9/11."
But Trump's stated goal of removing U.S. troops from the Middle East and stopping "these endless wars" is far away, according to Moulton.
"[Trump's own actions now have contradicted that goal," Moulton said. "We're now putting more troops in. We have very clear goals in the Middle East. The problem is this administration has no strategy to deal with Iran."