ESPN Analyst Thinks Antonio Brown Is 'Minimal Risk' For Eagles To Sign, Despite His Past With Other NFL Teams
During Tuesday's episode of ESPN's First Take, host Stephen A. Smith said that he thinks the Philadelphia Eagles should sign wide receiver Antonio Brown.
Smith was discussing the recent injury that has sidelined Eagles' wide receiver Desean Jackson, as well as the other players that are struggling at the position. "I challenge anyone to show me one quarterback in the league that has had more wide receivers drop more passes than the Philadelphia Eagles have dropped from Carson Wentz this season," Smith said.
"And yet Carson Wentz still only has four interceptions on this entire season and about 15 touchdowns. The Eagles are just a half-game out of first place," Smith added.
Smith then moved his attention to Antonio Brown, who made his last appearance on an NFL field with the New England Patriots. Brown was released from his contract with the Patriots in September, following allegations from several women that he sent threatening texts to them after the accused him of sexual misconduct. Those allegations followed that of Brown's former trainer, Britney Taylor, who also said the former NFL player had sexually assaulted her.
On September 10, the NFL announced an investigation into the allegations against Brown. That case is still ongoing. He was released by the Patriots ten days later.
That release followed Brown's request to be released from the Oakland Raiders after altercations regarding the team allowing him to wear the same helmet he has worn for his entire career. Due to the dispute over the helmet, as well as recovering from several injuries, Brown missed multiple training camp practices.
Last season, Brown was released by the Pittsburgh Steelers when he did not attend the team's postseason game against the Cincinnati Bengals in 2018.
During Tuesday's segment, Smith referred to the wide receiver as a "minimal risk" for a team like the Philadelphia Eagles. "He is in no position to exercise any kind of leverage whatsoever," Smith said of Brown.
Smith then referred to the Seattle Seahawks' decision to sign former Patriots wide receiver Josh Gordon instead of Brown and why the Eagles could be the team to sign him.
"If you're Antonio Brown, this might be your shot," Smith said. "If I'm the Eagles I'm desperate enough because I'm close enough to making the playoffs...I go for it."
At the start of the season, the Eagles were expected by many to be one of the most powerful offenses in the league, but injuries have led them to a dismal 5-4 start. Currently, the team trails the Dallas Cowboys (5-3) in the NFC East.
The Eagles will take this week off before hosting the Patriots on November 17.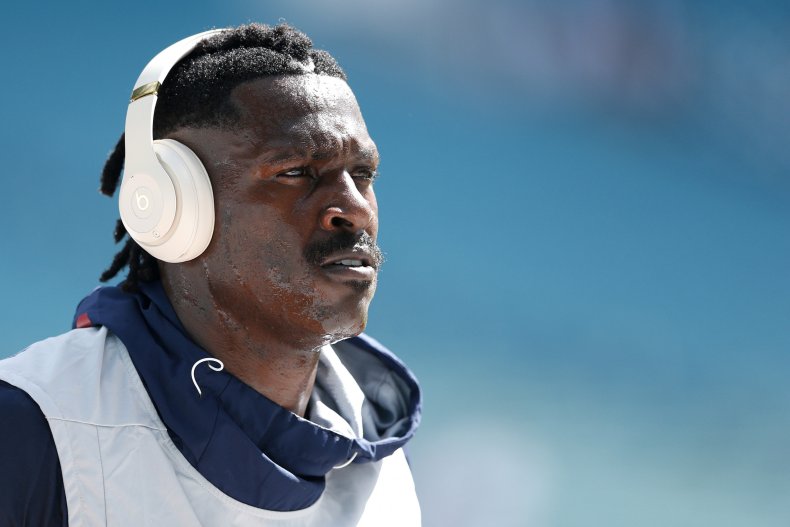 ESPN Analyst Thinks Antonio Brown Is 'Minimal Risk' For Eagles To Sign, Despite His Past With Other NFL Teams | Sports