ESPN Is Bigger Than Ever--and That Might Not Be a Good Thing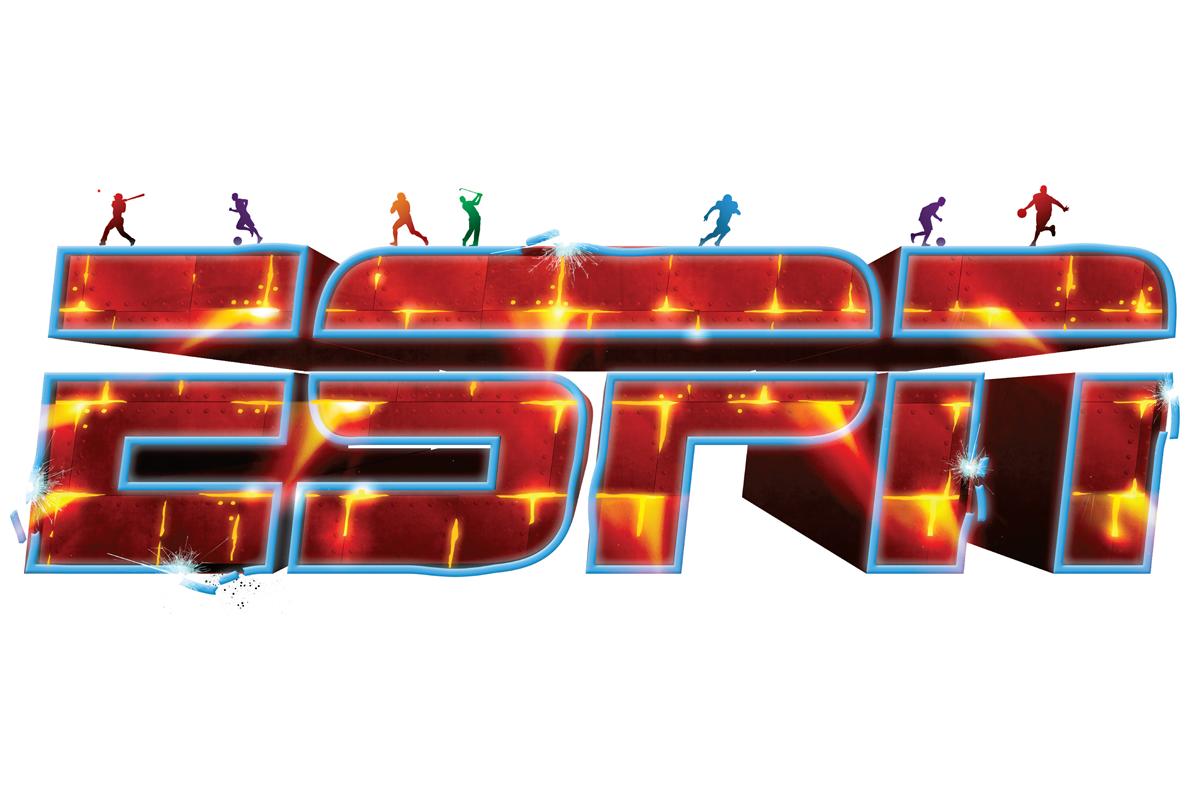 "Steeeeeeeeeeeeeeeve!"
It's Dec. 19, 90 minutes before kickoff at Candlestick Park, and the 69,732 fans pouring into the best Monday Night Football match of 2011 want to see a spectacle. Football is American religion, and for the few lucky enough to attend a game, it is a chance to see gods in action and miracles performed. A dozen San Francisco 49ers are rehearsing their explosive movements on the grass, elephantine and precise, a sight that is astonishing to see. Fans are massing just above field level and screaming.
But not for the athletes. They're hollering—"Steeeeeeeeeeeve!"—for the talent of ESPN. The cable-sports juggernaut has built a satellite set for its Monday Night Countdown pregame show off the 20-yard line, and nearby, four of its highly recognizable stars—Steve Young, Jerry Rice, Trent Dilfer, and Stuart Scott—are tossing a football before airtime. Young and Rice, both retired Hall of Fame 49ers, are local heroes; when Young, in cakey TV makeup, arcs a tight spiral to Rice, the Niner faithful go ape like it's for real. "There's more fans here than in the stands," murmurs a photographer.
The glitz and production values here are extreme, with 270 ESPN staffers on hand to choreograph some 35 camera angles—more than the typical Super Bowl had not so very long ago. "Our intensity and urgency in covering sports is just better than anyone else," Scott tells a reporter over the din of the crowd. Monday Night Football is the most venerable franchise in sports television, and for the right to broadcast just 17 games, ESPN recently re-upped its contract with the National Football League, increasing payments by 70 percent, to $1.9 billion per season, through 2021. Tonight's Steelers-49ers matchup will dominate the ratings as the most-watched show on cable all week, with 16.7 million tuning in.
To borrow one of its advertising taglines, this is ESPN: a network as big as the leagues it covers. As a business, ESPN thrives because it is playing a different game than the big public-airwaves networks. NBC and CBS make money from advertising. ESPN does, too, but it takes in even more from cable-subscriber fees—an average of $4.69 per household per month, according to research firm SNL Kagan. Last February, ESPN entered its 100 millionth American home. By comparison, the next costliest national network, TNT, takes in just $1.16 from about as many homes. If this were Pop Warner, the refs would have called the mercy rule by now.
A new president, John Skipper, took over the network on Jan. 1. Promoted from within, he is expected to chart a steady course—but it won't be easy. When one team is running up the score, resentment is inevitable, and in 2012 ESPN finds itself the object of criticism on a variety of fronts. Uniting them all is a sense that "The Worldwide Leader," as its slogan goes, has gotten too big for its own good. By driving up the price of sports-rights packages and passing along the cost to consumers, ESPN helps send monthly cable bills through the roof. And in order to maintain favorable access to athletes, teams, and entire leagues, it is widely accused of downplaying stories that cast sports in a negative light. Live games may lead fans to watch ESPN more and more, but they're seeing less and less of the network they fell in love with.
To find ESPN's headquarters in Bristol, Conn., you drive through a lot of unremarkable countryside and stop when you get to the 18-building, 116-acre supercampus with 27 satellites yawning into space. Now almost a city unto itself, this version of ESPN is far removed from the company's founding here, in 1979, by a former play-by-play man for the New England Whalers hockey team. At the time, Bristol seemed a good, cheap place to base a venture that could grow.
Early on, ESPN thrived on its outsider status, ignoring scoffs that there wasn't enough material to sustain 24 hours a day of programming. SportsCenter was its first breakout hit. While local broadcast affiliates relegated sports to a few minutes at the tail end of the 11 o'clock news, SportsCenter anchors broke word of trades, injuries, and free-agent signings; flooded the zone on sensational stories like the O.J. Simpson murder case; probed seamier topics like steroid abuse; and delivered game highlights with a wit and literacy previously unknown in sportscasting. In 1999, Aaron Sorkin called SportsCenter "the best-written show on television."
The show's anchors, including Keith Olbermann and Chris Berman, quickly became celebrities in their own right. And when, in 1987, the farsighted NFL decided to move some of its games onto the new medium, ESPN won the bidding at $153 million. It was a lot of money for a fledgling network, but they made it work by tacking a few pennies onto the subscriber fees they had pioneered—and never looked back. Powered by the dual revenue stream of ads plus surcharges, ESPN has since grown to include ESPN2, ESPN News, ESPN Classic, ESPNU, ESPN Deportes, and 47 international channels; the largest sports-radio network in America; a website that clocks 52 million unique visitors a month; and its own $100 million theme park in Florida. "They're on your telephone, your laptop—they want to be everywhere," says Jim Miller, coauthor of last year's mammoth oral history of the network, Those Guys Have All the Fun. "One of the reasons they created ESPN: The Magazine was they wanted to go into the bathroom with you."
With revenue of $8.5 billion last year, ESPN has become the principal cash spigot of the Walt Disney Co., the network's 80 percent parent. To the largest entertainment corporation on earth, the backwater of Bristol has become more important than Disney World and Disneyland combined.
Skipper, who joined ESPN in 1997, has done his share. For the last six years he has led the company's content division, where he doubled down on acquiring live game broadcasts. In that period, domestic TV audience rose 31 percent. ESPN declined to make Skipper available to Newsweek, but in 2010, speaking to PaidContent.org, he expressed his belief in, well: "We believe in live. We believe in live. We just think at this point with technology and people's expectations and the ability to get instant information, we believe in live."
Live, of course, is expensive. During Skipper's tenure ESPN has inked deals for $2.4 billion (baseball, 2005), $7.4 billion (basketball, with TNT, 2007), $500 million (a basket of college sports, 2011), and more, plus the Monday Night Football extension for $15.2 billion.
ESPN's costs are defrayed whenever it passes on surcharges to cable operators. But as viewers begin to squawk over rising cable bills, cable operators protest that the sports giant has gotten too pricey and too coercive in its terms. Outspoken Liberty Media CEO Greg Maffei, who oversees Starz and QVC, has called ESPN's fees "a tax on every American household"—the key word being "every." Because cable channels are bundled into packages, tens of millions of people who never watch sports end up paying for it anyway—and paying a lot more than they would for a package that didn't include sports channels, ESPN the most expensive among them. Cable carriers who balk and threaten to drop ESPN must also contemplate losing its corporate brethren: the Disney Channel and ABC Family.
"ESPN, through ... sheer muscle, has been able to say to us, 'You will carry this service on the lowest level subscription you offer, and you will make all of them pay for it,'" says Matt Polka, CEO of the American Cable Association, a trade group. "My next-door neighbor is 74, a widow. She says to me, 'Why do I have to get all that sports programming?' She has no idea that in the course of a year, for just ESPN and ESPN2, she is sending a check to Disney for about $70. She would be apoplectic if she knew ... Ultimately, there's going to be a revolt over the cost. Or policymakers will get involved, because the costs of these things are so out of line with cost of living that someone's going to put up a stop sign."
ESPN is not nearly the only party driving up sports-programming costs. Regional sports networks like Comcast SportsNet Washington command monthly fees as high as $3.36. And the broadcast networks pursue megadeals, too. The biggest jackpot yet came in December, when Fox, CBS, and NBC combined to offer the NFL $27 billion for broadcast rights through 2022. (Those channels are also pushing for "retransmission fees," akin to cable's subscriber fees.) Each eyepopper raises a new and louder chorus that sports has become too expensive for basic cable and should be broken out into its own paid tier.
"It's astonishing. Astonishing. Every time [there is] a huge increase we can't believe it, and then there's another huge increase," says Laura Martin, an analyst with investment bank Needham & Co. "The rapidly rising cost of sports, especially the new NFL contracts, increases the likelihood that sports will be forced by the government to be on a different tier within three years, by our estimates."
While government action rides in part on November's elections, a more pressing concern to ESPN and cable operators is the risk, in a down economy, that consumers will simply cut the cord. ESPN's executives reject the idea that their product is expensive, noting that a viewer's entire monthly cable bill might be less than the cost of attending one game in person. And they definitely don't like the notion of pick-and-choose plans that have been floated. "We're the best value, bar none, in town," insists CFO Christine Driessen. "At the end of the day, with regard to à la carte, the viewer will pay more and get less."
Wouldn't it kind of make sense for fans to pay more, though—to pay the true costs of sports programming, so that nonfans don't have to chip in? Driessen shook her head: "This notion of trying to appropriately charge the 'correct' cost to the consumer—it's just not going to work out that way."
For a certain species of American male, no amount is too high to pay for ESPN. While games are something of a commodity—fans will follow their teams to whichever channel airs them—what made ESPN not just watched but loved was its editorial integrity. There were scoops; there were powerful interviews; and even when it was puckish, it was smart. Chris Berman may have had a turban on his head when he made his predictions as "The Swami," but his insights were dead-on.
"Journalism, even with the rights fees, is how the company was built. We built the company on the back of SportsCenter—covering major stories, being journalistically sound," says Norby Williamson, who as ESPN's chief of production oversees all game broadcasts, original programming, and news gathering.
Today, there is often excellent journalism to be found in the ESPN empire, from its E:60 and Outside the Lines programs—perennial contenders for Sports Emmy Awards—to documentary fare like 30 for 30. ESPN: The Magazine distinguishes itself with investigations, and ESPN.com is a go-to destination for breaking news. This kind of coverage is crucial to the network's reputation. No one expects, say, the Food Network to report rigorously on Chez Panisse, but viewers do expect ESPN to bring them the truth about the athletes and coaches in whom they invest so much.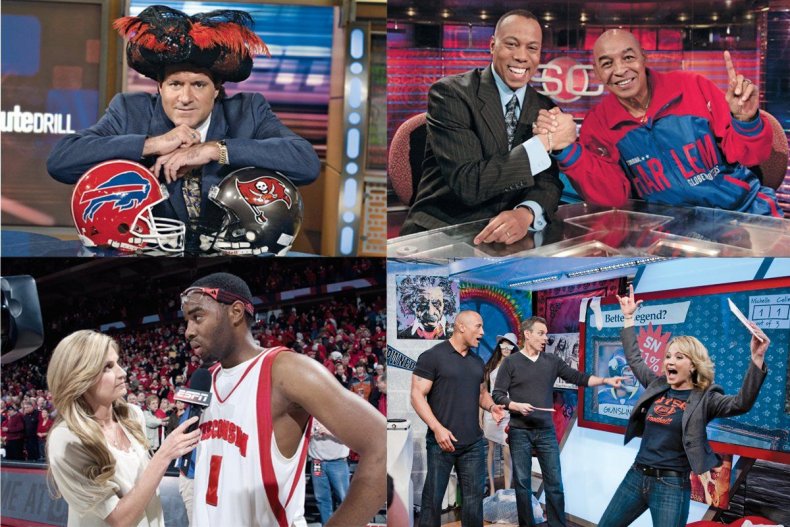 This is trickier than it sounds. ESPN has always kept an awkward balance, somewhat unique in broadcasting, in that it covers sports leagues journalistically at the same time it pays them billions of dollars for the rights to broadcast their games. Similarly, ESPN covers athletes as news figures at the same time it benefits from their promotion.
This conflict of interest can result in gratingly off-key programming choices—and these days, there are more critics, particularly online, crying foul. To many fans, the lowest point was The Decision, an hourlong broadcast in July 2010 that capped months of feverish speculation about which NBA team would sign superstar LeBron James. Rather than report on his choice, Bristol offered James an unprecedented deal: if he agreed to announce his choice live on ESPN, the network would let him choose his own, non-ESPN, interviewer. James would also get all of the program's advertising revenue, even as ESPN paid all of the costs. (James gave the money to a charity.) Howls of disgust came from all corners. "The most troubling aspect of the whole ill-conceived mess was ESPN's willingness to hand over an hour of primetime television to an egomaniacal athlete the network should be covering as a news story," wrote The Washington Post's Leonard Shapiro. "Does this not-so-subtle form of checkbook journalism pass the smell test anywhere else but in Bristol, Conn.?"
Much graver is the outrage over ESPN's poor early coverage of the biggest sports story of 2011, the Penn State sexual-abuse scandal. As students rioted, ESPN had no cameras on the scene. When they did show up, commentators seemed more concerned with the impact of the news on recruiting and coach Joe Paterno's legacy than on the alleged crimes.
"With the biggest staff of sports journalists in the world, ESPN should have been leading the charge to ask tough questions and shed light on this scandal," wrote the network's ombudsmen, Jason Fry and Kelly McBride, who investigated the coverage after widespread complaints. "The tone of the early ESPN coverage was spotty—sometimes getting it right, but more often seeming inappropriate."
The network eventually caught up—commentator Jay Bilas distinguished himself by calling the Penn State athletics program "a conspiracy of cowards" on SportsCenter. But the censure of ESPN mounted when a coach at Syracuse was fired later the same month for similar allegations, and ESPN revealed that for eight years it had sat on an incriminating audiotape of a conversation between the coach's wife and his accuser.
The roiling sports blogosphere—now home to the kind of outsider authenticity seen in the early days of Bristol—routinely takes ESPN to task. A conspicuous example came in July 2009, when ESPN forbade its reporters from covering an allegation of rape against Ben Roethlisberger, the Super Bowl–winning quarterback of the Pittsburgh Steelers. In 2005, he had taped a tongue-in-cheek commercial for SportsCenter, a rite of passage for many star athletes. The Wall Street Journal, USA Today, and other outlets took notice of ESPN's silence, and the network was forced to explain its policy of not reporting on civil cases in the absence of criminal charges. Media watchers were quick to point to numerous counterexamples.
"We don't generally believe that the network is evil or corrupt or otherwise nasty," wrote Gregg Rosenthal at Pro Football Talk, a NBC Sports blog. "However, we do believe that the network is way too large for its own good, and that ... it's up to everyone else to point out those occasions when the emperor is riding both bareback and bare assed."
ESPN's Outside the Lines would later air a tough segment on Roethlisberger's troubles, with inside-the-locker-room reporting that demonstrated that some corners of the ESPN kingdom are not beholden to anyone.
None of this, of course, is mentioned on Dec. 19, as Roethlisberger's Steelers prepare to take on the 49ers on Monday Night Football. Live broadcasts hinge on successfully souping up drama. All day long in San Francisco, the ESPN army had been prepping every conceivable (nonrape) subplot. Was Roethlisberger returning too soon from an injury? Could the 49ers' rush defense make it 15 straight games without yielding a touchdown? What are the playoff seeding implications? The storylines were briskly disseminated at ESPN's morning production meeting, which—with a nearly all-male crew of 40 in dress that ranges from shorts and flip-flops to business casual—is like the planning committee of a really excellent fraternity.
If ESPN has taught us one thing about broadcasting sports, it's that storylines matter: matchups are more riveting when there are heroes and villains. Having played the underdog for the first half of its corporate lifetime, ESPN has, to many, become the dynasty it feels good to root against. Fans are watching—and everyone is paying for it. ESPN is the network we have to have.