Trump Serving Fast Food to Clemson Racist, ESPN Host Says of White House NCAA Dinner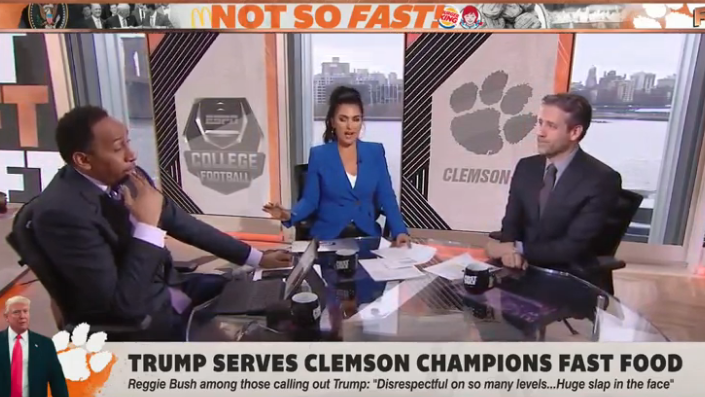 ESPN hosts criticized President Donald Trump for offering players from NCAA Football champion team Clemson University an array of fast food, labeling it a potentially racist move by the White House.
Anchors on Wednesday's First Take program, Stephen A. Smith, Molly Qerim and Max Kellerman, discussed the White House's offering of McDonald's, Burger King, Wendy's and Domino's to the Clemson players Monday. Prompted by criticism of the president by former New Orleans Saints player Reggie Bush, the panel argued whether Trump's serving of fast food was "disrespectful" and "classless," as Smith suggested. But ESPN co-host Qerim took the conversation a step further, saying she first noticed the billionaire president served the cheap meal to a team composed primarily of black players.
Former NFL running back and University of Southern California Heisman Trophy winner Reggie Bush took to Twitter Monday criticizing Trump's move, writing, "Just when you think you've seen it all, @ClemsonFB you guys deserve better you are world champs and this is the honor you receive from our nations [sic] leader!? This is disrespectful on so many levels, just a huge slap in the face after that kind of performance! SMH!"
Bush was immediately attacked by conservatives and Trump supporters, but the former All-American college football player doubled down Tuesday, tweeting, "Honestly if I lived in DC I would have taken that whole team to dinner at a nice restaurant after seeing this! What a joke!"
A visibly frustrated Stephen A. Smith started off the ESPN discussion Wednesday by saying, "It was classless on the part of the President of the United States. I don't give a damn about White House employees on furlough because of the whole border security issue with the Democrats or whatever. I don't want to hear all of that," Smith said, referencing a Sarah Huckabee Sanders comment.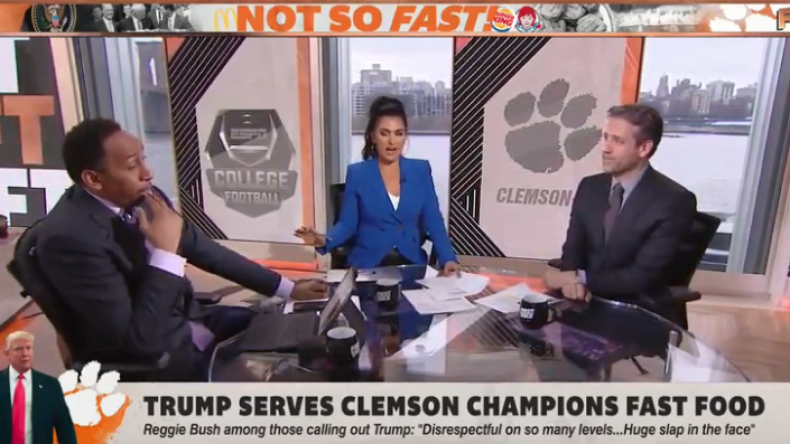 "At the end of the day, these are elite athletes that are national champions that put forth an absolutely shocking and stellar performance and this is how you greet them," Smith continued. "It's disgraceful, it was classless, it was wrong to do, he could do better than that, and it's unfortunate that the leader of the free world, the president of the United States, would choose—and the comments that he's made—that he would choose to conduct himself this way, but are we surprised? Absolutely not."
Max Kellerman explained the backstory behind the Trump-led government shutdown and said the president probably put out McDonald's and Burger King food because fast food is "not elitist" and plays to his voter base.
"There are reasons to be upset right now, and this ain't it," Kellerman added. He cautioned Americans against "taking their eye off the ball about what's happening in the world" to focus on this fast food fiasco.
But co-host Qerim said she perceived a racial angle to Trump's fast food offering. "I don't know, I guess I took it very differently when I saw him giving the football players, it's a predominately black sport, and fast food, my thought went a very different place."
"The president likes fast food," Kellerman interjected.
"One could also make the argument that it falls in line with an abundance of other things that have transpired with this particular individual," Smith added.
Clay Travis, who runs the troll-oriented sports website outkickthecoverage, first reported on the segment and blasted the hosts on Twitter Wednesday. "ESPN host says @realDonaldTrump was racist to give Clemson football players fast food. This really just happened on @espn air. We've got an early lead for wokest take of the year!" Travis tweeted.