Live American Sports Return to ESPN with Cornhole Competition, NASCAR Goes Live Next Week
On Saturday, American sports returned to ESPN with an unlikely hero: The American Cornhole League (ACL).
While live sports made a comeback earlier this week with South Korean baseball, the ACL's pro-invitational qualifier—ACL Cornhole Mania 2020—began broadcasting the live event at noon ET. The doubles competition began broadcasting at noon and the singles competition will air at 6 p.m. on ESPN 2.
Taking place in Rock Hill, South Carolina, competing individuals all don masks and maintain social distancing to help prevent a potential spread of COVID-19. According to an ACL press release, all players were screened for the coronavirus and were required to drive to the event.
"The ACL has been in close communication with the city, county and State of South Carolina government officials to ensure that all protocols are being adhered to," the league said.
ACL commissioner and founder Stacey Moore thanked everyone who helped make the event possible and hoped that the event would provide some much needed entertainment during the pandemic.
"The COVID-19 crisis obviously continues to disrupt everyone's normal lives," Moore said in a statement. "We hope that the resumption of competition will help in some small way by entertaining sports fans at home. We are very grateful for everyone involved that has helped to make this possible – from the City of Rock Hill, SC to the South Carolina State Officials to our broadcast partner in ESPN and production team. The ACL and our Pros give special thanks to our Title Sponsor, Johnsonville, and their front line workers that are working hard in a high risk environment to keep us fed."
In a press release, ESPN executive vice president of programming Burke Magnus said that the live competition may be able to unite viewers while watching in their own homes.
"These past two months, we've seen the importance of shared experiences in uniting us all. We look forward to continuing that with the upcoming ACL pro qualifier," he said in a statement.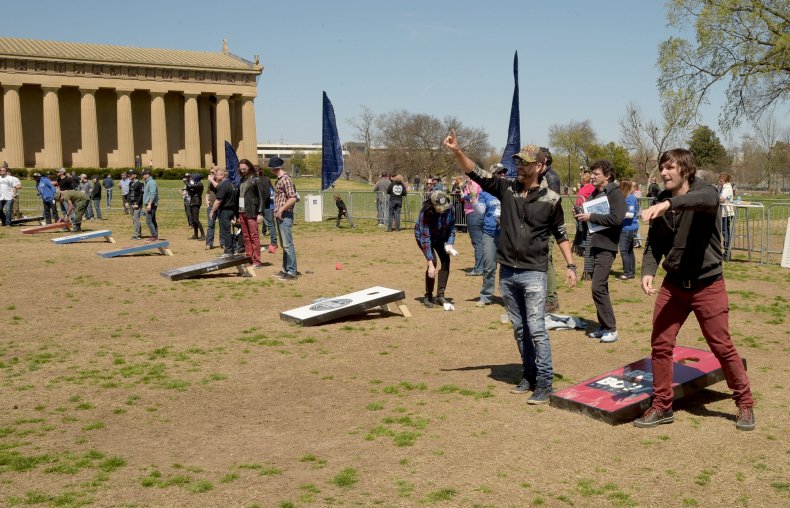 In an interview with ESPN Front Row, Magnus said the network has been communicating with various partners about next steps for different sports.
"We have been in contact with all of our partners, and as you would expect, those differing conversations fit the particulars of our specific relationship and the individual situation they find themselves in," Magnus said. "One common thread is that leagues share our interest in keeping their sports top of mind with fans, so our conversations have been focused on doing just that."
Magnus also explained that ESPN will explore live events safely in accordance with health officials and possible options to bring games to fans.
"If and when health officials and experts determine that specific live competitions can be safely staged for all, we will explore any opportunities in that space, given how live events are such a driver of sports programming," he said.
"Along those lines, one thing we could consider is live game content from international leagues or events that potentially could resume a bit earlier than the time frame we are seeing in the U.S.," Magnus continued. "We are positioning ourselves to be ready—whether it's soccer, basketball, baseball, rugby or anything else. There is clearly a thirst for live games and it may provide a unique opportunity to introduce fans to events or leagues that may not have had as much exposure here."
Besides cornhole and South Korean baseball, live sports have begun a slow roll out as some events have been announced as some restrictions have been lifted, but athletes and staff are still taking precautions. UFC 249 will air on ESPN at 6 p.m. EST on Saturday from Jacksonville, Florida.
Other sports have made adjustments and movements forward to have games and practices in 2020. NASCAR announced it would begin holding races with Chicagoland's NASCAR cup series race scheduled for May 17. The NFL rolled out their anticipated schedule for the fall season on Thursday. The NBA also began allowing teams to reopen practice facilities for individual workouts. As of Saturday, the Portland Trail Blazers and Cleveland Cavaliers are the first teams to reopen facilities, with other teams looking to reopen soon.